Albert Hammond Jr. performs good music, but weird on stage
Buried in the fuzzy guitar strumming, the simple lyrics and the layered instrumentals hid a little sliver of indie rock band The Strokes. But then, Albert Hammond, Jr. opened his mouth to sing.
He wasn't Julian Casablancas, The Strokes' singer, that's for sure. And this wasn't The Strokes.
That's not to say Hammond, Jr. was a bad singer, because he was good at the Grog Shop on Aug. 10. But his guitar work was what really stood out, as seen from his work in the past as a guitarist of The Strokes, all the way up to his latest album, "Momentary Masters," released this past July.
The show was solid, but not rock solid. At points the reverb-overflow of singing was so out of tune that it sounded demonic. It was difficult to work past Hammond, Jr. forgetting some of the words to the first song he played. And his cocky stage presence started to get annoying pretty quickly, as in the following interaction:
Hammond, Jr.: "I put out a new record."
Audience member: "Why?"
Hammond, Jr.: "Why? Just to piss you off!"
(Band plays song, "Drunched in Crumbs")
Hammond, Jr.: (sassy) "That's why I put it out."
It's not like angels descended from the heavens during the song, gracing Hammond, Jr. with superhuman musical skills. It's not like he needed to justify "Momentary Masters," which is a great album. It didn't make sense that he was playing things up so much.
We get it, you're a talented musician, enough already.
He just didn't sound as good live, especially in a tiny venue like the Grog Shop. I became less into the show as Hammond, Jr. became more into himself. A weird moment of dialogue was when he looked wistfully at the audience, saying, "Do I frighten you? I frighten myself."
But besides his strange stage presence and some messed-up moments of sound, Albert Hammond, Jr. made some pretty dreamy vibes. "Born Slippy" and "St. Justice" had the crowd bobbing around, as Hammond Jr. leaped up and did a pull-up from a steel beam attached to the ceiling. (Twice, actually—impressive.)
"I'm gonna end here with a little 'Sideboob,'" announced Hammond, Jr. during his encore. "I hope that's okay."
The crowd gave him approval for the song, but it seemed like a more polite applause than anything too explosive, like a light golfing clap as opposed to a standing ovation (even though, yeah, everyone was standing).
It was enjoyable and tame; a kid-friendly indie rock show.
Concert: Albert Hammond, Jr./Prinze George
Venue: Grog Shop
Date: Sept. 10
Rating: 2.5/5
Leave a Comment
About the Writer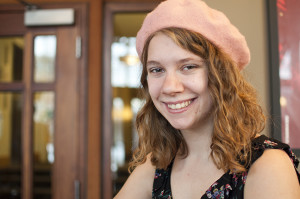 Anne Nickoloff, Director of Print
Anne Nickoloff, the Director of Print for The Observer, is a senior at Case Western. She hopes to one day be a music journalist, and has spent much of...