Album reviews: "Beyond Our Dreams" and "August 1791"
"Beyond Our Dreams," by pianist and singer-songwriter Anita Aysola, is an album that has it all. Few songwriters can boast of having both detailed poetic lyrics and a unique, instrumental sound.
Aysola showcases a brilliant mix of forms, including classical Indian and jazz. Instrumentally, the album is built on a fusion of Indian and Western styles, with Tabla and Indian vocal improvisations mixed with slick piano and drum parts. Aysola is a skilled improviser, with a masters knowledge of phrasing and a deft use of empty space. Her lines are often fast but serve the song. The listener never feels that Aysola is trying to beat them over the head with technical virtuosity.
The title track, "Beyond Our Dreams," is a perfect example of Aysola's triple threat potential as a songwriter, instrumentalist and vocalist. Ayosla's own piano playing and her percussionist, Sameer Gupta's, tabla are in perfect sync. The end of the song features a beautiful, tasteful piano solo which is immediately followed by an inventive vocal improvisation, proving that Aysola is a force to be reckoned with on both fronts. Aysola isn't afraid to wear her influences on her sleeves, as manifested in songs like the New Orleans-tinged blues track "Bet on Us." The song has a musical theater style polish to it with a beautiful backing chorus. Aysola's detailed lyrics add heft to the song, as she describes how friends come and go, that her body is breaking down with age and yet, she remains confident in her partner.
"Beyond Our Dreams" succeeds in crafting an instrumental fusion of Western and Indian music styles, but still manages to maintain a strong pop sensibility with catchy, melodic hooks.
"Beyond our Dreams," by Anita Aysola
3.5 out of 5 stars
Despite 25 years of activity, Haitian group RAM has only released seven albums. It would be a mistake to think their lack of quantity results from a lack quality, as their latest album, "August 1791," demonstrates.
The album celebrates the beginnings of the Haitian Revolution. The movement lasted 12 years and marked the world's first successful slave rebellion, in which the Haitian people won independence from France. The album's first track, "Badji Feray," is an ode to the wisdom of Toussaint L'Ouverture, one of the leaders of the Haitian Revolution, exemplifies the tribute. The mid-tempo song features a fantastic solo, marked by an phenomenal use of repetition by lead guitarist Yonel Vendredi. The call and response between lead singer Lunise Morse and the rest of the band is masterful, adding another layer of energy to the piece.
The Port Au-Prince based group fronted by the band's namesake, Robert Morse, has a unique musical sound that blends Vodou rhythms and rock and roll guitar. The West African roots of Haitian culture are exemplified by the band's version of "Danmbala Elouwe," a traditional ceremonial song from the kingdom of Dahomey, present-day Benin.
"Dawonam Dakò" is a standout track with frenetic energy, featuring layers of syncopated percussion propelled by overdriven guitar power chords, which calls back to Morse's background in the 1970s New York post-punk and no-wave scene. RAM is a well-oiled machine; their weekly shows at Morse's Hotel Oloffson in Downtown Port Au-Prince means the band has no shortage of performance experience, and it shows. "St Clair (Gad Sa Nou We)" features the band at its best, with a futuristic keyboard solo, and excellent guitar interplay. The high octane song, backing chorus and all, suddenly stops for the two Morses to say, "St. Clair," before the band starts up again. Ballads like the clavinet tinged "Kongo Edem Priye" offer a great change of pace, considering the fast tempo of much of the material.
Overall, the jubilant, energetic music, with an eye to Haiti's history, makes "August 1791" a must-hear album by a truly fantastic band.
"August 1791," by RAM
5 out of 5 stars
Leave a Comment
About the Writer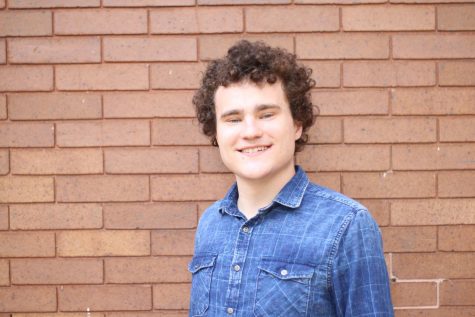 Matt Hooke, Executive Editor
Matt Hooke, The Observer's executive editor, is a fourth-year student studying English. This is his first year as executive editor after spending time...