Alessia Cara was not, in fact, "Here"
"DUE TO AN ILLNESS, ALESSIA CARA WILL NOT BE PERFORMING TONIGHT. HER BANDMATES WILL STILL BE GOING ON STAGE."
These two sentences were plastered on every door outside of the Rock & Roll Hall of Fame. At 6:25 p.m., their Facebook page had posted a link to Cara's tweet in the event page: a 28-second long video in which a very hoarse Cara apologizes and explains that it is medically unsafe for her to sing tonight.
But, hey, her openers were still going on, so why not stay?
Disappointed fans still loitered near the front of the stage, talking about how excited they were to see Cara's performance. One girl pointed and lamented about how Cara's famous red piano was still on stage. Another mentioned how she had driven an hour to get here, but had looked up the openers and seen they were cute, so she was okay with staying.
The concert started at 8 p.m. with first opener Craig Stickland. His voice gave off a very Phillip Phillips kind of vibe; his body screamed California hipster. Shoulder-length, wavy black hair, just the right amount of stubble and minimalistic clothing completed his look. He played through his songs with just a guitar, leaving the teenage girls swooning. His cover of Cara's "Wild Things" was very emotional, and she was on FaceTime the entire time. In fact, one of the stage managers held up a phone for Cara the entire concert, periodically showing her to the fans as they enthusiastically waved hello.
Leaf came on the stage next, a woman clad in a red velvet bodysuit with two backup dancers. She sang with a backing track, and her songs were hip-hop and R&B. It was a very strange transition from the folksy Stickland, but her dance moves and soulful voice were impressive. Confidence exuded off of her, and when she sang her song "Money," a kid in the front row actually tried to hand a dollar bill to her—when she refused to take it, he dropped it on the stage. At the end of her set, she picked up the dollar bill, gave the kid a smug look and glided off the stage.
The most popular of the three artists, Kevin Garrett, came on last. He played the piano and sang, but he also had a drummer and synth player. Garrett's style of music was more indie electronica, although the mixing during his act made it hard for the audience to hear his high, ethereal voice over the bass drum.
Stickland came on stage halfway through Garrett's set to sing a cover of Cara's "Snow," and it was one of the best songs of the night. Stickland's harsher tone blended with Garrett's light, easy voice effortlessly, and the harmonies were perfect. Garrett's set ended up going for longer, as they covered another Cara song and a song that melded directly into one of Garrett's newer songs.
"We had our sound check at six, and while we were doing it, they told us that she wasn't going to play," said Sean Mullins, drummer for Garrett's band. "So we were like, 'Shiiiiit …. well should we still play?'"
Mullins mentioned that Garrett normally plays for only 35 minutes; at this performance, they played for about an hour.
"We threw in a few extra things, and I was definitely a little worried, the fans aren't here to see us, but it was a good opportunity for us to spread out our music," added Mullins.
"It was cool, yeah, it was fun, I feel like even if you don't know Kevin's music, we can convey something to the audience," Mullins said. "It speaks to people who have never heard of it before, which isn't always the case. Most people want to hear things that they've heard. But to play something that they've never heard and to have it grab them is, I think, a pro of his music."
Although Cara was not there, fans still left smiling. Her tourmates put on a good show, and even stayed for pictures and autographs afterwards. Plus, she promised that she'll come back when she can, and all original tickets will be honored for her return.
Event: Alessia Cara Know-It-All tour with Craig Stickland, Leaf and Kevin Garrett
Venue: Rock 'n Roll Hall of Fame
Date: Jan. 28, 2016
Rating: ★★★½☆
Leave a Comment
About the Writer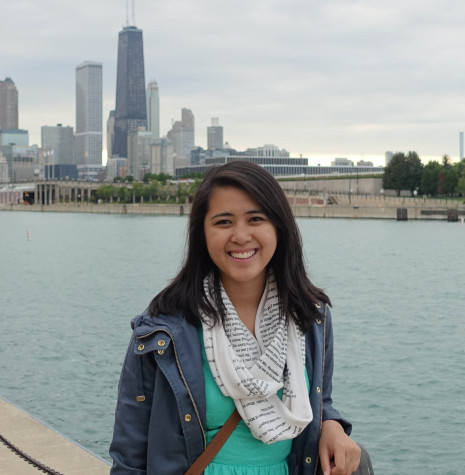 Jeniece Montellano, Social Media Editor
Jeniece Montellano is the social media editor for The Observer and occasionally covers stories for the news and arts and entertainment sections. She has...