All the songs from "Red Taylor's Version" ranked by how "Sad Girl Autumn" they are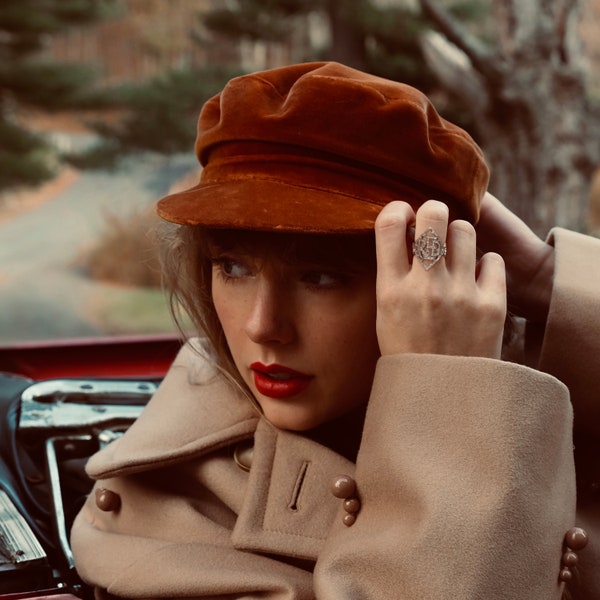 Have you just been broken up with? Or perhaps you failed that exam you spent five hours studying for the day before? Or maybe you're just feeling those seasonal blues? Well, Taylor Swift has officially declared "Sad Girl Autumn" with the re-recording of her 2012 album "Red" in the form of "Red (Taylor's Version)," her play at gaining ownership of her old music. This iconic breakup album has presented some perfect music for those blue hours. Swift even released a new version of one of her songs with the subtitle "Sad Girl Autumn version" to promote this time to the greatest extent. To maximize your own "Sad Girl Autumn," I suggest listening to the album in the order listed below while sitting in your pajamas in bed with a warm drink and a bowl of ice cream. 
Here's all of "Red (Taylor's Version)" songs ranked from most "Sad Girl Autumn" to least "Sad Girl Autumn":
            1. "All Too Well (10 Minute Version) (From The Vault)"
You know that cliché saying, "it's the small things that matter"? Well, this song is that motto in an elongated, melancholic form. The outro really just destroys your tear glands. (By the way, remember to give everything back to your ex when you break up, including that scarf.)
            2. "Begin Again"
There isn't a better song to describe wanting to rediscover yourself and renew hope after a really sad time. This is a phenomenal song to cry to after taking a test (not from personal experience). 
            3. "All Too Well"
This original version of "All Too Well" has a larger emphasis on the feelings of loneliness and sorrow after losing someone, while the 10-minute version lays out a fuller story with more varied emotions, including bitterness, blame, shame and pain. 
            4. "Ronan"
This song was written about the pain felt from losing a child, conveying the heartbreak of a mother. So no, not the typical heartbreak that comes to mind when you think of Taylor Swift, but one just as tragic, if not more. 
            5. "Nothing New (feat. Phoebe Bridgers)"
Phoebe Bridgers? Enough said.
            6. "Sad Beautiful Tragic"
The "Sad" in the title pretty much describes this song. This slow, defeated tune is perfect for all your sorrowful moments. 
            7. "The Moment I Knew"
You know that feeling when your boyfriend promises to show up to your birthday party but completely stands you up, so you spend the whole night waiting for him instead of celebrating? Yeah… 
            8. "The Last Time"
That feeling when you know you should give your ex up, but they're only a phone call away. 
            9. "State of Grace (Acoustic Version)"
This slowed-down, acoustic version of the opening track, "State of Grace," coupled with Swift's wispy singing, brings a more downcast mood than the original, which may evoke tears.  
            10. "Everything Has Changed (feat. Ed Sheeran)"
A collaboration with Ed Sheeren brings about one of the most heartfelt duets in the album. 
            11. "Come Back…Be Here"
Ever just miss someone so much, but it's impossible for them to be next to you? When your separation anxiety is acting up, just listen to this song and cry a little bit. 
            12. "I Almost Do"
This song is a testament to how much self-control it takes to stop falling back into bad habits and the sorrow you feel when you can't talk to someone you desperately want to talk to. Again, don't call your ex! 
            14. "Run (feat. Ed Sheeran) (From The Vault)"
This duet between Ed Sheeran and Swift, with its simplistic melody, is the perfect song to listen to when you feel overwhelmed and want to run away (perhaps from finals). 
            15. "Forever Winter"
While this song's instrumentals sound like Christmas pop music, the lyrics directly contrast this, as Swift focuses on the hopelessness felt in a toxic relationship. The lyrics have absolute sad girl vibes, giving "Forever Winter" a higher "Sad Girl Autumn" rating.  
            16. "The Lucky One"
Feeling imposter syndrome? Here's the perfect sad song for you!
            17. "Better Man"
The acceptance of a relationship's ending and the sorrow that comes along with it are conveyed here, making "Better Man" great for when you're lonely and sad.
            18. "Treacherous"
This calming, acoustic tune is amazing to listen to not only when you're falling asleep, but also when your crush has just broken your heart. 
            19. "Red"
The lyrics of "Red" convey heartbreak, naivety and nostalgia. However, the quick tempo and poppy tune detract from the song's "Sad Girl Autumn" potential. 
            20. "Babe"
This mid-tempo song conveys anger and blame toward an unfaithful partner, so it's not so "Sad Girl Autumn" in vibe, but if you're feeling boppy and irritated, this is the song for you. 
            21. "Holy Ground"
This fast paced song holds hints of remembrance and fondness, as Swift reflects on the good things a past relationship has brought into her life. 
            22. "State of Grace"
The first song on "Red (Taylor's Version)" includes many elements of rock, which isn't exactly "Sad Girl Autumn" in feeling, but sounds amazing nonetheless.  
            23. "The Very First Night (From The Vault)"
This tune is very upbeat and will not get you in your feels, but if you really miss your ex (or anything else), I guess you could be a little bit sad while listening to this song, remembering the good times. I'll be praying for you if you're crying to this song. 
            24. "I Bet You Think About Me (From The Vault)"
"deja vu" by Olivia Rodrigo but make it Taylor's Version. 
            25. "I Knew You Were Trouble"
This angsty song is a solid bop for when you're mad and need something to scream to. But for "Sad Girl Autumn," perhaps not.
            26. "Message In A Bottle (From The Vault)"
The melody of this song is definitely not "Sad Girl Autumn," but its energy evokes feelings of excitement for new beginnings. 
            27. "22"
You know this song, and you know it is not sad. This is the song for when you want to dance like you're 22 and act crazy because you're feeling happy, free, confused and lonely at the same time. 
            28. "Girl At Home"
This catchy song is not "Sad Girl Autumn" material, but it is a good reminder to do a thorough background check on any potential partners. 
            29. "Starlight"
"Starlight" is all about adventures and dancing—not "Sad Girl Autumn" stuff. However, if you're looking for something to dance and sing to with your friends, this song is for you. 
            30. "Stay Stay Stay"
When you want to revisit your childhood, listen to "Stay Stay Stay." But if you're feeling blue, this song is not the mood, unless you want a twinge of irony. 
            31. "We Are Never Ever Getting Back Together"
This is not a sad song. This is the song for when you're feeling yourself after you come out of "Sad Girl Autumn."