Americans to watch at the Olympics
On Feb. 9, the Olympics Opening Ceremony will signal the beginning of the Winter Games in Pyeongchang, South Korea. Until Feb. 25, athletes from all over the world will gather to compete in 15 different sports. Team USA consists of 243 athletes and will be competing in almost every single discipline, from the biathlon to speed skating. The team roster was finalized just weeks ago, as qualification events stretched into late January.
With all the commotion of the Olympics—the sports, the athletes, the spectacle—it's easy to get lost and miss parts of it. But fear not, because here are the United States' most popular athletes.
Two of the country's most promising gold medal contenders are Mikaela Shiffrin, women's slalom ski racer and reigning World and Olympic champion, and Chloe Kim, snowboarding phenomenon and proud owner of three SuperPipe gold medals from the X Games.
When the figure skating team event starts early next week, the two skaters to watch will be Nathan Chen and Mirai Nagasu. After a season winning competition after competition, Chen has a very good chance of ending the games at the top of the podium; he even beat the current world champion, Yuzuru Hanyu, back in October. Nagasu, on the other hand, is the second American woman and the seventh in international competition to land the triple axel. Despite not making the team in 2014, Nagasu has worked hard and comes to Pyeongchang for her second Olympic Games.
With the NHL staying out of the hockey competition in Pyeongchang, the men's event is sure to be dramatically different from the one in Sochi four years ago. Rather than relying on more famous players currently tied up pursuing the Stanley Cup, the team consists of little-known names playing overseas, in the AHL and even collegiately. The women's event promises to be much better, with legendary veterans Hilary Knight, Brianna Decker and Jocelyne Lamoreux-Davidson sure to lead the U.S. team to a medal.
On the diversity front, this Olympics team is a landmark one, carrying the first two openly gay athletes to go to the Winter Games. The first, 28-year-old figure skater Adam Rippon, is one of the oldest Olympic rookies in his discipline and is pushing his competitors with his quadruple lutz jump, the hardest in the sport. The second, freestyle skier Gus Kenworthy, was in the closet when he won silver for slopestyle in Sochi, and only came out on the cover of ESPN The Magazine the year after.
The Olympics will be broadcast on NBC, both on TV and online, and competition starts on Feb. 8.
Leave a Comment
About the Writer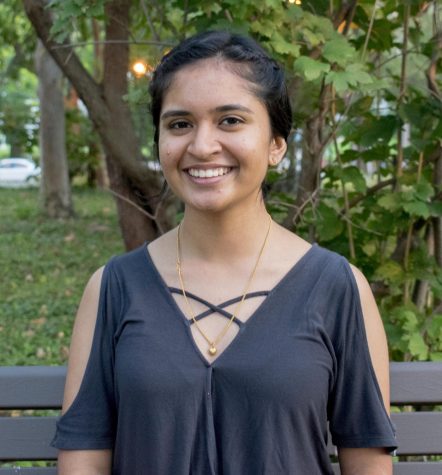 Smruthi Maganti, Arts and Entertainment Editor
Smruthi Maganti is a third-year student studying biology with a minor in public policy. After a year of copy editing, this is her first year as the A&E...