Amine rocks Tink Ballroom at the first UPB concert of the semester
        Last Friday night's Amine performance in the ballroom of the Tinkham Veale University Center kicked off the fall semester in style. The rapper from Portland, Oregon led the crowd through songs from his catalogue mixed with a few choice covers. A mashup of TLC's "No Scrubs" and Kanye West's "Gold Digger" lit up the crowd around 10 minutes into his set, setting the tone for the energetic show to come.  
Other highlights included Amine's song "Spice Girl" followed by 30 seconds of "Wannabe" by the Spice Girls, a standout performance of "Yellow" (featuring Nelly, who did not appear) and the startling chorus of "Caroline."
The show, originally scheduled for the Thwing Ballroom, moved to the Tinkham Veale University Center Ballroom to accommodate the large amount of interest in the show. Expectations and prior knowledge of Amine varied for the 800 students that went to University Program Board's (UPB) first UPBeats concert of the semester.
Those that knew Amine were mostly excited about his performance.
"I'd heard very good things about Amine live, and he fulfilled them," said third-year student Bobby Bruno. Bruno described Aminé's performance of his 2017 hit "Caroline" as "absolutely insane." The song began slowly and played for a full minute before the beat dropped.
Even some that weren't expecting much found the concert to be enjoyable. Third-year student Clara Mueller said that the show exceeded her expectations. She emphasized that the larger venue gave people space to move around, instead of the claustrophobic atmosphere associated with many indoor concerts.  
Reactions were not universally positive, however. Amine's tendency to cut the beat and let the crowd sing his songs was a little more self indulgent than some attendees were hoping for. Additionally, his stage time, which began around 9:25 p.m. and ended around 10:15 p.m., left some people wanting more. "[UPB] brings in great talent, but they aren't on stage for as long as I'd like them to be," said second-year student Max Berky.
Very early on Amine stopped the music to spread some self love within the crowd. He yelled "you're beautiful" into the crowd, and had the crowd respond with "I know." This call and response crept back in throughout the show, including near the end, and most people left happy and feeling good.
"Everyone in that room was beautiful," said Bobby Bruno while leaving the venue, "including Aminé."
About the Contributor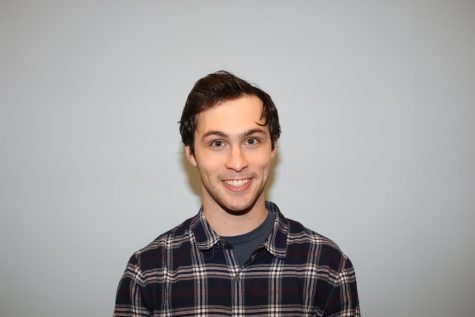 Henry Bendon, Staff Reporter
Henry Bendon is a fourth-year political science major who has been writing and taking photos for the Observer since the fall of 2016. In his time with...