Past punk Andrew McMahon meets present punks New Politics
"Wilderness Politics" tour stopped at House of Blues
A line worked its way outside of the House of Blues on Nov. 14 even though it had already been an hour since the doors had opened. Outside on the building's sign, red "SOLD OUT" letters were displayed prominently next to the letters which spelled out the musicians' names, Andrew McMahon in the Wilderness and New Politics.
In the House of Blues line, security was tighter than usual; a guard was collecting Burt's Bees chapstick in his hand. According to him, partygoers would use the chapstick to rub on their faces and get high.
Just for a second, let's diverge from this concert review: This activity is also known as "beezin" and it is considered to be, at least by every news article I've read, entirely false. In 2014 the trend was started when teens would try to enhance feelings of drugs and alcohol by smearing the chapstick on their eyelids. It turns out it only led to greasy faces, inflammation and embarrassing cases of pinkeye.
Apparently House of Blues didn't want to risk it, though, with all the teens in attendance.
Anyway, back to the review: The demographic for the show was mixed. McMahon appealed to both current indie-lovers and older Jack's Mannequin fans, while New Politics primarily brought out a younger audience for its pop-punk songs.
While we missed opener LOLO, I made it for the end of The Griswolds' set, when they performed both "Mississippi" and hit "Beware the Dog."
Soon the audience pushed forward, condensing near the stage for New Politics' show. A series of selfies and a set change later, New Politics leaped up and started its performance.
The band is known for its antics, and this show was no disappointment in terms of craziness. Singer David Boyd flipped around, took moments to breakdance and spun around on his head.
At one point, guitarist Søren Hansen threw his guitar 10 feet into the air, catching it at the last second before picking up another riff of "Just Like Me."
But at other times, the performance was a little childish or boy band-like. Boyd played up his popularity with the young females in the crowd, at one point grabbing a front row crowd member's phone and filming a long selfie video of him singing. At another point, he stepped out into the crowd, stood up on the hands and asked, "Whose arms am I falling into?" before being whisked away by hands back to the stage. At times Boyd's kicks and punches bordered on beginner's karate instead of dancing.
However New Politics shows are an experience. They aren't just about the quality of the music, because if they were, they wouldn't be great—lyrics like "I'm bored with using technology/ Let's go back to the way it used to be/ No need for all this psychology/ I can't pretend no more" has the psych major in me shaking her head.
That's not what they're about, though. After all, the strongest applause came when Boyd finally took off his shirt in the band's last song, "Harlem."
Andrew McMahon in the Wilderness was a different story. His set started off relaxed and calm, with a small fishbowl bubbling on top of his piano and fake grass coating the sides of speakers and platforms. In the background, a large white backdrop completed the scene, with one word, "WILDERNESS," centered in the middle.
McMahon had a little bit of action on stage. At one point he stood on top of the piano, singing to the balcony audience. But usually, he either stood and sang or played his piano and sang. His energy came not from jumping or doing backflips, but from emotional lyrics and storytelling.
For example, he told a story about dating a girl who liked punk rock, before playing an acoustic version of "Punk Rock Princess," a hit song from his first band, Something Corporate. And as he played "Cecilia and the Satellite," a top hit from his solo album, the entire audience sang along as confetti poured over bobbing heads.
Really, the most unexpected part of McMahon's set came during his last song, "Synesthesia." As with many songs, he led this one with a story about being a child and, in gym class, playing with a large parachute.
"You think you got one last dance party in you?" he asked, before tossing a large parachute to the front row crowd members.
Soon the audience was popping the fabric over their heads before McMahon pulled the parachute back to the stage, hopped up to the piano, and wrapped it around himself.
Standing there, with a white light blaring behind him, he looked like a king (albeit an unconventional one). And from the way his loyal crowd lost it in those final moments of the show, it was clear that McMahon reigned the night not with the excitement of a dance move, but with the power of his music.
Concert: Andrew McMahon in the Wilderness / New Politics / The Griswolds / LOLO
Venue: House of Blues Cleveland
Date: Nov. 14, 2015
Rating: ★★★★½
Leave a Comment
About the Contributor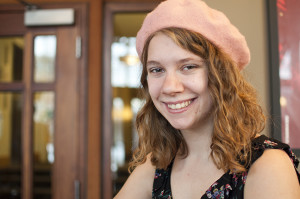 Anne Nickoloff, Director of Print
Anne Nickoloff, the Director of Print for The Observer, is a senior at Case Western. She hopes to one day be a music journalist, and has spent much of...