Appearing in a theater near you, Cleveland-based extras
No matter who you are, getting your 15 minutes of fame is possible in Cleveland. Film production companies big and small are known for taking advantage of the city's affordability.
And good news: it's relatively easy to be a part of one of these films as an "extra" or "background talent"–you just have to look in the right spot at the right time for the opportunity.
For instance, Cleveland locals who are passionate independent filmmakers look for talent of all kinds for their projects. Even larger movies, such as "My Friend Dahmer" and "The Avengers," were filmed in Cleveland and, you guessed it, put out calls for ordinary people to work as extras.
There is no guarantee that you will see yourself on the big screen, but you certainly have a greater chance than if you weren't a part of the movie at all.
How to find film opportunities
Social media is one of the best ways to find casting opportunities. Many Facebook groups are dedicated to casting calls and auditions in Northeast Ohio. Casting companies and directors in the area, like Lillian Pyles and Angela Boehm, also have Facebook pages with links to their websites.
In addition to these social media resources, NEOhioPAL is a free online service that provides notices of current performing arts listings in Northeast Ohio. Sometimes performing arts groups on campus, like Players' Theatre Group and the CWRU Footlighters, give information from these sources to their general bodies about opportunities. And, if all else fails, keep an eye out for announcements from local news sources, both in print and online.
The process before the shoot
Each background talent call will have different requirements, but the following should give you a good idea of what to generally expect.
Have a good picture of yourself ready to email, along with your contact information and the kind of role you are seeking in the film. This picture should look like you in your best natural state.
If the casting director thinks your look fits the general background of what a scene is trying to convey, you will get notified of what days and times they want you to work. After telling them when you are available, the director will email you a confirmation that will answer a lot of questions you might have, like where you need to go and what you need to wear.
What to expect as an extra on set
On set, you most likely will be doing a lot of waiting, learning, networking with other extras and partaking in refreshments. If it is an overnight shoot, you could be eating "lunch" at 11 p.m. You might even get paid if the movie's budget is big enough.
Rising second-year student, Emma Risley, filmed some overnight scenes for the upcoming romantic comedy "The Last Summer," starring K.J. Apa ("Riverdale"), Maia Mitchell ("The Fosters") and Jacob Latimore ("The Maze Runner") last month.
Harnessing your energy and learning to give a consistent performance is one of the most challenging, but fun, things about filming overnight.
Shooting multiple overnight scenes back-to-back caused some extras to lose their voices, according to Risley. She added, "It's fun because you have the other extras there hyping you up. It's a good learning experience having to [lose your minds at "the best party of your lives" and cheer at a skate park] at five in the morning."
Fourth-year student Jerek Pazgan-Lorenzo, an extra in the upcoming feature film "Native Son," worked on "The Last Summer" with Risley.
"[Being an extra] has been a lot of fun, and I always have great stories from my time as an extra to share with friends," Pazgan-Lorenzo said.
As fun as being an extra can be, you have to remember to be yourself and know your place.
"A large chunk of time as an extra is spent in holding before you even get to the set, but once I got on set, the crew worked fast. I wasn't allowed to talk between shoots and I was placed somewhere right away," Pazgan-Lorenzo said. "Every time I'm on set, the acting is very simple, so you don't have to be an actor if you want to be in a movie. As extras, we were never the center of attention, so we were never under a lot of pressure."
"You need to be really confident in yourself. A lot of times, being an extra is about your appearance," Risley said. "This one girl I met just turned 19 and has never done [film]. She ended up having a speaking line randomly because she was small and blonde and beautiful. Them not pulling you for something doesn't mean you're not a good actor."
Overall, experiencing a movie set as an extra is a worthwhile opportunity.
"Don't wait, just try it," Pazgan-Lorenzo said. "Don't have the expectation that being an extra will jumpstart your acting career, but try it out to see if you like being on set. If you just want to be in a movie, go for it."
About the Writer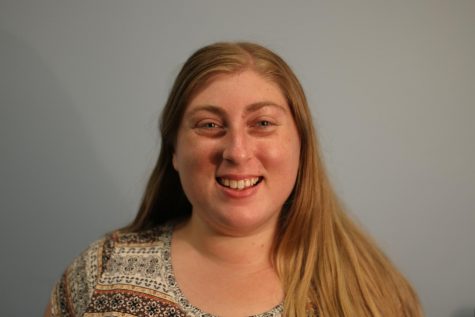 Sarah Parr, Director of Business Operations
Sarah Parr is a fourth-year at Case Western Reserve University and has been involved with The Observer since day one: she was the social media editor for...