Art and Music around campus
Friday, March 2
What: 2018 Alumni Exhibition
Where: Ann and Norman Roulet Student and Alumni Gallery
Time: 5-8 p.m.
Notes: Cleveland Institute of Art (CIA) and the CIA Alumni Council will hold a juried alumni exhibition through Mar. 29.
What: The Kite is Right
Where: Thwing Center
Time: 6-8 p.m.
Notes: Kappa Alpha Theta hosts their version of "The Price is Right" in order to raise money for Court Appointed Special Advocates (CASA).
What: Art.
Where: The Spot
Time: 6-8 p.m.
Notes: Residence Life's talent show allows students to showcase talents, collections and artwork for a few hours.
What: MIX: Expression (Kabarett)
Where: Cleveland Museum of Art  (CMA)
Time: 6-10 p.m.
Notes: Wizbang will be featured at a night of dancing, kabarett and cocktails in the spirit of Expressionist Berlin and CMA's exhibit "Graphic Discontent: German Expressionism on Paper."
What: Short. Sweet. Film Fest.
Where: Alex Theater at the Metropolitan at the 9
Time: 6-10:30 p.m.
Notes: Through Mar. 4, this film festival showcases the international, national and local films from independent filmmakers.
What: A Broadway Celebration: Leonard Bernstein and Jerome Robbins
Where: Severance Hall
Time: 8-11 p.m.
Notes: The Cleveland Pops celebrates two Broadway legends with a concert.
What: The 39 Steps
Where: Eldred Blackbox Theater
Time: 7:30-9:30 p.m.
Notes: On 7:30 on Saturday and Sunday, Players' Theatre Group will perform Patrick Barlow's "The 39 Steps," a stage adaptation of the Hitchcock classic.
Saturday, March 3
What: Ikidarod
Where: Cleveland Museum of Natural History (CMNH)
Time: 10 a.m.-4 p.m.
Notes: Celebrate Balto and the Iditarod with fun activities and costumes at CMNH.
What: Wing It! A Musical Jam Session with Apollo's Fire
Where: Cleveland Public Library
Time: 11 a.m.-noon
Notes: Visitors to the library will be able to join a free, interactive concert for all ages.
What: Fashion Meets the Botanicals
Where: Cleveland Botanical Garden
Time: 3-5 p.m.
Notes: Kent State University Museum and Fashion School holds its annual show at the Botanical gardens, showcasing the school's student's designs.
What: Points of View: Scott Suttell on Simon Denny
Where: Museum of Contemporary Art Cleveland (MOCA)
Time: 3-5 p.m.
Notes: Scott Suttell will speak about Simon Denny's work, which is now on view in The Founder's Paradox.
What: Chocolate Fest Cleveland
Where: Lago Custom Events
Time: 4-7 p.m.
Notes: Cleveland's biggest chocolate event of the year will feature vendors with tastings, a cash bar and a chocolate fountain.
What: Goi Cuon Social
Where: Village House 5
Time: 5:30-8 p.m.
Notes: VSA and the Office of Multicultural Affairs gives students the opportunity to mingle while enjoying Goi Cuon, Vietnamese spring rolls. RSVP is mandatory.
Sunday, March 4
What: Euclid Symphony Orchestra Spring Concert
Where: 3-5 p.m.
Time: Shore Cultural Center
Notes: Tickets are $8 in advance and $10 at the door; children under 12 enter free with an adult.
What: Oscars Watch Party
Where: re:bar
Time: 6:30-10 p.m.
Notes: The Greater Urban Film Festival hosts its watch party for the Academy Awards. Join staff and volunteers for a night of music and fun.
About the Writer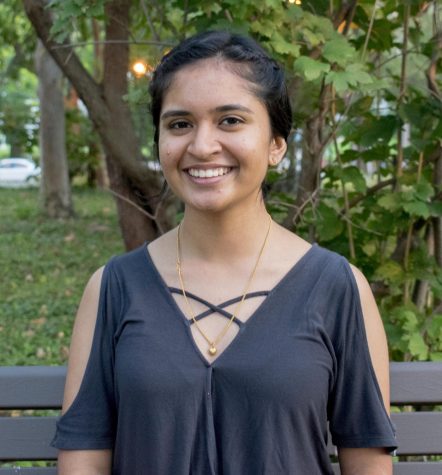 Smruthi Maganti, Arts and Entertainment Editor
Smruthi Maganti is a third-year student studying biology with a minor in public policy. After a year of copy editing, this is her first year as the A&E...