Art exhibit celebrates Women's History Month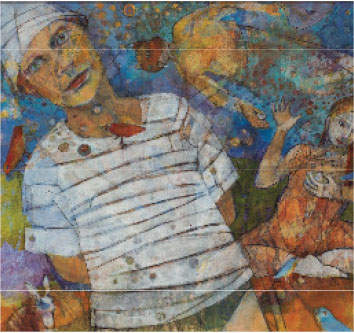 This month, women took Cleveland's art scene by storm, with the seventh annual "From WOMAN" exhibition. Lakeland Community College has presented these exhibitions in honor of Women's History Month every year since 2008.
Organizer and curator Mary Urbas explains that the exhibitions are "by women, of women and about women." Urbas was originally inspired by the New York City-based Guerilla Girls, an anonymous group of female artists dedicated to combating sexism and racism in the art world.
The Guerilla Girls' sarcastic manifesto about female artist advantages particularly affected Urbas. She says, "Throughout history, women artists have not been as well promoted and/or represented as their male counterparts.
She continues: "I am a woman gallery director, who curates exhibitions. I wanted to take advantage of my situation and promote the work of my talented artist friends."
Through hard work and shatterproof determination, Urbas achieved her goal. Initially, her exhibitions featured artwork solely from local and regional female artists, but throughout the years, the show exploded in popularity. Astoundingly, it now features female artists from all over the country. The past seven years saw over 100 artists and thousands of pieces.
This year, Urbas decided to reinvent the show through a colossal city-wide collaboration. She united with several of her colleagues to feature "From WOMAN" artwork in over a dozen galleries and studios across Northeast Ohio. Put simply, Urbas says there is "power in numbers."
The month-long exhibitions will showcase works from 38 female artists, and opening receptions will take place at different times throughout the month. One of the receptions will land at Case Western Reserve University's Mandel School of Applied Social Sciences, which showcases the work of Melinda Placko and Bernadette Glorioso.
"We created collaborative art specifically for this exhibition titled 'Birds of Summer.' With a bold color palette and lots of movement, the piece mixes drawing and painting and is an ambitious fourteen feet long," says Placko. "It hangs alongside a large number of individual paintings, collage and mixed media work."
Several of the women artists featured in this exhibition juggle busy schedules. They are not only artists—they are also wage earners and mothers. Their work is testimony to feminine power and a great representation of Women's History Month.
These women not only challenge their busy routines, but also transcend their skills by mingling with new art mediums. Local artist and former partner of WallEye Gallery Linda Ayala is a graphite aficionado, yet this year, she will be exhibiting a completely different talent: puppet building.
Furthermore, this exhibition offers a unique opportunity to blossoming female artists to burst into the art scene. The youngest artist featured is 15-year-old Nikki Belkin, who will exhibit one-of-a-kind embroidered sculptural shoes.
Despite their impressive achievements, the women involved in this exhibition are fully aware of how fortunate they are. As local artist Angela Oster remarks, "I think it's important to remember that it wasn't so long ago that women were starved of education and denied any place in history except as mothers and wives."
Urbas prevents the death of such a powerful tradition. She hopes to only add to the number of venues in the coming years and is at work on the 2018 exhibition schedule.
The big day for the exhibitions this year is on March 23 at Lakeland Community College. It begins with Women of Achievement awards at 2 p.m. and is shortly followed by an artists' reception from 3:30 – 5 p.m. Information about various opening receptions and galleries can be found on the Lakeland Community College website.