Asbestos incident prompts temporary evacuation of Mather Memorial Building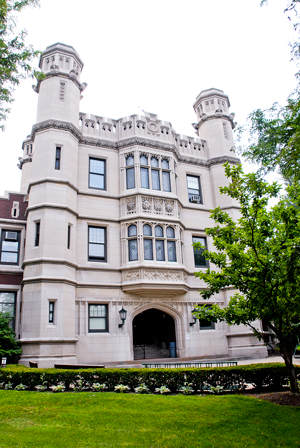 The typical day at Case Western Reserve University was interrupted for students attending classes in the Mather Memorial Building around 11:30 a.m. this morning. An impromptu evacuation of the building occurred following reports of the potential release of asbestos..
"A couple of weeks back a lead paint abatement project was done by an abatement contractor," Marc Rubin, director of safety services and chemical safety officer for Case Western Reserve, explained. According to Rubin, lead paint had bubbled due to moisture, which required it be scraped off of the wall's surface.
A painter was then engaged, who applied spackling to the wall and sanded it. The wall contained asbestos, which then had the potential for releasing asbestos into the air in the immediate area surrounding the work, Rubin explained.
"It was reported to us that it was the entire hall, but it was a very small area," he said. "We asked for the evacuation in order to be safe while we evaluated the situation."
Originally the entire building was evacuated, forcing several classes, such as Chinese Culture and Society, to be cancelled. Students, staff and faculty members were permitted to reenter the building once it was confirmed the affected area was small.
"We are being conservative," Rubin said. "We are doing air monitoring for the entire building as we speak, and we expect the results by 4 p.m. today. All work will be completed this evening, and everything should be completed by morning," he added.
This story is ongoing; updates will be added here as they become available.