Assmus: Cup controversy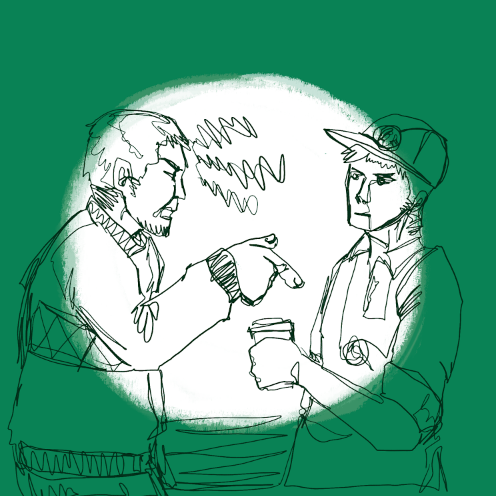 Once again, it is November and it is time for Starbucks to reveal their infamous holiday cup. This year, only a day after Halloween, the coffee company revealed an all green cup with a white circle on it that also includes artwork on it from Shogo Ota. The art depicts cartoonish figures of individuals that were drawn with a single line stroke that is supposed to encourage diversity. As always, people were angry and outraged that Starbucks did not make their "holiday" cup red and Christmas-themed like they have in previous years.
Last year, the company's holiday cup was a plain red ombre without any extra holiday figures such as trees or reindeer that typically symbolize Christmas. This year, people are outraged that the cup is green instead, and has no holiday imagery. A statement released by the CEO also made people believe that the company was attempting to be politically correct.
"The green cup and the design represent the connections Starbucks has as a community with its partners (employees) and customers. During a divisive time in our country, Starbucks wanted to create a symbol of unity as a reminder of our shared values, and the need to be good to each other," stated Starbucks CEO Howard Schultz. Even though the company has released the holiday cup at the beginning of November in the past, perhaps this year it is seasonal because of the presidential election.
It seems confusing that people are outraged about this cup design, when it is simply an attempt to encourage diversity and unity. Like Schultz said, it is a divisive time in our country as there were two presidential candidates that many people seem displeased with and might argue were completely unqualified for the presidency. I feel that a message of inclusiveness and love is something applaudable. How does a green cup show support towards one candidate or another when it is simply one color with an art design over it?
The green is temporary, as Starbucks revealed that the annual holiday red cup would debut on Nov. 10, leaving plenty of time remaining in the holiday season. The outrage over this green cup seems presumptuous, since the holiday season does not have to start immediately after Halloween is over. There is still several weeks left until December, with plenty of the fall season left to enjoy before the long celebration of Christmas begins. Even though there is no official start to the holiday season, we should not be preparing as early as October on a single holiday that does not happen until Dec. 25.
The holidays can be a fun time for people, whether you participate in the religious observations of it or not. Being aware of the fact that not everyone celebrates Christmas helps perpetuate respectfulness and tolerance of all faiths and beliefs.
Starbucks' green cup is something that should be highlighted, especially during a season that is about hope and giving. In the end, it is just a cup that bears the company's signature color. It shouldn't be such a controversial topic. At least the company is attempting to be inclusive and to celebrate diversity. I think that this kind of message is needed, especially after this election season.
Abby Assmus is a graduate Bioethics and Social Work student.