Athlete Spotlight Savannah Glimpse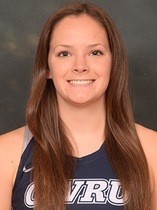 Savannah Glimpse is a first-year engineering student and member of the women's basketball team at Case Western Reserve University. Although Glimpse says it's difficult to manage her academic commitments and her commitment to the team, she also believes that she has grown as a person and learned how to persevere from being a part of the basketball team. She also credits the team for making her transition to CWRU easier.
How was your transition into college while playing a sport?
I think transitioning into college while playing a sport made the transition much easier. A lot of people come into college not knowing many people, but I came in with a wonderful team of girls that I could go to for any sort of advice.
What is the hardest part of being on the basketball team?
The hardest part of being on the basketball team is definitely time management. I am forced to take advantage of any bit of free time to do homework or study. It is especially hard when we are on the road traveling, because it is hard to do work when you are surrounded by all your friends.
What is your favorite memory on the basketball team?
My favorite memory on the basketball team was traveling to Rochester and Atlanta for games in the same weekend. It was my first big travel trip with the team and it was so much fun being able to travel via bus and plane, and stay in the hotel with a group of girls that feel like my second family.
What made you decide to major in engineering?
I decided to major in engineering because my strength is math and I enjoy problem solving.  
What is a piece of advice that you live by?
Do what you love because you only live once.
How has the basketball team changed you as a person?
Being on the basketball team has taught me how to push myself mentally and physically. It can be very draining on some days because of the hard work we put in. Even though it can be challenging, it is all worth it.