Athlete Spotlight: Trey Razanauskas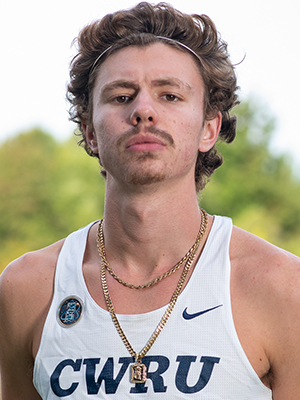 Trey Razanauskas transferred to Case Western Reserve University in 2018 and is now a third-year. He is one of two captains of the cross country team and is majoring in both economics and philosophy. He also holds the school record in the 5k (indoor and outdoor) and 8k races.
What were your expectations coming into this season?
I knew we had a great team, so many returners, a great incoming class. The expectation was always to make nationals, and our goal was top 10. I think we're coming along nicely with training, we're right on pace with postseason peaking.
Who do you expect will be the team's toughest competition at regionals/nationals?
At the regional level, John Carroll, Otterbein and Calvin. All three teams are in the same position right next to us. Nationally, the other UAA teams and North Central. As well as MIT, Calvin, Johns Hopkins, who are all around the No. 10 spot. We are ranked 20th, but I believe we can finish top 10 based on our training and how we peak postseason.
What is your favorite part of being on the track and cross country team? Why?
I came as a transfer last year, and the best part was how everyone accepted me right off the bat. I came in with no expectations and everyone accepted me for who I was before they knew what kind of runner I was. It really made me love the team knowing I was able to just be myself.
Do you have any meets that you remember being particularly special? Why?
Oberlin this year was awesome. It was the first time I ever won a cross country race, and was also the fastest 8k time ever recorded at Case. Overall it was a really solid day for the team too, everyone did really well.
Do you feel any pressure during competition? 
When the pressure is on me, that's when I'm going to perform my best. I love competition because I like testing myself, and that's the only way to know how you're going to perform is in actual competition.
What are your favorite free time activities? Why?
Probably thinking of funny tweets and eating at Leutner. Tweets are hilarious, and I love Leutner. I love the food there, really just spending time there. Today I was there at least an hour just talking to friends and hanging out.
What is your favorite quote or what inspires you?  
I find Muhammad Ali inspirational, pretty much any quote of his is amazing. He was the ultimate confidence guy who always bet on himself. He inspires me to have confidence in everything that I do.
What was the hardest part of the season?
Coming back from injury was the toughest part. I was antsy and wanted to get going with workouts and races, but I had to take it easy and recover. There were good takeaways too; sitting out the first three competitions put a chip on my shoulder, gave me something extra to think about when I finally came back.