Avolio: Disaster coverage ignores the West Coast
On Tuesday, Sept. 5 I opened my social media accounts to see that fires were blazing near my hometown in southwest Washington. Fire has been burning about 60 miles away from my home and ash is raining down even on my front porch.
Having lived in the Pacific Northwest for almost 19 of my nearly 20 years of life, I am no stranger to fire danger. There were fires every summer that I can remember. My local news channels always spoke about them, but it was rare to hear anything about it on the national news.
The good thing about the fires that I had experienced during my childhood is that they were never that close to my home. The closest a wildfire ever got to my home was about 80 miles away, but even that fire seemed like a world away.
In 2015 there was a fire in Pemberton, British Columbia that was so smokey, my corner of southwest Washington was filled to the brim with haze. Again, I didn't have a care in the world about it. Many of the people I went to school with were even making jokes, saying, "we get it Vancouver, you vape."
It took another two years and 3,000 miles for me to finally understand: fires are terrifying and unpredictable. For all I know, the current blaze in Eagle Creek, Oregon could be at my house tomorrow. You don't realize just how impactful natural disasters are until they're practically at your doorstep.
When I was much younger, I was so excited to meet Smokey the Bear because he was a celebrity during that time of my life. The day I finally met him, he gave me a badge and said I was one of the many who could prevent forest fires.
I'm sorry Smokey, today I can't.
The people who instigated this forest fire were from my hometown. Young teenagers decided it would be a good idea to throw a smoke bomb down an embankment in 103 degree weather during one of the driest times of the year.
The fire has burned 35,000 acres, jumped across the river from Oregon to Washington, merged with another fire, destroyed beloved natural wonders, and is still only 13 percent contained. The air quality has been so poor that it has been claimed to be even worse than that of Beijing.
Many of the scenic landmarks Oregon and Washington are known for are now believed to be destroyed. Multnomah Falls, one of the premier attractions in Oregon, was engulfed. While the clubhouse was saved, the scenery around the waterfall has been destroyed. Bridal Veil, one of the most popular wedding destinations in all of the Northwest, has likely been burned to the ground. Oneonta Tunnel leading back into the hidden waterfall is expected to be gone. Many of the areas in the Northwest depicted in beautiful photos on social media are now gone.
That's not to mention the destruction to wildlife. A hatchery trying to restore the population of Chinook salmon was forced to release 600,000 fish months before they were ready. Ranches have been evacuated. I can't even go on Facebook without seeing someone offering up space and/or time to house others' horses.
I remember the trips down the scenic Columbia River Gorge with my family as we drove to who-knows-where to go camping. Whether I was five or 18, I would always stare out the window. I would take in the beauty of the area: trees cascading down the mountains, the rolling foothills, the beautiful river…now most of it is gone.
With all the devastation raining down upon the United States in the form of natural disasters, I am now one of the many students who sit and watch helplessly as their hometowns are threatened by events out of their control.
From Hurricane Harvey weakening the great state of Texas, to the blazing fires in Washington, Oregon, California, Idaho and Montana, and even Hurricane Irma recently bulldozing through Florida and the Caribbean, everybody seems to be experiencing their fair share of natural disaster lately.
However, the fires raining down in the Pacific Northwest have hardly been covered in the news media.
Kaitlin Pataroque, a third-year student from the Portland, Oregon area, said, "It's been kind of hard that it seems like the fire isn't getting much coverage. I know that there are a lot of other big current events going on right now, but it seems like a lot of people have been turning their face[s]."
Until I brought up the devastation to friends, only one had heard about the fire. It's not just the Eagle Creek fire that isn't getting media attention either. Montana recently declared a state of emergency because fires have burned more than 1,000,000 acres of land this summer. Wildfires are also burning in northern Washington, central Oregon, Idaho and northern California. But it seems the majority of the United States remains unaware.
These events deserve attention too. Wildfires destroy homes just like hurricanes do. Wildfires take lives just like hurricanes do. Wildfires kill wildlife just like hurricanes do. These events deserve attention too, yet rarely are they covered on national television. The majority of the coverage of fires comes from local media. CNN, The New Yorker and The Washington Post are the only major networks that have discussed the devastation from the Eagle Creek fire. There has only been some very limited coverage on national television. Meanwhile, Harvey and Irma remain some of the top news stories.
Wildfires are disastrous events often caused by drought, high temperatures and lightning, all things people can't help, yet which receive little to no media attention. I get that we live in the Midwest, but these events deserve attention just like any other natural disaster.
It's time to stop turning a blind eye to the natural disasters of the West Coast. That side of America is just as important as the East Coast. We have a large population, we have industry, we have a large network of trade, and yet the area is hardly discussed. As a child I would become giddy when they mentioned Washington State on a television broadcast. That's how rare it is.
It is time for this nation to pay attention to all parts of the country. The West Coast does exist, and it's time to start recognizing that in the national news broadcasts.
Leave a Comment
About the Writer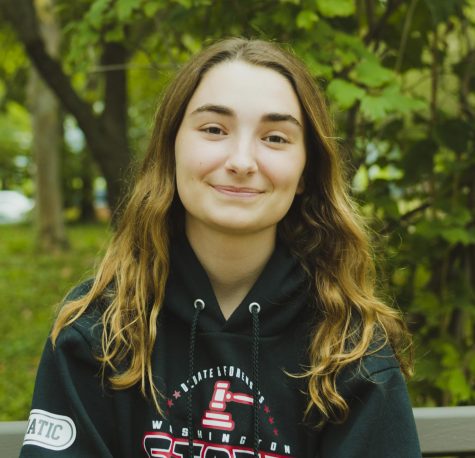 Madison Avolio, Arts and Entertainment Designer
Madison Avolio is the A&E Designer for The Observer. She is also a second-year student with a primary major in accounting, on track to get her Master's,...