Bees, Picasso and slam poetry
Fall Convocation speaker Sarah Kay on stage poetry, finding inspiration in unusual places
Since 2002, Case Western Reserve University's common reading book has served as a shared experience and catalyst for discussions among first-year students. Incoming students receive the book a few weeks prior to their arrival on campus and are given the remaining time to read and become familiar with it.
For the 17th annual common reading book, CWRU chose "No Matter the Wreckage" by Sarah Kay. Kay is a professional poet, founder and co-director of Project VOICE, performer and bestselling author. "No Matter the Wreckage," a collection of poetry, bears a stark contrast to previous common reading books. Typically, these are non-fiction pieces, such as last year's "Lafayette in the Somewhat United States" or 2015's "Whistling Vivaldi."  Perhaps no one was more surprised with this selection than Kay herself.
"I didn't understand what it meant at first," Kay admits. "But after I discovered all these first-year students would be reading my book, I couldn't believe it. It is a huge honor and made me feel like a writer."
In addition to publishing four books of written poetry, Kay also writes stage poetry, a form distinct from written poetry.
"The best kind of art of any genre makes use of the form that it is in," Kay said. "It is a terrible feeling when you read a book that would make a much better movie. A good book works as a book and only works as a book. Nobody looks at a Picasso painting and says, that's nice but I wish it were a photograph."
Kay is widely known for her stage poetry, rising in popularity after her 2011 Ted Talk, "If I should have a daughter," which garnered more than 11 million views. Her personable poetry has appeared in several other mediums, including the Netflix series "13 Reasons Why" and on Uniqlo T-shirts.
Kay's performances are powerful and prevalent; a quick Google search can confirm this, yielding dozens of her talks. What make her performances so compelling are her beautifully crafted words and her presentation, suitable for every audience. She believes different audiences demand different types of poetry.
Kay explored a thriving poetry community while growing up in New York City.  The city's constant activity has allowed her to find inspiration for her works. The latest object of her fascination is a swarm of 20,000 bees that attacked a hot dog cart in Times Square last week.
"Apparently, there is a bee unit in the New York Police Department that even have their own Twitter, and they get called for bee emergencies and show up to vacuum bees without hurting them," said Kay.
Kay's authenticity and enthusiasm shines in her poetry. She invites readers to explore her world, and her method of figuring out her world through her words. Her endless curiosity and unapologetic emotions make her relatable and refreshing.
"My first impression of stage poetry was from a poetry slam that had a lot of loud men in it," said Kay. "So I thought stage poetry had to be angry and aggressive. But I quickly found out through performances by women and people of color that there is actually so much more. And because of the diversity, I can find a version that is more authentic to who I am, which is not an aggressive male."
Leave a Comment
About the Contributor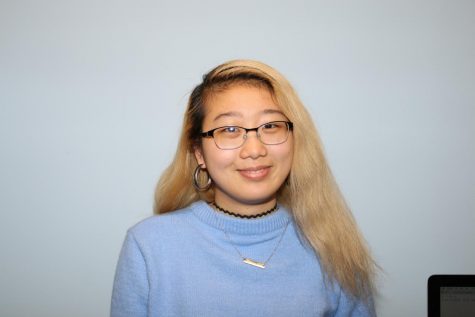 Yvonne Pan, Development Editor
Yvonne Pan is a fourth-year student double majoring in civil engineering and environmental studies, and minoring in English. Freshman year, she spilled...