Bernie Sanders spoke to crowd of thousands in Cleveland
Thousands of supporters of presidential candidate Bernie Sanders flooded into Cleveland State University's Wolstein Auditorium on Monday, Nov. 16, marking the Democratic presidential candidate's first campaign stop in Ohio.
"It was great attending my first rally," said first-year CWRU student Naveen Viswanath. "I enjoyed being there to witness this speech and share opinions with a crowd that supported the same beliefs that I did."
Former Ohio State Senator Nina Turner, who recently switched her endorsement from Hillary Clinton to Bernie Sanders, introduced Sanders. In her introduction, she mentioned the working class, young people with debt, Americans deprived of health care, women deprived of the right to control their bodies, equal pay and the unjust justice system, affirming that enough is enough.
"When I say feel, you say Bern," fired Turner.
To a crowd riled and geared up in Bernie 2016 signs and shirts, Sanders began his speech with condolences for the Paris attacks, calling for an international coalition including Iran, Saudi Arabia, Jordan, Kuwait and Turkey.
"Now is the time for developing a serious and effective strategy to destroy ISIS, now is not the time for cheap political talk or trying to take political advantage of this difficult moment," said Sanders.
Sanders continued demanding that the United States must not be involved in perpetual warfare in the Middle East.
"It was the first time that Sanders spoke extensively about foreign policy at one of his rallies," said first-year CWRU student Robert Harley III. "So it was very time relevant considering the recent attacks in Paris."
Sanders is differentiated from other candidates by his refusal of super PACS and monetary donations from corporations and billionaires. He proudly noted that he has received about 800,000 contributions from American individuals to fund his campaign.
"Our campaign is a people's campaign … we will win this on our own," Sanders said.
Sanders discussed the issues of unemployment and incarceration and the need for greater investment in education, rather than jails. He spoke of the necessity for a living wage and called the current minimum wage a "starving wage."
Sanders continued, reflecting on family values and how a mother and her baby should never have to be separated because she is not granted paid leave. He stressed on the need to create jobs, increase voter turnout and end institutional racism.
"What this campaign is about is not just electing a president," said Sanders. "It's creating a political revolution."
Members from the club Bernie's CWRU volunteered for the event and have been advocating for Sanders and his platforms. Co-presidents and second-year students Jaimee Miller and Paige Yepko had previously contacted Northeast Ohio's youth coordinator from Ohio Democrats and Sanders' head volunteer coordinator in Washington, D.C. as a part of their push to get Sanders to come to Cleveland.
"We have been tabling to get the word out on Bernie and also to have CWRU register to vote—this campus is very politically inactive and we would love to see that change," said Yepko.
Bernie's CWRU has been holding watch parties at The Jolly Scholar for every presidential debate. They hope to get over 500 CWRU students to register to vote by the general election and hold information sessions about Sanders' policies and how they affect the younger generations.
Leave a Comment
About the Writer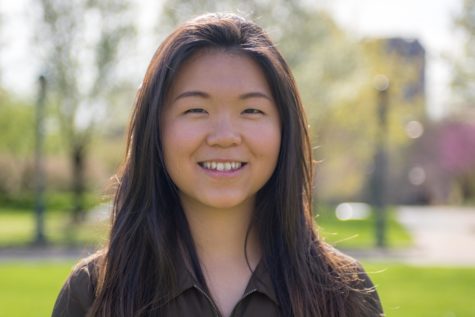 Ashley Chan, Director of Web & Multimedia
Ashley Chan is a second-year student studying economics. Ashley likes to lift. If you wish to contact her, you can email her at axc627@case.edu.