Best Of…Coffee Places
Whether it's early in the morning and you need to start a long day right or you are simply looking for a change of scenery for a night of studying, head to one of these coffee shops for quality brew and a calm ambiance. These picks are all unique in their environments and each offers a welcome change from the Starbucks many of us shamelessly turn to when in need of caffeine. In this last month of school, when nights seem to turn to mornings faster than before and motivation is low, head to one of these top five coffee shops on or around campus.
Presti's Bakery – In the heart of Little Italy, Presti's Bakery may be known for their sweet Italian pastries, but they also make a killer cappuccino that is heaven when paired with a biscotti. Warmly lit and with ample opportunity for people watching, Presti's is a step up from your normal coffee shop and shouldn't be too crowded by other frenzied Case Western Reserve University students. Although in times of intense exhaustion you may desire a shot (or three) of espresso, a Presti's cappuccino is more like a topping of foamy milk and fragrant cinnamon combined with an energizing dessert. Go early morning or early evening to avoid the rush, and despite my plugs for the cappuccino, they also serve delicious espresso, regular brew and an assortment of teas.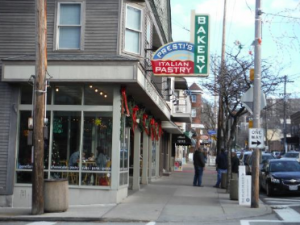 Dunkin' Donuts- Despite my best attempts to keep this list local, I felt the need to include this chain that quickly became a North Side staple after opening last year. This stop stays busy yet quiet due to their location within the bookstore, and the ample amount of windows provides an abundance of natural light that should keep you awake even through the most boring of study sessions. Offering low-priced yet flavorful coffee, doughnuts and surprisingly good breakfast sandwiches, Dunkin' Donuts is sure to answer any hankerings for a sweet drink and a doughnut to get you through the day. Even sweeter is that they accept meal swipes—for one swipe you get a coffee, a breakfast sandwich and a doughnut. I recommend the iced coffee with a swirl of French Vanilla, the traditional egg and cheese on a croissant and a strawberry doughnut. But they offer a plethora of options, so choose away.
Cool Beanz – Located inside the Tinkham Veale University Center (TVUC), this coffee stop is small, but they have some of my favorite coffees on campus. They share seating with the other TVUC establishments so expect a generally crowded seating situation during the day. However they stay open until 9 p.m., so nights are a bit quieter. Serving Zingerman's Coffee, a brand out of Ann Arbor, Michigan, they offer all the traditional café drinks from espresso to iced lattes, along with pastries and trendy snacks. Prices dance around the range of Starbucks' drinks, and they take CaseCash. I tend to head into Cool Beanz in between classes when I need a pick-me-up and go for their pleasantly bold Americano along with a muffin or an apple.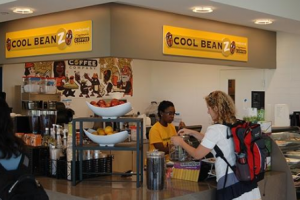 Algebra Tea House – "How do I love thee, let me count the ways." First, they have amazing coffee served in lovely earthy mugs that make you feel at home. Second, the incredibly cozy interior with plush chairs and board games and dim lighting feels like a warm blanket when school gets stressful. Third,  the all natural and healthy (I think….) breakfast that is a wonderful departure from the dining hall's Sunday brunch. I clearly love Algebra Tea House, and for good reason; they are loved by students for the warm feel, and by all for the quality coffee. Head there on the weekends when you need a place to study and settle into a big comfy seat while you wait for a tall mug of coffee and a heaping bowl of refreshing berry oatmeal (my personal favorite).  Stay a while (hours), and savor the unique ambiance that feels more West Coast than Lake Erie Coast. Warning: You may never want to leave.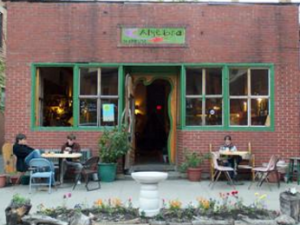 Rising Star Coffee Roasters – You have probably been to this wildly popular Murray Hill establishment already, but if you haven't, go! Bottom line, they have what many consider to be the best coffee near campus. They roast in-house, so walking by their Murray Hill location will fill your nose with the gloriously overwhelming scent of coffee beans. Crisp and modern, I head to Rising Star when I want great coffee, and I prefer to sit outside to enjoy its vibrant taste. The shop tends to be busy all day, but early morning and anytime from 7 p.m. to closing is usually calmer. For a more unique coffee experience, get a barista to suggest one of their many brews, and sip one that is more hip than many of us will probably ever be.