"Big Mouth" tackles awkward topics
Becoming an adult is not easy: Ask any person in their late teens and early twenties across the world. One of the worst aspects of the transition isn't getting a job or paying bills; it's much worse. This aspect of the transition begins to take hold even before high school—puberty.
That is the main subject of the show "Big Mouth," a newer Netflix original series. This show follows five middle school students as they navigate the throes and woes of the most awkward and unfortunate time everyone is forced to go through.
The series tackles subjects that the majority of us encounter during this time. Within the first five minutes, it covers the idea that boys have a difficult time controlling their urges as they transition into young men. In the same episode, also related to the male transition, it discusses how friends feel when one has developed more than the other.
The controversial series switches gears to analyze the female perspective in the second episode in the worst way possible. It's every woman's nightmare to start her period while wearing white pants; it's entirely unfathomable to get the first period while wearing white shorts and on a field trip. Well, this show approached the unfathomable and made every female confront the fear they never had. After having practically the worst day of her life, the main female character then gets into her car to go home and cries to her mother. This was a perfect response that any woman would likely have.
After reaching home she then has the awkward sanitary napkin conversation with her mother and discusses the unfairness of women having to be the ones to deal with bleeding from one of their orifices every month. Her hormone monster then shows up and the teenage angst immediately commences.
While "Big Mouth" seems as if it would be unrealistic, it's one of the few television shows that approaches puberty with a rather honest perspective. (If only all of us could have watched this show to prepare us for the horrors that puberty would bring.) However, no matter how helpful it would have been, I recommend that you do not under any circumstances show this series to anyone under the age of of 18.
Show: "Big Mouth"
Network: Netflix
Rating: 4/5
About the Writer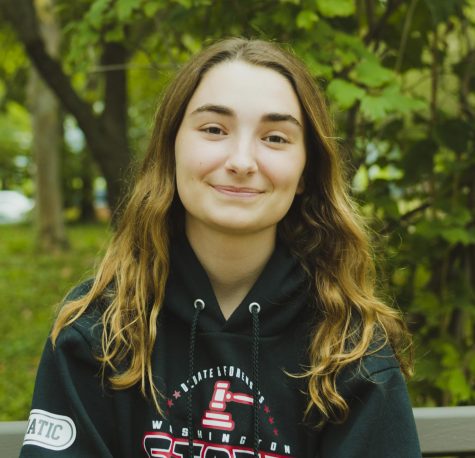 Madison Avolio, Arts and Entertainment Designer
Madison Avolio is the A&E Designer for The Observer. She is also a second-year student with a primary major in accounting, on track to get her Master's,...