Blackbear brings crowds despite delay
I grew up listening to hip-hop and R&B music in its birthplace of New York City. When the University Program Board (UPB) sent out a survey to choose an artist for a spring concert last November, blackbear was highly requested; I eagerly anticipated his arrival last Friday night, April 6.
I arrived at the concert just a tad later than when the doors opened, and was surprised to see that a large crowd had already formed.
4upz was the opening act for blackbear. Students might recognize 4upz from Battle of the Bands in February, where bands competed to perform as the opening act for Sean Kingston at Case Western Reserve University's 20th annual Springfest on Saturday, April 28.
Although they did not secure a spot at Springfest, 4upz's talent caught the attention of UPB, who invited them to open for blackbear. Their charisma and music easily won over the lively crowd.
UPB Director of Concerts Zoe Nykaza explained that blackbear was suggested several times in the Rap/R&B category of the UPB survey, with Joey Bada$$ as runner-up.
UPB immediately set out to negotiate offers with blackbear's management team.  
Nykaza mentioned several problems which accompanied the planning process. Coordinating this event, for instance, included multiple date changes as UPB struggled to coordinate with the Tinkham Veale University Center staff, since a large expected turnout rendered Jolly Scholar too small a venue. UPB also coordinated with blackbear's touring management after the show was booked in February.
Like some in the crowd, I expected the guest of honor at 10 p.m, only to have him grace the stage over an hour later. While the audience clearly enjoyed 4upz, it was evident they were anxious about blackbear's tardiness.
"I'm a little disappointed that we were given no notice that blackbear would be late," said first-year student Maxwell Barnett.
Blackbear's performance was highly anticipated, as represented by the enormous crowd, which ultimately led to a major debacle.
"The crowd was really pushing and the bike racks we had in front of the stage could not sufficiently support the crowd without some UPB members and security officers holding them up," said Nykaza.
Guilty of peacefully navigating my way to the front, I witnessed a few people lose their balance and fall down, almost getting swallowed by the crowd before quickly being pulled up by other concert-goers.
Nykaza said that better barricades will be planned for future events.
Some upcoming UPB events include Late Night with Hasan Minhaj & Chris D'Elia on  Friday, April 13 from 6:30-9:00 p.m., and paintballing at Synergy Woods on Saturday, April 14 from 1-5 p.m.
About the Writer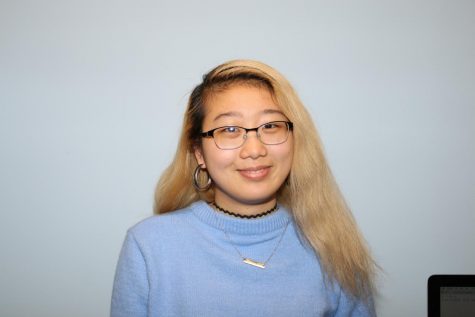 Yvonne Pan, Development Editor
Yvonne Pan is a fourth-year student double majoring in civil engineering and environmental studies, and minoring in English. Freshman year, she spilled...