Blue Sky Brews brings life back to Rising Star's former location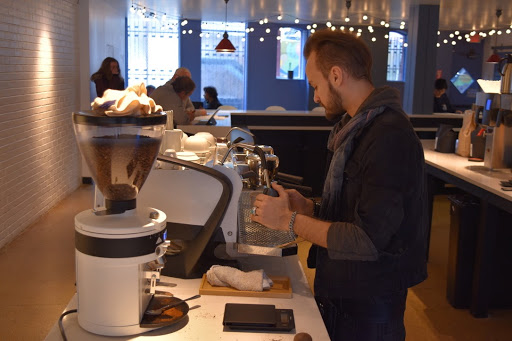 The corner of Murray Hill and Cornell Roads feels built for a coffee shop—the location, design, everything about it, really, is perfect for sipping a latte. So when Rising Star Coffee Roasters closed its doors late last year, it left behind a hole in the neighborhood—at least until this week, when Blue Sky Brews, a coffee shop with all sorts of novel features, opened its doors in the storefront previously occupied by Rising Star. 
Blue ere are a few leftover aspects from Rising Star that the new ownership group maintained, including general manager Evan Duly, who, after several years of managing Rising Star, has taken on the challenge of opening up the new place.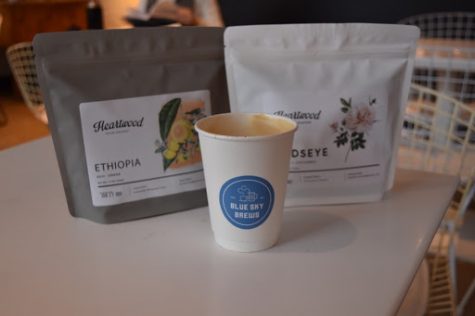 "I think a lot of people saw that this was a really special place that needed a coffee shop in it," DSky Brews' coffee beans, the most important piece of the coffee shop puzzle, are sourced from Heartwood Coffee Roasters, a Chagrin Falls roastery. Bags of these coffee beans line the shelves of Blue Sky Brews' corner location. Their pastry case holds confections from EDWINS Bakery and Training Center and will stock Bialy's Bagels. The color scheme on the store's inside is different from that of Rising Star, with the red scheme of the old shop replaced with more blues and whites.
Thuly explained. "So for the past few months we've been working out the details, and we just opened up this week."
Nothing was left to chance when it came to the new place. Heartwood, the coffee roaster that Blue Sky chose, is Duly's personal favorite, calling them one of the best, if not the best, roasters in the area.
The logo was intentional, too, featuring both a coffee cup and a beer glass, a nod to the establishment's plans to add beer taps—and longer hours—sometime later this summer.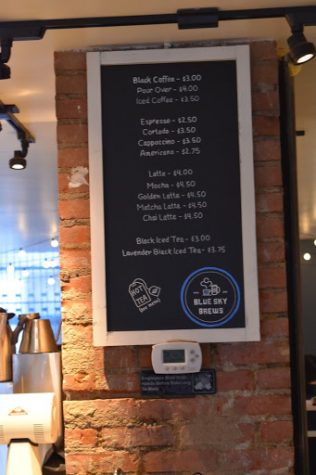 "We're going for the West Coast coffee shop vibe—coffee and beer," Duly explained.
The absence of a coffee shop in the past few months does not seem to have driven away former Rising Star fans. "It's such a neighborhood spot and there's nowhere else to really go, so there are a lot of familiar faces," said Duly, adding that, even now, he recognizes by name probably the first 20 customers of the day.  
Many of the staff at Blue Sky Brews are former Rising Star employees, and the relationships they have with their customers is another strength of the new place.
Eric Lanigan, a life coach from the Cleveland Heights area, was once a frequent customer of the old Rising Star location. He started going to the new Rising Star location on Lee Road when the old one closed, but came back to try the new Blue Sky Brews because "all of the employees that used to be [at Rising Star] are back."  
Lanigan is not fully committed to the new spot yet, in part because some of his old friends that worked at Rising Star still work for them at different locations, saying that his plan for now was to "split coffee custody." Still, he deemed his first Blue Sky mocha delicious, despite the establishment's current, but temporary, inability to create non-dairy mochas. 
Blue Sky Brew's espresso machine turned on on Friday Feb. 7, three months and three days after Rising Star closed its doors, and while it's currently working out a few kinks, it's worth a visit.
4.5 Stars (but probably a 5 when they stock the bagels)