Blue Team wins the 2021 men's basketball Blue/White Classic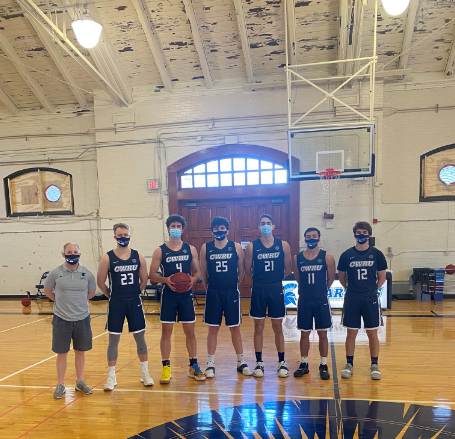 Until last week, the Case Western Reserve University men's basketball team thought that the 2020-2021 season would whistle by them without any competitive games.
"Me and the rest of the [first-years] haven't played a game in more than a year," recalled first-year guard Jayden Prince.
That all changed on Saturday, April 10, when CWRU hosted the 2021 Mark Termini Blue/White Classic inside the Adelbert Gymnasium. Though the intrasquad game did not have fans in attendance, the competition was live streamed on the CWRU Athletic Department website, a recording of which can be found here.
The event was sponsored by 1978 CWRU graduate and decorated collegiate guard Mark Termini.
"I wanted to do something that would be symbolic and supportive for the basketball team in light of their season being cancelled," said Termini. "I also wanted them to have a varsity experience that they could look back on as the years go by and at least say 'That was a lost season for us, but we did have this one game.'"
The team was divided into the Blue Team and the White Team. Assistant Coach Mike Fitzpatrick led the Blue Team, which included fourth-year guard Ignas Masiulionis, first-year forward Hunter Drenth, third-year forward Max Day, third-year forward Ryan Newton, second-year guard Connor Ryan and first-year guard Jeremy Callahan. White Team was coached by Assistant Coach Greg Van Pelt and featured first-year guard Dan Florey, second-year forward Cole Frilling, third-year forward Solomon Wells, first-year forward Ian Elam, second-year guard Jason Lewis, first-year guard Jayden Prince and third-year guard Jack Vaselaney.
The game was treated as if it were an official one, with certified referees mediating it and players wearing uniforms. It was a special morning and there was a restless, palpable energy permeating throughout the gym. The players were eager to get on the floor.
The game tipped off at 11 a.m. and both teams came out with exceptionally high intensity, scoring three straight baskets to start the game. Newton received the ball at the top of the 3-point line, crossed over his defender and drove to the basket for a layup, putting Blue Team up 2-0. White Team wasted no time on the other end: Florey curled open to the 3-point line and drilled the shot off of the assist from Vaselaney. Blue Team responded with a 3 of their own, with Drenth spacing out to the corner off a baseline bounce pass from Ryan.
The two teams settled down into a back-and-forth following this blistering start. Many of the points came from inside the paint via layups and offensive putbacks. There were also many overthrown passes and careless turnovers, which reflected the team's hiatus from playing competitive games. The first half ended with Blue Team up 37-26.
White Team started the second half with a strong push to overcome their 11-point deficit. At around the 17-minute mark, White Team had cut the lead to 36-41. Masiulionis received a pass from Day and scored a 3-pointer for the Blue Team. On the next possession, Wells cut down the middle of the key and hammered in a dunk off an assist from Frilling, emphatically chipping away at the lead, 40-44.
However, Blue Team played strong defense and stayed ahead by taking advantage of offensive boards and missed 3-pointers from White Team. With 13:22 left in the game, Blue Team had gained a 52-42 lead.
At the 12-minute mark, White Team miscommunicated on defense and two players jumped at Drenth at the top of the 3-point line, allowing Newton to drive down the right side for a dunk and a 3-point play opportunity after the foul. Newton nailed the free throw, increasing Blue Team's advantage to 57-45.
Blue Team never looked back and sailed to a dominating 85-68 victory against White Team. Vaselaney led all scorers with 23 points. Wells poured in 12 points, Prince and Elam each contributed 9 points, Florey and Lewis chipped in 6 points and Frilling added 3 points for the White Team. Newton led the Blue Team, posting 21 points. Masiulionis scored 20 points, Drenth put up 19 points, Ryan added 13 points, and Callahan and Day added 5 and 7 points, respectively.
The players genuinely appreciated the opportunity to play a competitive-style game in this barren season. As individuals who treat their athletics with the same importance as their academics, they reveled in this gift to just take the floor and play basketball again.
"We were just really excited to be able to go out there and just play [and] have some fun again because practice is a lot of work," first-year Prince remarked. "To be able to have some fun and play with guys who we [first years] haven't really played with was an amazing feeling. My family was able to watch me play and they all texted me after and were very excited to watch me play again. And I think it was that way for a lot of the guys. It was just a great feeling."
Head Coach Todd McGuinness was incredibly happy about the game, saying that "It was a great day for the players to play in uniform with officials. I'm sure most of their parents tuned in via the webcast so that was good for everyone. Mark Termini is a passionate alum and we can't thank him enough for everything he has done for our program."
After having the season cancelled, fourth-year Masiulionis felt like "There was a lot of unfinished business, [a lot] of loose ties. Now I feel like I'm at peace in a sense that 'Hey, my career here at CWRU is done.'"
"It's great that it happened. Unfortunately, it didn't happen the way we wanted it to happen with senior night and all the parades and stuff, but I'm still very happy [that] we were able to play and my parents were able to see it. [I feel] like now I got some [closure]."
The University Athletic Association (UAA) issued a statement on Oct. 27, 2020 formally cancelling UAA winter sports. The organization believed that the issues related to implementing NCAA testing protocols, travel limitations, event management, restrictions on group gatherings, providing care for symptomatic players or for individuals who test positive and other related challenges could not be "resolved in a manner that would facilitate an acceptable level of risk mitigation" for all those involved.
Although many felt that the news wasn't completely unexpected, it still devastated the winter athletes. Masiulionis felt that his performance in his junior year had been subpar, especially after going through injuries. Once CWRU shut down, he wanted to capitalize on the extra time to get ready for the next season.
"I started working on the next season in the hope that we were going to be ready and we were going to be having a season," Masiulionis said. "Just hearing that all of that six months of effort that I put in going to the gym, on runs and to the weight room to be the best athlete that I could potentially be, that kind of going to waste when you're not going to be able to show it off as a part of the team, it hurt. It really hurt."
Third-year Day empathized with the fourth-years, saying "They're all really great guys and I felt awful that they weren't going to be able to finish their season, especially because I thought we were going to be really good this year."
When asked about seeing other schools playing their seasons to completion, Day added "I know almost all Division I schools [played] but that's a little bit different in comparison to the resources they [have]. But I think if it was really something that all the [UAA] schools wanted to happen, I think it could have gotten done. To make sure that they were playing it safe, they cancelled it, which I understand, but I wish it could have gone the other way."
Many of the universities and athletic conferences that cancelled their seasons cited health and safety concerns. Given that the NCAA is a billion-dollar business, however, some argue that the cancellation of Division III sports had significant financial undertones.
Termini, a sports attorney and agent who has gained a unique insight into the inner workings of college sports through a successful 30-year career representing professional athletes and numerous ex-NCAA players, shares this perspective.
"As usual, the Division III schools and their athletes were treated with less importance than they deserved. The river of money in collegiate sports runs through DI, not DIII," Termini delineated. "While it is clear why the Division I institutions found a way to play their football and basketball games, the Division III institutions that decided to cancel their seasons did so as a matter of convenience and cost effectiveness. When I realized that other DIII schools, including several in Cleveland and in the Ohio region, did play their 20-21 seasons, I found that very troubling and obviously inconsistent. If there was truly a medical concern, then that concern would have impacted the Division I sports in the same manner in which it impacted the CWRU basketball team. Knowing the emphasis that I placed on my own collegiate career, I empathize with these guys very deeply."
The Division III Administrative Committee of the NCAA cancelled all the winter sports championships for the 2020-2021 academic year due to the low participation among member schools. However, the NCAA elected to go ahead with the Division I championships.
The NCAA brings in about $867.5 million in revenue from the Division I men's basketball championship tournament alone, which accounts for more than 80% of the association's annual revenue. When the 2020 March Madness was canceled, the organization lost millions in profit and issued budget cuts that directly affected Division III programs.
A press release issued last year indicated that revenue allocation for Division III was cut from $33 million to $10.7 million. Additionally, the division had already paid for the fall championships, a portion of winter championships and most other initiatives, such as diversity grants. Thus, the division spent about $7.6 million more than the revenue it generated, which created a net loss during the previous year.
Coming into this year's tournament, the NCAA didn't want to miss out on the television and marketing revenue generated by Division I basketball for a second straight year. They poured in immense resources to conquer the logistical nightmare of creating bubbles in two states for the men's and women's tournament. Division I coaches and universities were keen on not losing more money through their sports programs than they already had, and so their teams played complete seasons and participated in the renowned March Madness tournament.
Division III institutions and athletes, however, did not receive the same attention or importance. After the winter championships were canceled, the decision to conduct seasonal play remained up to the Division III conferences. Most, if not all, Division III universities lose money through sports programs. Thus, the institutions were incentivized to cancel seasons. The fact that many of the NCAA regulations and health protocols required immense funding for player testing and bubbles only further discouraged Division III programs from playing competitive games this year.
These financially driven decisions rob athletes at their universities from pursuing their passions at a high level. The impact is exacerbated by the fact that Division III schools do not offer athletic scholarships, which means almost all their athletes play out of pure enjoyment and love of the game.
"It sucked," Prince said about the season being cancelled. "It's not something that any athlete wants to hear, especially us being the [first-year] class, we were excited to come in and show what we got. It was definitely disappointing … Also a lot of other schools around us started playing again and they were having games. So to watch my friends play college basketball, [it] was definitely tough."
How can college athletes, regardless of which division their respective institutions are a part of, have equity in terms of play?
Termini believes that there is no longer any great reason for the NCAA to exist at any level. For the time that it maintains its governance over collegiate sports, however, he believes the divisions should be managed by different administrative bodies.
"The NCAA Division I is a totally different business than Division III, so the two should be disconnected. Division I is professional college sports. Division III is also college sports, and it is just as important to the athletes and coaches competing at that level. But the revenue generation is not the same, so the goals and priorities of the administrators should be aligned with the realities of each division," Termini stated.
The pandemic-related decisions that led to the cancellation of the CWRU basketball season illustrated the inequity of the current NCAA administrative design, according to Termini. "The NCAA basically said that 'Division III is not important to us, so each conference may act as they wish. We really don't care because there are no TV deals involved, and there are no major revenue streams coming from Division III. So we're not really going to be concerned or bothered with it.' In Division I basketball, the NCAA was very concerned about how that sport and the 2020-2021 season (and especially March Madness) was supported and allowed to play out. That disparate treatment and artificial line-drawing made it inherently inequitable and inefficient for the Division III athlete because they were not afforded the same level of concern and importance. And as an ex-DIII athlete who has reaped lifelong dividends from my CWRU playing experience, I feel badly for those players that had their own experiences needlessly cancelled," Termini added.
Over the past years, the NCAA has come under intense scrutiny from athletes and fans alike for not paying athletes what they would otherwise earn in a competitive market, for not compensating college football players for medical issues they may incur and for alleged corrupt recruitment practices.
Current and former Division I athletes around the country have increased pressure on the NCAA to pay athletes, and they've taken that pressure all the way to the Supreme Court. At the end of March, the Supreme Court heard the NCAA's appeal in a case about benefits athletes at universities can receive. The court most likely will announce their decision mid-summer.
Though Division I athletes can greatly pressure the behemoth of an organization that is the NCAA at the country's highest levels, the same cannot be said for Division III athletes. Athlete empowerment is on the rise, but certain athletes can possess that power while others cannot simply because Division III isn't as profitable as Division I.
Following the scrimmage, Day had high praise for the team and feels optimistic about the upcoming season.
"I think there was improvement from last year … It was really awesome to see our [first years] play as well as they did. Hunter [Drenth] had 23 points and it was just a really awesome way to put on a show and show how much we've improved from our [first] year and how good our new, young core is."
Masiulioni was impressed with the raw talent that was on display in the scrimmage, adding that "Given the nature of a scrimmage, you're not going to see much organization, it was more of a free-for-all. That's when I think our team is at its best, because we have so many talented players where people can create points out of nowhere."
Although no other games or scrimmages are scheduled for the remainder of the semester, the men's basketball team has high hopes for the next season. Coach McGuinness plans on using this time to "work hard on skill development and player development in the next few weeks."
"We definitely have a lot of work to do [but] overall, we've got a great group of guys," Prince stated. "Every one of them is talented and we have great chemistry. I think we can do really well next year if we're willing to put in the work, and I think we are."
The CWRU women's basketball team will be holding a Blue/White scrimmage of their own on Friday April 16. The game will be held in Adelbert Gymnasium and tip-off is scheduled for 6 p.m. Though no in-person spectators are allowed, the game will be live streamed on the Athletic Department's website, here.