Bon Appétit breaks CWRU's heart
Beloved DEN cashier Shaunte Hall-Jones gets fired
On Friday night at 2 a.m., The DEN by Denny's at Case Western Reserve University is a madhouse. A swarm of drunk students from a first-year party, mixed with students who spent the night at the Kelvin Smith Library (KSL) cramming until the wee hours of the morning descend on the chrome and neon late-night greasy-spoon diner next to one of the greatest French restaurants in the city. There at 2 a.m. managing the chaos was Shaunte Hall-Jones, a cashier who students knew that no matter who they were or how intoxicated they were, would always recognize them.
"She learned my name and took time to pronounce it correctly," said first-year Diarmuid Hutchinson. "Which many teachers I've had couldn't do." 
Hall-Jones said there was no secret to remembering countless names. She did not need a cheat sheet or names written on her hand. She learned the names of her students because she cared about what made each of them unique.
"There are certain things about every person that sticks. I remember I was writing the name down for one young man, and he gave me a word association on how to pronounce his name, and that's what stuck. I have two young men who come in named Miles, one has bright blues eyes and curly blonde hair, and the other one has brown curly hair. They kind of look similar, but I can tell them apart from the color of their hair."
"Winston, it was your smile," said Hall-Jones. "You have the brightest smile ever."  
When news of Hall-Jones's firing reached CWRU on Feb. 15, there was an immediate outcry throughout the student body. Over 1,200 people signed a petition started by first-year TJ Disabato that demands that Bon Appétit, the company that runs almost all on-campus dining options, hire her back.
"I was at KSL trying to get some work done. I took a break and saw that someone posted that Shaunte got fired. I just went numb. It was the weirdest feeling," said Disabato. "I didn't even think about it. I went on Google and typed in 'petition maker.' I wasn't thinking about it.  It was like my body was taking over."  
Hall-Jones' all-encompassing kindness and talent for customer service gave her the legion of devoted fans ready to come to her defense after she posted the news of her firing. 
"It was the equivalent of seeing a T-Rex storm down Euclid Avenue," said Disabato. "It just didn't feel real. It felt more normal when I read that Babs was leaving, but Shaunte felt like such a fixture here." 
Hall-Jones was touched by the petition and even signed it herself.
"I was still processing all the love that I received," said Hall-Jones when asked about her reaction to the petition. "I'm still getting friend requests on Facebook and follows on Instagram from CWRU students. It's still coming even today. I'm flabbergasted about the amount of support around me. You guys are amazing."
This support is a reflection of the support she offered students for many years. Disabato remembered a difficult moment during midterms when Hall-Jones offered a much-needed expression of care. 
"I went in there really bummed out after taking my last final," said Disabato. "I was like, 'Shaunte, I think I just bombed a final,' and she was like, 'Oh no sweetie let's get you fed,' and after she handed me my Chick-N-Bacon Brioche Melt she came out from behind the counter and gave me a hug." 
Bon Appétit is aware of the petition to get Hall-Jones her job back.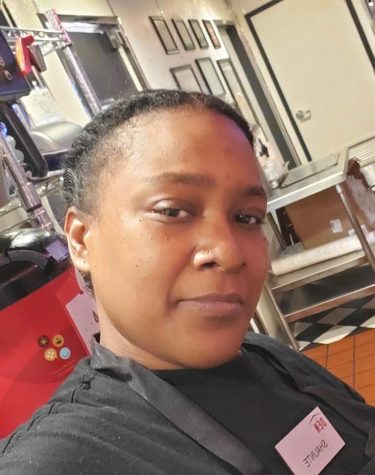 "We are glad that students form such strong bonds with Bon Appétit staff members," said Jim O'Brien, resident district manager of Bon Appétit Management in response to the petition. "Our company encourages them to engage students and try to address their dining service needs."
The CWRU Club Water Polo team is just one of many groups of students—organized or otherwise—that gather at The DEN. As news of Hall-Jones's dismissal reached the team, so did the idea of a boycott of the establishment, which some were quick to embrace.
"She knew my name without me ever formally introducing myself to her," said first-year Joshua Soltz. "She just recognized all the freshmen after polo and matched them to our Den orders. It made me feel like she really cared about us."
"It's a Melt life from now on," said Hutchinson, referring to one of the remaining comfort food eateries on campus. 
Hall-Jones began working at The DEN in Feb. 2015. She said she almost walked out during her first week on the job when she first had to deal with the mad stampede of students on Friday night all by herself. After learning how to handle the crowd and other necessities, her perspective changed, and she learned how to thrive in the chaos.
"It's not just one specific student that has impacted my life; it's all the students," said Hall-Jones. "Watching you guys come in that first year so unsure of yourselves and then being able to watch a whole class grow into amazing young adults who made it through the grind of four years of late-night studying, no sleep and eating horrible food. When my seniors come back to me saying I'm graduating this year, I always say 'Congratulations, you made it'. That's a hard, stressful life; some of you guys have jobs on top of classes, I could not manage that. Working and raising kids is already a lot for me."
Hall-Jones said that Human Resources told her she was fired because of her cursing and a second reason that was left unclear.
"Swearing is pretty minute if you ask me," said Hall-Jones. "If they started firing people for swearing, they would have to fire the whole staff." 
O'Brien said Bon Appétit company policy is to not discuss individual personal issues and did not tell The Observer the reason why they fired Hall-Jones. 
The DEN has been short-staffed the past two school years. Last school year, the staffing became so bad that Hall-Jones would have to work six-day weeks. Hall-Jones said she would often have to clean the dining area alone after closing time. 
"I was left there for an hour or so by myself on a Saturday," said Hall-Jones. "Once the kitchen staff got done cleaning their area and the utility guy finished his dishes, I was by myself in the building with 30 minutes of work left to do. It was 4:15 in the morning."
Hall-Jones received a job offer from The Jolly Scholar but decided to work at Amazon instead. Hall-Jones said that Amazon's salary was a four dollar an hour upgrade from her salary at The DEN, which was the determining factor.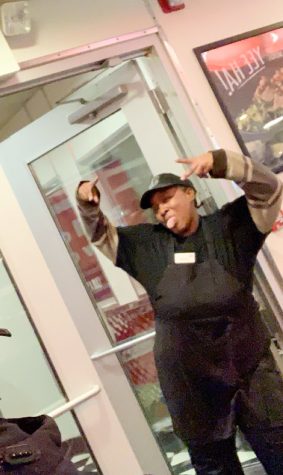 Hall-Jones occupied an essential role outside of her service. CWRU can often be a bubble within Cleveland, a self-contained community whose residents rarely venture outside University Circle's invisible walls. Hall-Jones was a beloved campus figure, who helped burst that bubble between CWRU and it's surrounding neighborhoods.
"I had no idea that I bridged that gap," said Hall-Jones. "I just knew that I wanted to be, if not the only smiling face that greeted a freshman, one of the few. I just wanted to make sure that when students visited The DEN that it was an experience like no other. I wanted to be there in a place that would feel familiar and make sure students knew that of all the places on campus they could come to The DEN and talk about their problems on campus if they had any and go back to their rooms with a more positive outlook on everything."