Alum band Bro Dylan talks band name, Spot Night and new album
On a small corner stage in late January, Bro Dylan finished performing a rock song at Cebars Euclid Tavern. However, the crowds' eyes were transfixed on the television; they didn't even seem to notice a band was in the room.
"How's everyone doing?" asked singer Alex Zinni.
The crowd gave no response.
"How're the Cavs doing?" Zinni asked.
A row of audience members at the bar simultaneously raised their hands in a collective thumbs up. A closeup of a very sweaty Lebron James popped up on the bar's television screens. The score was 66 to 57, and the team had 8:47 left in the quarter. At this moment, Bro Dylan still had a couple more hours to play.
"I'll take it," said Zinni, before the band launched into their next song.
***
The indie band had already had a long day before their lengthy performance at Cebars. After seven hours of recording, they had been scheduled for the three hour gig at the small local bar.
As Bro Dylan tiredly set up their equipment, an audience began to come inside where it was warm. Some were there to watch the game, while others were there to get a drink. There weren't too many people; mostly regulars, who chatted with the bartender.
Included in the regular attendees was Costello, a large yellow labrador.
"This is his second home," said the dog's owner, as Costello walked around and greeted everyone in the room.
Costello lapped water from a metal bowl against the wall, underneath a dart board. Then, he hopped onstage and sniffed around the drumset and tangled cords. "I guess he's performing tonight," said Zinni.
Zinni, a Case Western Reserve University alumnus, has stayed close to the school since graduating in 2014. He and the other two members of the band, bassist Matthew Burtonshaw and drummer Mike Miller, are regular performers at the Barking Spider tavern, located near The Coffee House at University Circle, and have performed at past University Program events. On March 19 they'll be opening for a Spot Night headliner.
"I used to go to Spot Night for the $1 beers," said Zinni.
Bro Dylan has existed with its current name for only a short period; previously, band members were known as "Thread and Needle," and before that, "Surefire." But their connection goes beyond their band projects; the three musicians have known each other since the third grade.
Zinni admitted that their current name is "a total joke."
The name came pretty randomly. Before a gig, the members of Bro Dylan were discussing songs to play. Zinni accidentally pronounced "Bob Dylan" as "Bro Dylan," and the trio decided to name their band after the slipup. "A lot of people hate the name, a lot of people like the name," said Zinni. "There is no in between."
Bro Dylan is more raw than their previous folk project Thread and Needle, but a folky sound is still present in much of their music, mixed with newer beach rock elements. During their show at Cebars, Bro Dylan performed mostly original music, with a couple of covers of The Raconteurs and The Black Keys thrown in for good measure.
One of Zinni's favorite memories with Bro Dylan has to do with a performance of a cover song. Before the holidays, the band was performing at Mullarkey's Irish Pub when an inebriated man dressed as Santa worked his way to the front row. When Bro Dylan performed a cover of "Take Me Out" by Franz Ferdinand, the man screamed all the lyrics as loudly as he could.
The band builds its fan base one drunk Santa at a time.
Though for now they're performing shows at small bars with no cover charge, they've got big plans in store. On May 28, the band will release their first album at the Beachland Ballroom.
There, no Cavs game will be on TVs. No Santa Clauses will be in attendance.
It'll just be Bro Dylan, a band whose name was decided by a slipup, performing onstage.
Leave a Comment
About the Contributor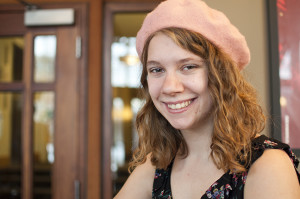 Anne Nickoloff, Director of Print
Anne Nickoloff, the Director of Print for The Observer, is a senior at Case Western. She hopes to one day be a music journalist, and has spent much of...