Cartoons, "Catch-22" and hand turkeys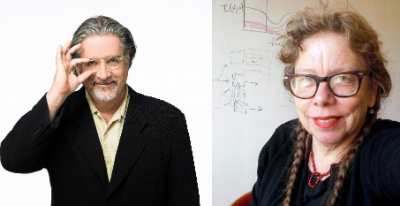 "Comics are miraculous. They are immune systems. They are transport systems. They are time traveling devices."
Lifelong friends and fellow cartoonists, Lynda Barry and Matt Groening came together at Maltz Performing Arts Center for the William N. Skirball Writers Center Stage Series, on Tuesday, April 16.
Barry and Groening met at Evergreen State College when Groening heard Barry had written to one of his favorite authors, Joseph Heller, and received a response. Barry wrote about how much she loved his novel "Catch-22" and asked him to marry her. Heller wrote back, "I'd like to marry you, but I don't want to live in the dorms."
Barry has since had a career spanning more than three decades. She has written 17 books, including "What It Is," a graphic novel that won the 2009 Eisner Award for Best Reality-Based Work. Her work earned her the Wisconsin Visual Art Lifetime Achievement Award in 2013 and she was inducted into the Eisner Hall of Fame in 2016.
Groening's fame stems from his cartoon "Life in Hell" and the animated series "The Simpsons," among other works. He has won a variety of accolades as well, including 12 Primetime Emmy Awards, the National Cartoonist Society Reuben Award in 2002, a British Comedy Award in 2004 and a star on the Hollywood Walk of Fame in 2012.
Brad Ricca, who earned a doctorate in English from Case Western Reserve University in 2017, and is a SAGES Fellow and professor of writing and comics at CWRU, was supposed to introduce the speakers. Ricca is also a writer and filmmaker, and his works have won the 2014 Ohioana Book Award for Nonfiction, the St. Lawrence Book Award, a Silver Ace Award and a Cleveland Arts Prize for Emerging Artist in Literature.
Instead of an introduction however, Ricca welcomed us to Cleveland, reasoning that we were probably familiar with both speakers. "Our state color is overcast, " Ricca said. "Cleveland is a 'cartoon comics town.'"
Ricca briefly discussed Barry's and Groening's respective works and asserted that Groening "drove a stake into culture and popular culture that will never be removed." After a powerful introduction, despite assertions the speakers needed none, spectators were greeted by a colorful presentation that evoked many questions.
"Is creative concentration contagious?" is one of many questions Barry brought up in her presentation, hidden among comfortable banter between her and Groening and comics done by the two.
The pair also discuss their influences. Groening explains that although "The Simpsons" is not autobiographical, the names of the members are inspired by his own family, except for Bart's name.
Groening admits his mother wasn't fond of the depiction of Marge's hair in the sitcom, but his father Homer liked it, despite telling him "you'll never make any money on your drawings," during the early stages of his career.
Groening soon proved him wrong. "The Simpsons" is the longest-running American sitcom and has earned 33 Primetime Emmy Awards, 32 Annie Awards and a Peabody Award.
Groening also shared a question a college professor asked him: "You do what you do adequately well, is it worth doing?" Groening admitted he grapples with this question daily.
This is a critical question to consider, especially as college students. Is our degree worth the work we are adequately doing?
On a less cynically philosophical note, Barry encourages us to keep drawing, even if we are "bad" at it. "When four-year-olds are afraid to draw, we are worried, but we dismiss it when forty-year-olds are," she said. Barry worries we are stomping out creative expression.
Barry showed us a slideshow of drawings done by children and scientists respectively. She noted the crooked lines and sloppiness and said she often hears people say "my drawing looks like it was done by a four-year-old."
"What if this is what a line looks like when it's giving you an idea?" she wondered. That may certainly be the case as people easily develop theories, often through haphazard scribbles on any available surface. She recounted students writing on both sides of the glass at the University of Wisconsin-Madison where she teaches.
Both Barry and Groening left spectators re-examining their lives. William N. Skirball Writers Center Stage promises other inspirational speakers as Pulitzer Prize-winner Jennifer Egan takes the stage on May 1.