Catch a concert or show this weekend
Friday, Aug. 31
What: Front Porch Concert Series: The Chris Vance Quartet
When: 7-9 p.m.
Where: Lakewood Public Library
Notes: This free, outdoor jazz concert is perfect for a picnic with friends and family. If there is inclement weather, the concert will be moved to the library's auditorium.
What: Late: A Cowboy Song
When: Friday and Saturday. Doors: 7 p.m. Performance: 7:30 p.m.  
Where: Eldred Black Box
Notes: Case Western Reserve University's theater department presents its annual welcome back show. Free Admission.
What: UPBeats: Rap Night
When: 8-11 p.m.
Where: Tinkham Veale University Center Ballroom
Notes: Turn up with Aminé at the first UPBeats of the semester. Tickets are available for $5 on CampusGroups for Case Western Reserve University students. Each student may purchase one additional ticket for a guest. Doors open at 7:45 p.m.
Saturday, Sept. 1
What: 2018 Cleveland National Air Show
When: 9 a.m.-4:30 p.m. on Saturday, Sunday and Monday
Where: Burke Lakefront Airport
Notes: This Labor Day Weekend tradition features aerial stunts by the U.S. Navy Blue Angels. This year's show includes a U.S. Air Force F-16 Viper tactical demonstration. If aerial stunts are not your thing, there will be interactive activities, aircraft displays and drones. Tickets can be purchased online or at the door.
What: IMPROVment
When: 10-11 p.m.
Where: Eldred Black Box
Notes: IMPROVment's first show of the semester will directly follow the Theater Department's welcome back show. It will be hot in the Black Box, so dress lightly.
What: The Rocky Horror Picture Show
When: 11:30 p.m.-2:30 a.m.
Where: Cedar Lee Theatre
Notes: This interactive screening of the cult classic film includes a pre-show and a live floorshow by Simply His Servants, a local floorshow cast. Tickets can be purchased online or at the door and prop bags can be purchased in the lobby before the show. Dress up like one of the characters in the film to receive a discount on tickets at the door.
Sunday, Sept. 2
What: Cars in Cleveland
When: 11 a.m.-3 p.m.
Where: Public Square
Notes: Enjoy music, activities, food and cars at this free, family-friendly event in the heart of Cleveland. Several cars will make their Cars in Cleveland debut at the event.
Leave a Comment
About the Writer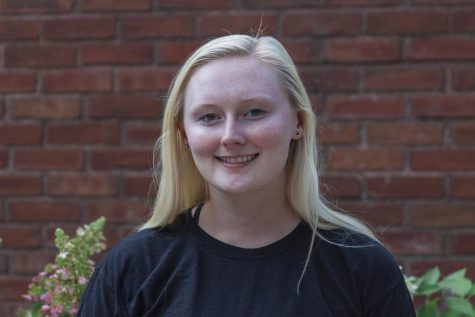 Max McPheeters, Staff Reporter
Max is a third-year mathematics major with minors in studio art and computer science. If they're not copy editing or writing for the Arts & Entertainment...