Dental School Graduate receives Top Honor from Delta Dental Foundation
It took 2016 dental graduate student Catherine Kim a long time before she found her passion for dentistry. Now in May, her four years at Case Western Reserve University Dental School were concluded rewardingly with her reception of the Student Leadership Award from the Delta Dental Foundation, a nonprofit organization for dental science research, education and services.
Coming from Portland, Oregon, Kim completed her bachelor's degree in cell and molecular biology at the University of Washington and her master's degree in oral biology at the University of Medicine and Dentistry of New Jersey. In 2012 she came to CWRU for her doctorate degree in medical dentistry.
Kim has spent memorable four years studying at the dental school. Her outstanding academic performance is one of many reasons that won her the award. Kim has also demonstrated strong leadership capability that earned her the trust and respect of the faculty and students.
While at the dental school, Kim served as the President for the American Student Dental Association (ASDA) for the CWRU chapter. She worked together with her chapter colleagues to restructure the organization, which led Case ASDA chapter to national recognition and Kim herself was awarded with the ASDA Gold Crown Award.
Kim said that the support and encouragement she received from CWRU had inspired her to contribute to the community.
"I love CWRU and the school of dental medicine have become like my family these past 4 years," writes Kim in an email. "The faculty, colleagues and community have been tremendously supportive and encouraging and that is why I was so motivated to serve in leadership because I wanted to give back. As an alumnus, I will to continue to support CWRU and give back what I have received."
Kim's outstanding leadership skills and passion in dentistry were recognized by her award nominator, Philip Aftoora, Director of Student Services at the dental school. "Catherine Kim understands the responsibilities of leadership and willingly assumes those obligations," commented Aftoora in a press release from Delta Dental.
Since 2001 the Delta Dental Foundation has granted an annual Student Leadership Award to at least one senior dental student from CWRU, the Ohio State University, Indiana University, the University of Michigan and the University of Detroit Mercy. Kim feels very humble to have been selected for this prestigious award.
Kim is planning to return to her hometown after graduation, where she will practice as a general dentist. She is very excited about starting her career and considers it a "privilege to serve patients, restore health and prevent disease," as she mentions in her email.
Since Kim had spent a long time before she found her love in dentistry, she recognizes the value of patience, because "all good things take time."  However, she is "thankful for all the experiences and the time in between because it molded me and disciplined me to become the person I am today."
As Kim finishes her fruitful college experience at CWRU, she also leaves some tips for Case students, "Be bold, be courageous, persistent and seize every opportunity."
Leave a Comment
About the Contributor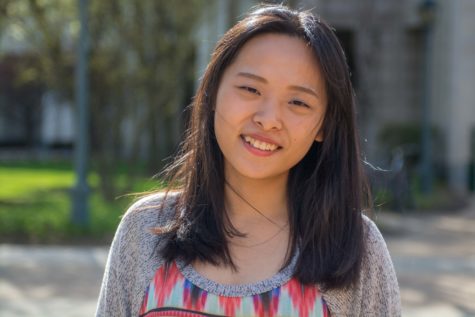 Celia Wan, News Editor
Celia Wan is a sophomore majoring in mathematics and history. She joined The Observer in the fall of 2015 and became the news editor at the end of her...