Celebrate Lunar New Year
Friday, Feb. 16
What: Cleveland Orchid Society Show & Vendor Sale
Where: Cleveland Botanical Garden
Time: Noon-5 p.m.
Notes: Featuring orchid exhibits, lectures and tours, this event will feature hundreds of plants for sale from six different orchid vendors as well as carnivorous plants.
What: CWRU Department of Music Colloquium: Ben Harbert
Where: Harkness Chapel
Time: 4-6 p.m.
Notes: Harbert will be giving a talk called "Filmmaking as Expressive Understanding of Music Making," which will be followed by a screening of his film "Follow Me Down," at the Cleveland Museum of Art at 6:45 p.m.
What: Spring Festival Gala
Where: Thwing Center
Time: 5:30-8 p.m.
Notes: CWRU Chinese Student and Scholars Association hosts their annual Spring Festival Gala, this time celebrating the Year of the Dog.
What: Winter/Spring Exhibitions Opening Night
Where: Museum of Contemporary Art (MOCA)
Time: 7-10 p.m.
Notes: MOCA begins its Winter/Spring Exhibition Season, focusing on the intersection of art, technology and the body. The event will feature an artist talk, as well as a performance by C. Spencer Yeh.
What: Uncle Vanya
Where: CWRU Department of Theater
Time: 7:30 p.m.
Notes: Directed by Christopher Bohan, "Uncle Vanya" tells the story filled with love, intrigue, heartache and broken dreams.
What: 2018 Choral Showcase Invitational
Where: Maltz Performing Arts Center
Time: 7:30-9 p.m.
Notes: Case Concert Choir, University Chorale, Case Men's Glee Club and the R. Nathaniel Dett Concert Choir from the Cleveland School of the Arts will perform together at an event showcasing diversity through song.
What: Lunar New Year Fireworks
Where: Tinkham Veale University Center
Time: 8-9 p.m.
Notes: Snacks, tea and hot chocolate will be available inside TVUC. Fireworks will occur promptly at 9:15 p.m.
What: Jams II
Where: Denison Hall
Time: 8 p.m.-midnight
Notes: The Music Undergraduate Student Involvement Committee is hosting a fun jam session where musicians of all genres and instruments can gather and have fun
Saturday, Feb. 17
What: Farm Stand
Where: CWRU University Farm
Time: 9 a.m.-1 p.m.
Notes: The Farm Food Program staff opens the farm stand to help the CWRU community access fresh organic produce.
What: Author Visit: Angie Thomas
Where: Cleveland Public Library
Time: 2 p.m.-3 p.m.
Notes: Angie Thomas, author of "The Hate U Give," will be discussing her novel. The event will be followed by a book signing.
What: George Lewis: Experiments in Art and Music
Where: Cleveland Museum of Art
Time: 3-4 p.m.
Notes: George Lewis, chronicler of the Association of Advancement of Creative Musicians, an organization dedicated to highlight communities facing racial and economic injustice in art., will be giving a lecture on the organization as well as the new music and art that emerged from Chicago between 1965 and 1975.
What: Shimmering Sonorities from San Marco: 17th-century Italian Music
Where: Harkness Chapel
Time: 4-5:30 p.m.
Notes: Greg Ingles and his band from Boston University join CWRU's Baroque Ensembles to explore music for multiple instrumental choirs.
What: Naach di Cleveland
Where: Ohio Theater
Time: 5-9 p.m.
Notes: Naach di Cleveland returns with 12 South Asian dance teams gathering to compete in the Bollywood fusion and Bhangra categories.
What: Snowball
Where: Cleveland Museum of Art
Time: 8:30 p.m.-midnight
Notes: CWRU's annual semi-formal dance.
What: Senior Night
Where: Ninja City
Time: 11 p.m.-2 a.m.
Notes: Organized by the Class Officers of 2018, there will be free food and discounted drinks until 2 a.m.
Sunday, Feb. 18
What: Lunar New Year with the Kwan Lion Dance Team
Where: Asian Towne Center
Time: noon-1:30 p.m.
Notes: Celebrate Lunar New Year with dance and free Tai Chi.
What: Ace of Hearts Tour: An Intimate Evening with Ace Metaphor
Where: TVUC
Time: 4-6 p.m.
Notes: Ace Metaphor will be at TVUC for an evening of discussion on romance and love as well as erotic spoken word.
What: Sweets on Sunday: Year of the Dog
Where: House 5 Great Room
Time: 7-9 p.m.
Notes: Enjoy good food and celebrate Lunar New Year with therapy dogs.
Leave a Comment
About the Writer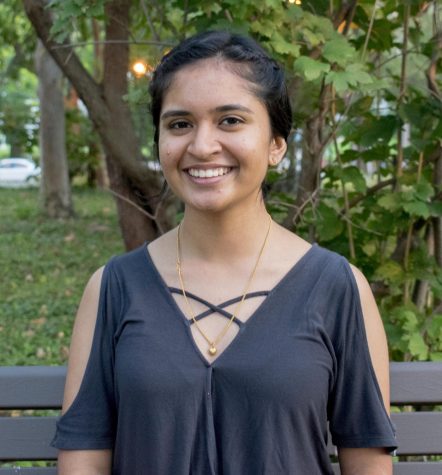 Smruthi Maganti, Arts and Entertainment Editor
Smruthi Maganti is a third-year student studying biology with a minor in public policy. After a year of copy editing, this is her first year as the A&E...