Celebrated organist performs at CMA to standing ovation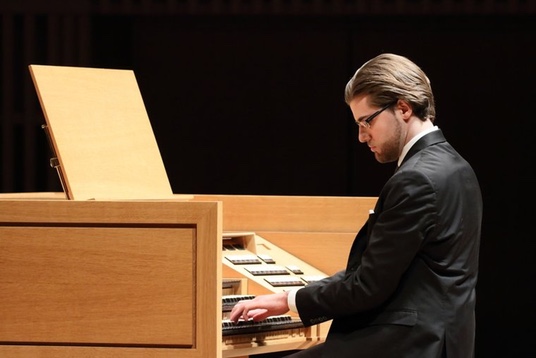 The organ is not the first instrument that comes to mind for a crowd-pleasing act, but distinguished Italian organist Davide Mariano received a standing ovation after his solo performance at the Cleveland Museum of Art on Sunday, Jan. 14.
Only 30 years old, Mariano has already garnered a series of prestigious musical accolades and performed around the world in venues such as the Notre-Dame Cathedral of Paris, the chapel of the Versailles castle and Vienna's Musikverein. Indeed, he is recognized as his generation's most active Italian organist on the international scene, and the fact that Cleveland attracts artists of this caliber demonstrates its high standing in the artistic world.
Performing works by Johann Sebastian Bach, Wolfgang Amadeus Mozart, Robert Schumann, Charles-Marie Widor and Alexandre Guilmant, Mariano's concert included music written in both the 18th and 19th centuries, exhibiting the broad range in his repertoire: Mariano performs disparate works from the Middle Ages as well as the contemporary era.  
Not allowing his musicality to interfere with his precision, Mariano's playing was both captivating and graceful, softly drawing in the listener and demonstrating the thought put into each note.
The most gripping part of the concert was a selection from Alexandre Guilmant's Sonata no. 1 in D Minor, op. 42. After a series of more traditional and delicate works for the organ, the first notes of Guilmant's Sonata made several audience members jump in their seats due to the powerful and emotionally charged execution, a reaction every musician wants to prompt.  Guilmant's piece provided variety and a jolt of energy to the program.
Given that the organ is not an instrument most people are particularly familiar with outside of its relationship to religious music and "Phantom of the Opera," the Cleveland Museum of Art's choice of selection was particularly edifying. As a matter of fact, one enthusiastic audience member, after applauding sincerely and with great animation, approached an usher and exclaimed that she found the performance remarkably educational as she had not previously understood the intricacies of the organ. Indeed, many other audience members noted the vast number of pipes and the extent to which an organist must coordinate the keyboard and pedals.
Davide Mariano's performance embodied the Cleveland Museum of Art's mission to present "thoughtful, fascinating and beautiful experiences." With his delightful and enlightening concert, Mariano brought warmth to the Cleveland community on an otherwise frigid and frosty Sunday afternoon.