Chef brings culinary and historical knowledge to campus
Michael Twitty is a self-described culinary historian on a mission to explain the value of food to cultural institutions. Twitty is a chef, interpreter, historian and author. He is proudly African American and Jewish. Twitty stopped by Case Western Reserve University to host events organized by the Office of Multicultural Affairs this week to demonstrate his various skills and to promote his upcoming book "The Cooking Gene."
On Monday, Jan. 30, Twitty was at Leutner Commons, which served a version of the collard greens he prepared in a presentation at its Fresh Table section. Twitty, armed with two hot plates, a pan and knowledge of the relationship between food and culture, began a discussion of race, food and politics that he's spent most of his life researching, which he continued to demonstrate the next day in the Thwing Ballroom.
Twitty's Thwing Ballroom presentation the next day continued his wandering discussion of food, racism, the legacy of the deep south and his own personal experiences. In less than an hour Twitty covered everything from his upbringing in the culturally diverse Washington D.C. suburb of Columbia, Maryland to his "Southern Discomfort Tour," a personal endeavour during which Twitty toured the deep south, visiting relics of racism and the origins of African American culture in the United States.
The lecture itself was a consideration of the exploitation of African Americans in slavery times and the legacy of that exploitation and racism in the south today. The speech, as summed up by Twitty himself, was for the most part a history lesson with a twist. Twitty said that when "talking about the history of slavery and freedom, there's always gonna be food." Over the course of an hour, he guided the 16 people in attendance from West Virginia to Northern Africa, describing the global phenomenon of "identity cooking", which is described as "how people construct complex identities and then express them through how we eat."
About the Writer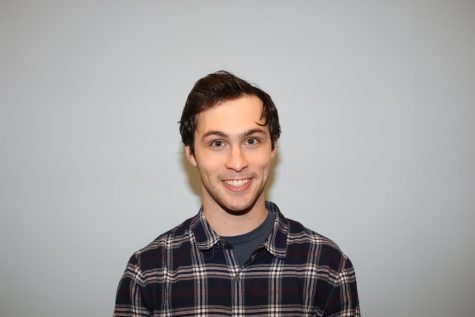 Henry Bendon, Staff Reporter
Henry Bendon is a fourth-year political science major who has been writing and taking photos for the Observer since the fall of 2016. In his time with...