"Chill" out with the Footlighters
"Be More Chill" at Carlton Commons
Last weekend the Case Western Reserve University Footlighters put on a production of "Be More Chill." During its four-show and three-day run from March 29 to April 1 audiences were taken back to the days of high school, a place where popular kids run the show and everyone else wants to be cool.
Directed by third-year student Daniel Mottern, "Be More Chill" follows the journey of Jeremy Heere (Jack Petito) on his quest to become a cool kid and win over the girl he likes, Christine Canigula (Katrina Claflin).
In order to gain the popularity he desires, Jeremy follows the advice of one of the most popular people in school (who also happens to be a bully), Rich Goranski (Jacob Erney). Rich advises Jeremy to buy a "SQUIP," (Abigail McAllister) or a "super quantum unit intel processor," which implants itself into the brain of its user and tells them how to act. It comes in the form of a pill and must be taken with green Mountain Dew.
Rich claims that he was unpopular until he got one and his current social standing is due to the "SQUIP." This leads Jeremy to consult with his best friend, Michael Mell (Luke Dotson), who expresses concern about the idea. But Jeremy is desperate to be cool and buys one despite Michael's concern.
In the first half of the show, Jeremy shows some reluctance and does not always listen to the supercomputer. However, by the second half, Jeremy is almost fully controlled by the "SQUIP" and thus, shenanigans ensue.
One of the highlights of "Be More Chill" was the costumes. Designed by second-year Harper Case, the everyday outfits the characters wore were very convincing as something you might find a high school student wearing.
One scene in the show took place at a Halloween party, which featured the best costumes of the show. They included a party dinosaur made by gluing party hats to the back of a shirt, an elaborate princess dress and a baby that made the audience mildly uncomfortable.
Another highlight of the show was the simple but versatile set. Although much of the show takes place at a high school, the simple set and minimal props were able to effectively portray different rooms in students' houses as well. If the scene was in a bathroom, they just added a faucet.
"Be More Chill" was undoubtedly an odd show, but the CWRU Footlighters put on a great last production of the academic year.
Show: "Be More Chill"
Organization: CWRU Footlighters
When: March 29 – April 1
Rating: 3.5 out of 5 stars
About the Writer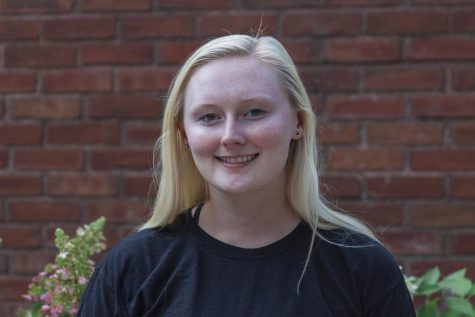 Max McPheeters, Staff Reporter
Max is a third-year mathematics major with minors in studio art and computer science. If they're not copy editing or writing for the Arts & Entertainment...