Civil rights lawyer that defended MLK to speak at commencement
The alumnus also fought for those exploited in the Tuskegee Syphilis Study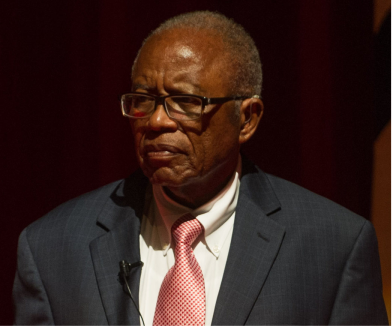 Fred Gray, a lawyer, civil rights activist and alumnus of what is now the Case Western Reserve University School of Law, was chosen to be the commencement speaker for the class of 2017 in early March.
After earning his law degree from Western Reserve University, Gray became a central figure of the Civil Rights Movement, with the goal of abolishing segregation and championing civil rights for African-Americans. He represented Rosa Parks when she was charged with disorderly conduct for refusing to sit at the back of the bus in Alabama, successfully defended Martin Luther King, Jr. in front of an all-white jury in 1960, and sued the government on behalf of the African-American men that were taken advantage of in the Tuskegee Syphilis Study. Gray still practices law today at the age of 86.
The annual commencement ceremony recognizes the achievements of graduates with the awarding of degrees. The start of commencement will begin with university convocation, which includes the convocation speaker's commencement speech.
According to Eric Dicken, the senior executive director of Donor Relations, University Events and Presidential Protocol, the university chooses convocation speakers based on their achievements in their respective fields on the national to international stage. In addition to this, the university looks for speakers that have strong existing connections to CWRU, whether they are an acting trustee, a past student or an active alumnus.
Gray's contributions to the advancement of civil rights are monumental achievements, allowing him to share some valuable experiences; however, it is his status as an active alumnus that cements his position as this year's convocation speaker.
"Highlighting an alumnus for this speech shines a light on the incredible work our graduates accomplish in their chosen fields after completing their degrees at Case Western Reserve University," said Dicken.
Gray had also recently received the Distinguished Alumni Award from the CWRU Alumni Association during the last homecoming. The award is the highest honor that the Alumni Association can provide, recognizing "professional accomplishments, service and overall achievement." According to Dicken, Gray's remarks at the awards ceremony were "incredibly moving," which played a role in his selection as the commencement speaker.
"Inviting him to speak at commencement would provide an opportunity for his story to be heard by a broader audience, including our most recent alumni and their families," said Dicken.
The speaker for the class of 2016 during last year's commencement was alumnus Mark Weinberger, the CEO of Ernst & Young, a multinational financial services firm. The commencement speaker for the class of 2015 was retired Warner Bros. CEO and alumnus Barry Meyer.
The commencement ceremony this year will take place on May 21.