Clarke After Dark brings games, fun
As a North Residential Village (NRV) resident, I try to attend as many events planned by the Residence Hall Association (RHA) as possible, in effort to meet co-NRV residents. I heard about Clarke After Dark, and although I rarely venture to that area of campus, I decided to go. The lures of free food, therapy dogs and trivia didn't hurt either, and I found myself on the first floor of Clarke Tower last Saturday, April 14.
Despite the warm, sunny weather just a day earlier, Saturday proved to be windy and rainy, so RHA moved the event indoors. The short trek from my dorm to Clarke was unpleasant, but the first floor common room provided a welcoming contrast. When I arrived just half an hour past the start time at 7 p.m., Clarke was already packed.
Clarke bustled with activities like trivia, Kahoot!, to Win It, Open Mic and karaoke. Performances by student groups, including Case in Point, Pep Band, The Deceptive Middle and the Juggling Club, were staggered between activities.
I've never been great at trivia, but I dabbled in Trivia Crack and managed to surprise myself by answering a few questions correctly. I stepped aside after a while to let seasoned trivia veterans take the floor.
All different types of food were offered, including wings, doughnuts, Oreos, chips and dip, soft pretzels, popcorn, pizza, snow cones and salad, although little remained by the time I showed up. I later learned that the turnout of the event was almost double what had been expected.
The Clarke basement became inundated by students when rumor spread that a therapy dog, a Labrador retriever named Leilani, hid there. I waited patiently, along with dozens of others, for a chance to pet the adorable twelve-year-old.
"We came up with the name 'Clarke After Dark' last semester and wanted an excuse to use it," said Tyler Kapusta, the Clarke Tower community council president.
Planning for the event started in February, which showed. Much of the event went off without a hitch, except several canine carriers fell through. Kapusta had hoped for at least three therapy dogs, but Leilani was still a success.
As I finally made my way out of the Clarke basement to explore the other activities offered, I was surprised to see how many more people had shown up. Every corner of the floor was packed with people laughing at the stand-up jokes or swaying to the music from Open Mic, karaoke or the student performances.
I loved how lively the event was and how it brought so many people together, despite the harsh weather, and many other students echoed these sentiments.
"It was a wonderful time. I'm glad I came downstairs to enjoy it," first-year student Julian Narvaez said.
Although Clarke After Dark wasn't planned for a specific purpose, it succeeded in more ways imaginable by bringing people together and giving them a break from the rough weeks leading to the end of the semester.
Leave a Comment
About the Writer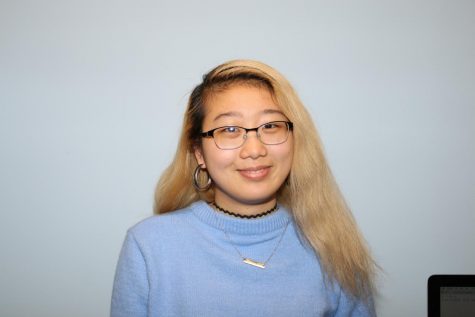 Yvonne Pan, Development Editor
Yvonne Pan is a fourth-year student double majoring in civil engineering and environmental studies, and minoring in English. Freshman year, she spilled...