Cleveland celebrates art scene
When Case Western Reserve University students return from their summer vacations, they may notice something different about Toby's Plaza outside the Museum of Contemporary Art Cleveland (MOCA). A giant, silver fiberglass hand, designed by artist Tony Tasset, will jut out from the grassy field after it is placed on campus over the summer.
The sculpture, titled Judy's Hand Pavilion, is a collaboration between FRONTArt, an international art organization, and the Putnam Collection, CWRU's public art fund. The sculpture is named after abstract artist Judy Ledgerwood, and will function as a pavilion for concerts and other events.
Judy's Hand Pavilion was a focal point of FRONT International at CWRU on March 26, an event that served as an overview of FRONT's plan for Cleveland Triennial for Contemporary Art. The festival, which will run from July 14 through Sept. 30, is the first of its kind in North America, according to FRONT Director of Public Programs and Engagement Arlene Watson.
"Judy's Hand is the biggest [installation] we have done in a while," Putnam Collection Chair Kathy Barrie said. "We think it will be a star of the exhibition."
The Baker-Nord Center for the Humanities also established a "hand grant" for students who wish to hold events at the installation. Individual students, student organizations, staff and faculty can apply for up to 500 dollars in grant money if they submit an idea for an event which will inspire further engagement with the sculpture.
"I want to facilitate ways for students to socialize in that middle ground that's not intimidatingly intellectual or party-alcohol-centric," Brian Clites, Associate Director of the Baker Nord Center said.
FRONT's Triennial will feature over 100 artists, according to Watson. Many of these artists are international, from countries including China, Mexico and Nigeria.
As part of its international outreach, FRONT is currently hosting 16 international artists in residence at their central complex, The Madison Residences, in Glenville. Adjacent to The Madison Residences is FRONTporch, an exhibition venue for artists and a place for artist and community interaction.
Most of the pieces are unconventional and tailor-made for their display areas. John Riepenhoff, for example, is creating a special sausage he dubs "Cleveland Curry Koji Wurst," according to Watson, to reflect the diverse culinary scene of Cleveland.
"There's not a lot of interaction between the public and the art, so it is a great opportunity," CWRU Professor of Digital Photography, Barney Taxel, said regarding the Triennial. "We have museums where you can go quietly and curators will explain the meaning of the art; but how often do you have the opportunity to see art made to be installed in your town and have a conversation with the artist?"
Every FRONT exhibition will be free to the public in Cleveland every three years under a different artistic director each time.
"What we hope to accomplish through this really ambitious exhibition is more idea generation and the opportunity for contemporary art in this region to be on the same stage as New York, LA or Venice," Watson said.
Leave a Comment
About the Writer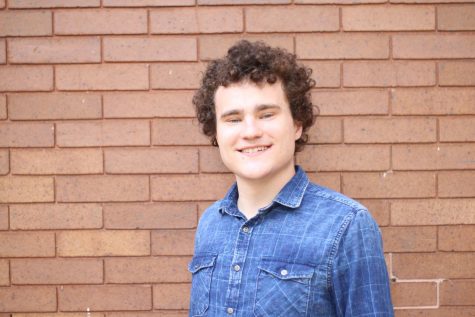 Matt Hooke, Executive Editor
Matt Hooke, The Observer's executive editor, is a fourth-year student studying English. This is his first year as executive editor after spending time...