Town halls let Clevelanders get to know Democratic candidates
With just a few days notice, Bernie Sanders came to Cleveland for a small town hall event on the Saturday before Spring Break. The next Saturday, Hillary Clinton followed suit. Many CWRU students, staff and faculty got their hands on the highly in-demand tickets through the Social Justice Institute (SJI) to attend the events.
Both visits were part of the 2016 Presidential Candidates Town Hall Series at Olivet Institutional Baptist Church, about two miles from campus. The town halls were organized by A Community Coalition Concerned for Black Life, of which SJI Director Rhonda Y. Williams is a founding member.
According to Williams, the event organizers wrote in their letters of invitation to candidates that these town halls would address the need "for voters in this city and region to hear first-hand [their] policy positions on issues of specific concern to millions of Americans in general, and people of color in particular."
Ohio Governor John Kasich was also invited to hold a town hall at Olivet, though he did not do so before the Ohio primary elections were held on March 15 and has not, as of press time, announced any intention to do so in the future. The same weekend as Clinton's town hall, Donald Trump also came to Cleveland, holding a rally at the I-X Center near the airport.
Sanders and Clinton each spent about an hour and a half before the packed pews in Olivet, answering questions from Olivet pastor Reverend Dr. Jawanza Karriem Colvin and audience members.
Before Sanders spoke, Colvin mentioned that he had met the candidate at a previous event and invited him to speak at Olivet, to which Sanders responded that he would if he was able. Colvin thanked Sanders for coming, telling him, "You were a man of your word."
Following Clinton's question and answer session, Colvin asked her to return and spend a day in Cleveland should she be elected president. She agreed.
Both candidates received questions related to clemency for those in jail as a result of the war on drugs, modern presidents saying "poverty" and "poor" less than in past, school funding, voting rights and income inequality.
Sanders was also asked questions relating to justice for families of people who died at police officers' hands, gun violence, economic plans to support distressed neighborhoods and Flint, Michigan. Clinton was also asked about deportations and immigration policy and government funding for higher education institutions.
The candidates both promised to say the words "poverty" and "poor" in their State of the Union addresses and to address issues of poverty, emphasized improving public education for less privileged areas, agreed that income inequality is a problem and noted that voting rights as previously guaranteed in the Voting Rights Act are still necessary.
"I don't know what part of democracy all of these Republican governors and legislatures are afraid of, but they're sure trying to constrict the elections," said Clinton on voters' rights.
Clinton called for voters to turn out for both the primaries and other elections to vote out those who would constrict voting rights. Sanders suggested a national holiday for election day and mentioned the difficulty that many voters face in obtaining the correct form of ID to vote.
In response to the question on education, both candidates felt strongly.
"Don't tell me that we can't provide good quality education for our kids," said Sanders. "Of course we can do it, if there is a political will to do that. So instead of worrying about tax breaks for multinational corporations who are going to China, maybe we should focus on a tax policy which can provide the necessary funding we need to educate all of our kids and rebuild distressed communities."
Clinton emphasized her previous work with education in the United States.
"I'm going to do everything I can to try to make our education system child-centered and provide the resources so that a child in Cleveland gets just as much of an educational opportunity as a child in Shaker Heights or anywhere else in the U.S." she said.
Sanders mentioned Clinton in one question, saying that he respected her and the two had a long record of working together. Both candidates mentioned President Obama positively.
"I'm going to do everything I can, starting with supporting President Obama's right in the constitution to nominate a successor [to the Supreme Court], and working with as many people as we can muster to receive and act on that nomination," said Clinton.
Each candidate received a few questions from audience members—including Tamir Rice's cousin asking Sanders for a message of support for families seeking justice and a veteran and her small child asking Clinton about the child's father's deportation. However most questions were formulated ahead of time by the planning committee and then posed by Colvin. Some, including CWRU staff member Loretta Laffitte-Griffin and Williams, saw this infrequency of audience questions as something that could be changed for future events.
"Maybe, having even more questions from the audience would have complemented the questions that we prepared, as well as informed and challenged the presidential candidates in a different way," said Williams.
Taking place in a church, the events both began with prayers—Christian and Muslim at Sanders' town hall and Christian, Muslim and Jewish at Clinton's—led by local religious leaders.
The Voices of Olivet also sang several hymns at both events, with the audience joining in on "Lift Every Voice and Sing." As the audience sang along to the lyrics on the large screens above the stage, the political, social justice-oriented events gave special resonance to the lyric "Let us march on till victory is won."
Emily Rasmussen, fourth-year political science major and social justice minor, attended Sanders' town hall. Though she does not personally identify with any of the religions represented, she appreciated the religious element of the event.
"I noticed that people around me were incredibly respectful towards whatever prayers that didn't necessarily apply to them, which I found really nice … and I think [having different prayers] rearticulated the idea that [the event's hosts] weren't there to attack somebody or debate with them or anything like that," said Rasmussen. "It was just informational and they wanted it to be peaceful and helpful for everyone that was there."
Apart from one protest banner snuck into Clinton's town hall and taken away before most audience members could even read it, audiences at both events were generally engaged; both candidates found themselves taking frequent pauses to let the applause die down.
Lisa Kollins, institute administrator for the SJI, distributed tickets for the events; tickets went quickly despite the overlap with spring break.
"Seeing how many people were excited about the events was really moving," said Kollins. "The tickets basically were gone within two days of the announcements and, although it was hectic, our office was proud to have played a role in such an important political event for our city."
Correction: This article was revised on Mar. 20 to clarify that the entire event-planning committee worked on questions which were then asked by Reverend Dr. Jawanza Karriem Colvin.
Leave a Comment
About the Contributor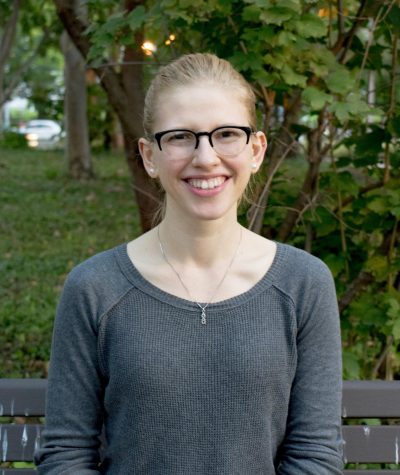 Aquene Kimmel, Director of Web and Multimedia
Aquene Kimmel, Director of Web and Multimedia, is a fourth-year English and French major. She is also Editor-in-Chief of The Athenian and a member of Pi...