Cleveland's millennial population multiplies
Cleveland's millennial population multiplies
According to a new study by the Cleveland Foundation, the millennial population in Cleveland, and in its surrounding suburbs, has increased substantially during the 'fifth migration,' also known as the re-urbanization of metro areas that has happened nationally.
The migration of millennials has occurred since 2008, and due to increased growth between 2011 and 2013, Cleveland became tied with Seattle and Miami for the eighth in the nation for increased college-age millennials. Between 2000 and 2012, there was a 76 percent increase of 25-34 year old residents in downtown Cleveland.
Millennial growth started during the Great Recession and continued into post-recession. Cheaper cost of living seems to be a large factor in attracting younger people to rust belt cities.
Cleveland chef wins round on show "Guy's Grocery Games"
Eric Williams, the chef-owner of Momocho Mod Mex and El Carnicero, made it through another run of Guy Fieri's show "Guy's Grocery Games: Diners, Drive-Ins and Dives Tournament," and walked away with $16,000 for charity. Williams will have the opportunity to compete on the show's finale on Jan. 31.
Before competing on the show, Williams said in an interview with Cleveland.com: "Hopefully I can make Cleveland proud and bring home a winner."
Here's to hoping Williams will take a trip to flavortown in the next round of the competition.
Exercise meets alcohol on Cleveland's new BrewBoat
Similar to the pedal pubs which tour city streets around the world, Cleveland's new BrewBoat will float on Lake Erie and the Cuyahoga River, as customers regulate the speed by pedaling.
The large boats can accommodate 14 passengers and two boat staffers. BrewBoat Cle was created as an inventive attraction in Cleveland tourism. Though the activity is BYOB, every rider is permitted to bring 36 ounces of beer or 18 ounces of wine with them.
"We expect demand to be very high, especially during special events like the Cleveland National Air Show, Republican Convention, IngenuityFest, the Fourth of July fireworks and even Browns games," said Coffey in an interview with Cleveland Scene Magazine.
Large snowstorm to miss Cleveland
After receiving a large layer of snow, Cleveland will finally get a break from the severe weather. As of press time, a large winter storm is projected to miss the city, but is expected to drop more than a foot of snow on cities like Baltimore and Washington D.C. over the weekend.
In the meantime, let's wish the forecast doesn't change.
Leave a Comment
About the Writer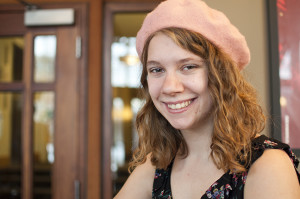 Anne Nickoloff, Director of Print
Anne Nickoloff, the Director of Print for The Observer, is a senior at Case Western. She hopes to one day be a music journalist, and has spent much of...