We know what you missed this summer
Spartans remained active during summer break
Over the summer, many Case Western Reserve University student-athletes, both alumni and current students, received prestigious awards for their academic and athletic accomplishments. CWRU also hired a new head wrestling coach after an exhaustive search.
Starting in men's basketball, graduates Dane McLoughlin and Brian Klements, along with rising seniors Jimmy Holman and Matt Clark, were named to the National Association of Basketball Coaches 2014-2015 Honors Court. To receive placement into the Court, student-athletes must earn a cumulative grade point average of 3.20. Only 1,000 student-athletes were selected from 350 colleges. In addition to success in the classroom, the four Spartan players led the team to its most wins (15) in over a decade. McLoughlin led the team in scoring and rebounding while Holman was the fourth highest scorer. Both Klements and Clark shot over 50 percent from the field. McLoughlin was also named to the University Athletic Association Presidents Council Scholar-Athlete Team.
Other members of the Scholar-Athlete Team, a group of 92 student-athletes from all eight UAA member schools, are recent graduates Kristen Ruckstuhl (track and field) and Abbey Smith (women's soccer); seniors Asante Brown (track and field), Bryan Erb (football), Josh Rogers (football) and CJ Krimbill (men's tennis); and juniors Nico Ericksen-Deriso (track and field) and Annie Wennerberg (softball). To earn the distinction, these student-athletes had to earn first team All-Association honors in their sport and a 3.50 cumulative grade point average.
Wennerberg also led all Division III batters in home runs and home runs per game during the 2015 softball season. She crushed 20 home runs, a new CWRU record, which tied her with Danielle Duman (Linfield) for the Division III title. However, Wennerberg blasted those 20 homers in 11 fewer games than Duman, ensuring her the home runs per game title. Wennerberg set an additional school record with 60 runs batted in. A big reason for why the Spartans set a school record with 32 wins in 2015, Wennerberg also pitched 131 and a third innings for the Spartans, finished 15 of the 24 games she started and led the team with 15 wins and 91 strikeouts.
Staying on the diamond, recent CWRU graduate Kerrigan Cain, a former infielder on the Spartan baseball team, received the NCAA Postgraduate Scholarship. Cain is the first Spartan ballplayer to earn the distinguished award and only the 21st in CWRU's history. However, 10 Spartans have earned the scholarship in the last nine years. The scholarship is given by the NCAA to only 58 student-athletes (29 men and 29 women) per season across all three divisions. To earn the award, the NCAA looks for seniors who performed with distinction athletically and academically and serve as a role model on their campus and in their community. Student-athletes must also plan to pursue a postgraduate degree. Cain earned a 4.0 cumulative grade point average at CWRU and a degree in chemical engineering. He received a one-time grant of $7,500 and national recognition by the NCAA.
CWRU alumna Esther Erb ('08) won the Twin Cities Marathon held in Minneapolis-St. Paul, Minnesota last October, claiming the United States Marathon Championship. The championship qualified her for the IAAF World Track and Field Championships marathon in Beijing on Aug. 30, the same championships Usain Bolt competed in. Erb won the Division III National Championship in the outdoor 10,000-meter race in 2008 as a Spartan. After the IAAF Championships, Erb is training for the 2016 United States Olympic Trials, to be held on Feb. 13, to attempt to realize her dream of representing America in the Olympics.
Finally, in non-student-athlete news, CWRU hired a new head coach for the Spartans' wrestling team. Danny Song, hired in mid-July, has plenty of experience coaching wrestling at the collegiate level. He started in 2009, just a year after graduating with a psychology degree from the University of Iowa. He worked with Iowa, a Division I program, for three years as an assistant coach and strength coordinator. The next year, Song became an assistant coach at Bloomsburg University in Pennsylvania, eventually becoming their interim head coach. After a year, Song moved to the Naval Academy, serving as an assistant coach and recruiting co-coordinator. He will be the fourth head coach at CWRU since 1967.
About the Writer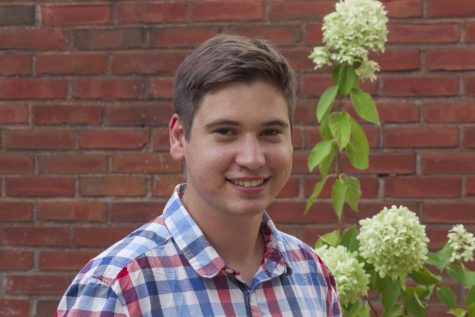 Eddie Kerekes, Executive Editor
Eddie Kerekes is in his fourth year studying chemical engineering while also pursuing a minor in German. He serves as the executive editor. Previous roles...