Cleveland's pinball wizards
Happy Dog based pinball league gears up for second season's tournament
The back room of Happy Dog at the Euclid Tavern is cacophonous on Tuesday evening.
The USS Enterprise wiggles up and down under a layer of glass, as backbox graphics flash in the "Star Trek"-themed pinball machine. Down the row, the "F-14 Tomcat"-themed machine lights up the room's corner with spinning police lights. Sci-fi noises mix with the regular Euclid Tavern chorus. Explosion noises, beer glass clinks, laser blasts, chatty conversation and bumper clicks fill the room. Taped to the room's left wall is a Cleveland Pinball League (CPL) poster featuring a wizard-like hippie. He overlooks the night's noisy games.
But then, Brian Hill enters the room. "Everybody signed up?" he yells out.
The noisy room softens for a moment, as Hill sits at a table near the machines, proudly wearing his CPL t-shirt under a blue flannel shirt. The crowd surrounds him, and he places them into teams of four. Hill shouts out the groupings to compete in the small weekly league meet on March 24.
Then the games (officially) begin. Groups line up near preferred machines, waiting for their turn to play, sipping at beers in their downtime.
In addition to the "F-14 Tomcat"- and "Star Trek"-themed machines, the room also includes "The Shadow," "Demolition Man," "Ripley's Believe it or Not!" and "Blue Max."
"These are mostly games that I really like," says Hill, owner of the pinball machines. "'Demolition Man' and 'The Shadow' are not the greatest movies, but they make really good pinball machines."
Hill takes care of the machines early and stays at the competitions late. This week he showed up at the Euclid Tavern nearly six hours before competition began just to make sure everything was in working order. Maintenance includes fixing lights, bumpers, coin jams and general cleaning.
In addition to the upkeep, these machines didn't come cheap. Each one ranged between $500-$4,000, a cost that Hill is still working to pay off with the games' slow accumulation of coins.
"It's hard to make that back 50 cents at a time," he says.
For one of the expensive machines, that's 8,000 games.
It's a cost pinball enthusiasts are willing to pay, though. Out of the night's 22 attendees, six of them owned a pinball machine at home, including CPL newcomer Steve Juchnowski, who joined in January of this year. Despite his relatively recent involvement, Juchnowski invested in a "Night Rider"-themed machine at home.
"It has boobs and a truck," he says. "Also this trucker who looks just like Burt Reynolds, mustache and everything."
"When I joined, I thought, I might as well buy a pinball machine so I can practice at home," Juchnowski adds. "If I'd have joined a bowling league, I would have built a bowling alley in my basement."
***
The CPL is in its second season of existence, following six seasons of the Happy Dog Pinball League, coming out to about three years of pinball. Practices occur at Happy Dog West, B-Side Liquor Lounge and the Case Western Reserve University hot spot, Happy Dog at the Euclid Tavern. Just around the corner from CWRU's North Residential Village, the venue attracts students for its cheap concerts, cheap food and creative programming.
Open to anyone for the price of $10 per season, the CPL offers a laid-back atmosphere for locals to enjoy the game.
The game of pinball itself is more than just luck, although it' s certainly a component. Each player employs a unique technique and must understand each pinball machine's quirks.
"Each game has its strategy," explains Hill. "The aim is reducing the amount of randomness of the game."
Hill's technique involves cradling the metallic ball instead of launching it with the bumpers, and the move works well. Last he checked, Hill himself was ranked as the 250th best pinball player in the world, and ninth best in the state of Ohio.
That's not the only accomplishment CPL has under its belt; the top four players in the state of Ohio were all CPL members this past year, and the highest-ranked player in the CPL is ranked as the 100th best player in the world after the latest tournament.
"That tournament may be my favorite," says Hill. "I had to beat the number one seed and the reigning champ."
The rankings may soon change, however. This Saturday and Sunday, March 28-29, the league tournaments kick off at the Happy Dog at the Euclid Tavern, where all 60 members of the current CPL will face off in the tiny back room. Everyone in the league gets to play regardless of skill level or how they did this season, and the event will be broken up into four divisions.
"Basically it's a super-intense version of our regular league nights," Hill says. "It's a tournament; two people are dropped, two move on."
Despite imminent preparation for the tournament that is just days away, the regular league night is still just as laid-back as ever, with the same old interruptions. Near the "F-14 Tomcat" machine, Kory Dakin stands by, waiting to resume his game.
A quarter got stuck.
Dakin leans against the wall near the machine.
"This league is more energetic and relaxed," Dakin, who has been involved with CPL since it started three years ago, says. "It's got great camaraderie."
Hill hurries over, fixes the machine and Dakin goes back to his game.
Later, a woman jumps into the air, doing a victory dance after reaching a strong score. Thea Spittle, who has been in CPL for a year and a half, joined because of Dakin. Standing near him, they high five and shout, simultaneously, "Best friends!" as though the two were starring in a sitcom.
Spittle was one of the handful of women at the Euclid Tavern on March 24.
"There are really not that many women playing pinball," she says, turning to Hill who is sitting just a couple of tables away. "Brian, how many girls are there?"
Hill shrugs a little. "Maybe 10 percent? Twenty percent?" He pulls out a folded roster and started reading out women's names, as Dakin keeps track of the number with his fingers. "Molly… Thea…"
He ends the list with 11 women on the list, out of 60 total members; 18.3 percent.
"There are more girls than ever," says Hill, laughing.
The growth of the league each season has resulted in greater diversity in the types of people showing up. In the pinball room, men with tucked-in CPL t-shirts sat near the walls wearing trucker hats; other players stood near the pinball machines looking like they were straight out of the 90s, pastel windbreakers and all.
"Everyone's so different. I don't want to be corny, but the only consistent thing is that everyone's nice," says Hill. "Most of these people would have never hung out with each other before the league."
Before Hill met fellow pinball players to enjoy the sport with, he remembers playing the game with his father, or by himself at various locations like gas stations or bowling alleys.
"We would just play wherever we could find a machine," he says.
Hill remembers pinball as more of a solitary sport, before he took it a little more seriously at a league in Berea. Then he realized he wanted to bring it closer to Cleveland for city-goers, and so he could play with his friends.
Now three years later and two seasons into the CPL, with 60 members strong, the league continues to grow, with more winners ranked in the official roster and more involvement at every meet.
"Like life, pinball is like, you can do all the things right, and sometimes you still get screwed," says Hill.
And sometimes you win.
Event: CPL League Finals
Location: Happy Dog at the Euclid Tavern
Dates: March 28-29
About the Contributor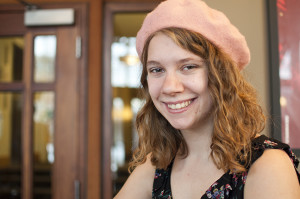 Anne Nickoloff, Director of Print
Anne Nickoloff, the Director of Print for The Observer, is a senior at Case Western. She hopes to one day be a music journalist, and has spent much of...