Club Sports spotlights – Part I
Many of us at Case Western Reserve University likely played a sport throughout high school, with some even playing on multiple teams each school year. Now as college students, we have other responsibilities weighing us down, with courses, clubs and internships taking up a majority of our time.
Even still, sports can have a place in your busy student life. The best part is that you don't have to worry about committing to high-level NCAA Division III competitions. This is where Club Sports shines.
The Club Sports Program at CWRU is where members of the university community can participate in non-varsity intercollegiate athletic competitions. All Club Sports are student organizations recognized by the Undergraduate Student Government and housed within the Department of Physical Education and Athletics. Each club has an advisor that provides guidance, coordinates facility usage and distributes funds. Regardless, the key to each club's success comes from the students that run the programs.
Though the specifics differ slightly from sport to sport, the general path to becoming a club sport member is the same: fill out the membership agreement (available at athletics.case.edu), join the desired club(s) on CampusGroups and pay the necessary dues. All clubs also have a social media presence for updates about upcoming events and meetings.
CWRU offers 17 club sports: archery, badminton, cheerleading, crew, cycling, fencing, ice hockey, kendo, kung fu, lacrosse, quidditch, soccer, table tennis, taekwondo, ultimate frisbee, volleyball and water polo. The Observer will be spotlighting some of them to showcase the many exciting opportunities available for CWRU students.
Archery
Most of us have probably watched characters like Hawkeye and Katniss Everdeen in awe, wishing we could let arrows fly with such precision and accuracy. You may not get to that level of mastery, but you can take a step in that direction with the Archery Club.
Practices are held Tuesdays through Fridays from 5:30-7:30 p.m. in the Adelbert Gym basement. The first three weeks are structured to allow new members to learn the proper technique from shorter distances. Later in the semester, practices become more open and flexible to allow members to hone their skills as desired.
Most members come on Fridays, which is when the club holds its Fun Shoot Day. Here, the club replaces the standard targets with themed boards or objects and holds mini intra-club competitions. Previous memorable themes include the Humans vs. Zombie shoot, the Scrabble Tournament shoot and the Halloween Glow-in-the-Dark shoot. The club hosts weekly team dinners on Fridays following the Fun Shoot.
The club hosts one competition in the fall, which all members are encouraged to enter. This year, the club is also planning on holding an outdoor competition on the Van Hord Field. In the spring semester, the team competes in regional tournaments. Only selected members participate in these competitions due to travel limitations.
The Archery Club warmly welcomes all CWRU students, faculty and staff to join. It's a relaxed atmosphere in which members can come in and shoot or just hang out and do homework. Members who wish to compete in regional tournaments are expected to show more dedication in practices. The club offers a two-week free trial during any point in the semester. If you decide to commit, the dues for one semester are $45 and for the year the dues are $70.
The introductory meeting for the fall will be held upstairs in Wyant on Sept. 8 at 6:30 p.m.
To learn more, visit the pages below.
Website: community.case.edu/archeryclub/home/
Instagram: @cwru.archery
Cycling
Although not as popular in the U.S. compared to around the world, cycling is a fantastic way to gain strength and push your cardiovascular system. The CWRU Cycling Club is a great way to stay in shape year-round, providing many opportunities to experience the sport from all perspectives.
If the weather permits, the club rides on Mondays, Tuesdays, Thursdays and Saturdays during the semester. At the beginning of the semester, the ride length is shorter, averaging 15-20 miles. Over the semester, the length increases to nearly 60 miles. Participating members determine the distances based on comfort levels.
Groups rides begin on campus and head west towards Fairmont Blvd. When the weather becomes colder, the club transitions to indoor spin sessions at Veale. These sessions follow the same schedule as group rides.
A couple times in the fall, the club also visits the velodrome in Cleveland. There, riders can experience what it's like to race on a track with proper track bikes provided at the center.
During the spring semester, the club attends six collegiate races which are open to all skill levels. The races are scheduled for entire weekends and are spread throughout the Midwest at other universities. The dues fully fund race weekends and all members are encouraged to attend if interested.
The Cycling Club aims to be a supportive, family-like community and organizes several social events every month, including watching cycling-related movies or races, hosting pancake parties and hanging out at a mountain biking park. During group rides, members sometimes head over to coffee shops to spend time and relax over some food.
The club also organizes a training camp, during which interested members travel to a chosen location in the US and train together in a vacation-style spot. Last fall break, the team went to Virginia and rode together in the Appalachian Mountains and Shenandoah National Park. The club plans to head to South Carolina this winter break to host a similar experience.
With casual riders and competitive ones, the Cycling Club ensures the sport is accessible and fun for all. There is no real requirement for being on the team other than staying active and participating in events at least once a month. The club also provides loaner bikes and helmets for $35 per semester for those without their own. Dues are approximately $20 for new members and $40 for experienced ones. If members feel these are financially unattainable, they can work with club officers to reduce the amount.
The club is also looking for students to fill the officer positions of vice president and secretary. It is a great way to get leadership experience.
To learn more, visit the pages below.
Website: community.case.edu/cycling/home
Instagram: @cwrucycling
Facebook: @CWRUCycling
Twitter: @CWRUCycling
Fencing
Although it is one of the more niche club sports offered at CWRU, the fencing club provides a unique all-round experience for newcomers and veteran fencers.
The team practices three times a week in the Adelbert Gym from 6:30-8:30 p.m. on Mondays and Wednesdays and 5-7 p.m. on Fridays. Members are trained in all three Olympic fencing events: foil, epee and saber. A typical practice begins with a warmup and footwork training followed by individual weapons practice and bouting.
When it comes to competitions, CWRU's fencing team is incredibly successful. As a part of the Midwest Fencing Conference, Club Fencing competes monthly against other collegiate club teams and even some varsity teams at Division I schools. Last March, the Men's Epee Team won the Midwest Fencing Conference Championship at the University of Michigan while three members took podium finishes in the individual events.
The club both travels for competitions and hosts them at CWRU with another Ohio school. Tournaments are open to members of all skill levels and are a great way to build team camaraderie and get used to the competition schedule.
The fencing club prides itself on its team chemistry. In addition to year-round bonding activities, there are opportunities to delve deeper into the sport through attending referee clinics, joining conference boards and competing in local tournaments outside of CWRU.
Anyone who is looking to get some competition experience, learn a new sport or have fun is welcome to join. Though members are expected to attend at least one weekly practice, there is some leniency given the academic rigors of a regular school year. All equipment is provided and there are opportunities throughout the year to purchase your own. There is a membership fee, but in extenuating circumstances scholarships may be provided.
 To learn more, contact club president Charlotte Brimson (clb165@case.edu) or visit the pages below.
 Website: community.case.edu/fencingclub/home
Instagram: @cwrufencing
Kung Fu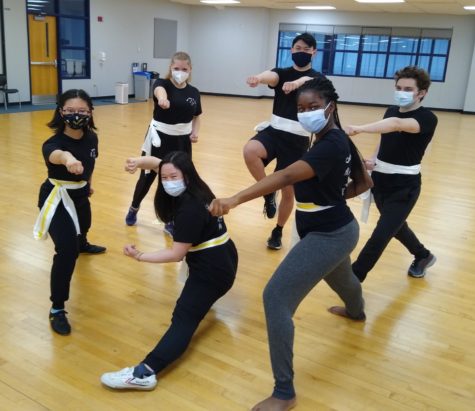 If you're a fan of martial arts and self-defense, CWRU Kung Fu may be the place for you.
Every Tuesday and Thursday from 7:30-8:30 p.m. and every Saturday from 1-2:30 p.m., the club holds practices at the Veale Multipurpose Room. Members learn Northern Shaolin Long Fist and Seven-Star Praying Mantis Kung Fu—dynamic styles focusing on traditional forms. Members also learn sparring, throwing and striking techniques along with a form of Chinese wrestling called Shuai Chiao.
Practices, led by shī fù (teacher) Jamie Van Doren and assistant instructors Ray Zackowski and Ryan Materna, begin with stretches and strength exercises and move into learning self-defense techniques, practicing traditional forms (some with weapons) and drilling kicking using pads, stands and gloves.
Although the club was unable to participate in competition this past year due to the pandemic, there are plans to compete at least once per semester in the future. Tournaments are a great way to connect with the local Kung Fu community, and include areas of forms, sparring, and grappling competitions. An enticing facet of this club is their bi-semesterly belt tests, in which club members can achieve higher ranks by demonstrating their forms and techniques. Last year at the first test, five team members earned their white belts, four of them being completely new to Kung Fu. Three of these members went on to earn the white-yellow striped belt at the second testing.
Outside of practices and competitions, the club has performed routines at the spring 2022 CWRU Live! to give the campus community a glimpse of the club's awesome capabilities. There is also a tradition to grab ice cream at Mitchell's Ice Cream after practices on Thursdays as a team bonding experience. The first bonding event this semester is a free showing of Kung Fu Panda on Sept. 2 in Strosacker Auditorium at 7 p.m. and 9 p.m.
The Kung Fu Club's organizational meeting will be on Sept. 7 at 5:30 p.m. in the Wyant Athletic Center, where interested students can learn more about the club and membership requirements. The first official practice will be held the following day, on Sept. 8. The club will have a two-week trial period at the beginning of each semester. Members will then pay club dues of $40 per year or $30 per semester. Practices, competitions and belt tests are all optional and training plans are flexible and adapted to the members' skills and interests.
Additionally, the club will host a Self-Defense Workshop on Sept. 10 at 1 p.m. in Veale, open to any CWRU student, regardless of their member status. The club plans to hold these open workshops every semester, which are fantastic opportunities for those who just want to learn some basic techniques.
"Your experience as a CWRU Kung Fu Club member is what you make of it," says club president Amanda Li. "Our club is for anyone of any skill level. We provide opportunities for everyone to build strength of body and mind, as well as discipline, through traditional Chinese art forms."
To learn more, contact club president Amanda Li (axl900@case.edu) or visit the pages below.
Website: community.case.edu/CKF/home
Instagram: @cwrukungfu
Lacrosse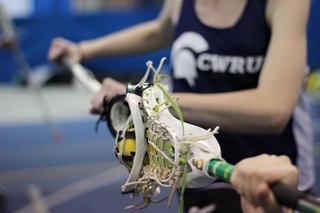 Joining the Lacrosse Club is a great way to get involved in an intense team sport with an easy-going community.
For the fall semester, practices will be at DiSanto Field on Fridays from 8-10 p.m. and Sundays from 7-9 p.m. Occasionally, there will be more meetings if the teams decide to have an informal practice or scrimmage. The men's and women's teams practice at the same time but do so separately, as the contact rules differ.
Competition-wise, the teams are planning to enroll the squads in about three per semester. Due to the pandemic, many club events and practices were canceled. This year, the club aims to build membership and get back in the groove of competing. The teams will be traveling for matches and there are plans to host some as well.
Outside of the game, the club plans to organize plenty of bonding trips such as hiking, hanging out at the beach and Mitchell's Ice Cream runs.
Members are expected to attend practices as often as they can and all skill levels are welcome. The club will provide extra sticks and goggles, but members are encouraged to bring their own if they have them. Dues are set for $100 for the school year. Though scholarships are not yet available, the club is looking into it.
"We're looking forward to an active and successful year in Club Lacrosse!" said club president Hannah Cousins. "Our exec team is working hard to make sure everything is in order come the start of classes, and we're excited to meet all our new members."
To learn more, visit the following pages.
Website: community.case.edu/lax/home
Instagram: @cwru.lax
Facebook: facebook.com/cwrulacrosse
Soccer
Behind CWRU's impressive NCAA DIII soccer programs, the CWRU Soccer Club also boasts dedicated and competitive squads in an enjoyable atmosphere.
Each week, for both the men's and women's teams, there are three open practices on Sundays from 5-7 p.m., Mondays from 9-11p.m. and Thursdays from 9-11 p.m. These are geared towards all members, regardless of whether you are on the competitive teams. The competitive team practices are generally held on Tuesdays and Fridays from 6:30-8:30 a.m. All practices are held on the DiSanto Field.
The competitive teams are part of the Midwest Alliance Soccer Conference and play weekend games against schools such as the University of Akron, Kent State and Xavier University, among others. This past school year, the men's team defeated Ohio State University for the first time in club history to secure a spot in the regional tournament held in Michigan.
The club plans to organize other events for those members not part of the competitive teams. This includes a 3-vs-3 tournament and skill-based competitions to fundraise for the team and recruit new members.
 Off the field, the soccer club maintains a tight-knit bond. Groups of club members have organized trips to see professional games, such as the Major League Soccer matches and those of the legendary U.S. Women's National Team.
Club president Emily Dexter emphasized that "everyone and anyone is welcome to join. [The soccer club] is a blast and many people have found their core friends through the club."
There is no commitment or participation requirement for general members, as the club serves for the players' enjoyment. Members can commit to as many practices as they'd like. "Our primary mission is to provide an outlet for de-stress, to make friends and have fun," adds Dexter. Soccer cleats will make play smoother but are not required. Competitive team members will have stronger commitment expectations. Dues are set around $40.
The first club soccer practice is scheduled for the first day of classes on Aug. 29 from 9-11 p.m. on DiSanto. There are three dates for the men's competitive team selection: Aug. 29 from 7-9 p.m. or 9-11 p.m., Aug. 30 from 6:30-8:30 a.m., and Sept. 2 from 6:30-8:30 a.m. There will be two dates for the women's team selection: Sept. 2 from 6:45-8:30 a.m. and on Sept. 4 from 5-7 p.m.
To learn more, visit the following pages.
Website: community.case.edu/soccer/home
Instagram: @cwrusoccerclub