Club Sports spotlights – Part II
We will be wrapping up our Club Sports program spotlights with discussions about another six organizations. To recap, here is the general information applicable to all club sports:
The Club Sports Program at Case Western Reserve University is where members of the university community can participate in non-varsity intercollegiate athletic competitions. All Club Sports are student organizations recognized by the Undergraduate Student Government and housed within the Department of Physical Education and Athletics. Each club has an adviser that provides guidance, coordinates facility usage and distributes funds. Regardless, the key to each club's success comes from the students that run the programs.
Though the specifics differ slightly from sport to sport, the general path to becoming a club sport member is the same: fill out the membership agreement (available at athletics.case.edu), join the desired club(s) on CampusGroups and pay the necessary dues. All clubs also have a social media presence for updates about upcoming events and meetings.
CWRU offers 17 club sports: archery, badminton, cheerleading, crew, cycling, fencing, ice hockey, kendo, kung fu, lacrosse, quidditch, soccer, table tennis, taekwondo, ultimate frisbee, volleyball and water polo. The Observer will be spotlighting some of them to showcase the many exciting opportunities available for CWRU students.
Badminton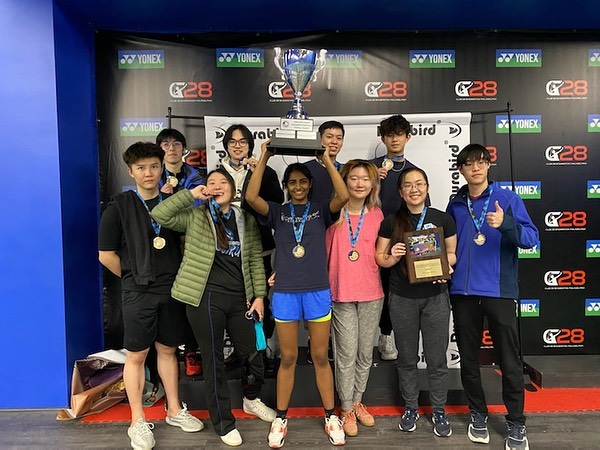 If you are someone who has quick reflexes and great agility, Club Badminton is a fantastic organization to put those skills to work.
Members of all skill levels meet on Courts One and Two at the Veale Fieldhouse on Tuesdays, Thursdays and Fridays from 5:30-7:30 p.m. These practice sessions occasionally include basic training for interested members, but mostly they are conducted as open courts where people can just come and play. A couple times every semester, the club invites all CWRU students to Net Night, where food, drinks and courts for casual matches are provided.
The club also attends the Eastern Collegiate Team Badminton Championships. The seeding of the Spring Playoff division is determined by their fall semester competitions against other teams in the Midwest Conference. This includes teams from Ohio State University and the University of Michigan. Around 10 competitive members are selected to compete in nine events: men's singles, men's doubles, mixed doubles, women's singles and women's doubles.
Last year, the club showcased an extraordinary performance to take first place in Division 2B of the tournament.
"Our favorite match was against Princeton in the semifinals," reflected club president Jaime Wang. "We were very evenly matched and every game [was] very intense, [but we took] the 6-3 win."
"Winning the tournament was not something we had really thought was possible for us," Wang added, "which made securing the victory even more [rewarding]."
The team also has a great sense of camaraderie, and everyone loves to support each other.
"My favorite part of tournaments is watching, cheering and coaching each other," said Wang. "I have a lot of pride in how hard every member of our team worked to make the success possible." 
Being a member has very low stakes. With an open court practice style, there is no commitment expectation. Practice expectations are higher for those who wish to be considered for the competitive team. All equipment—shuttles, rackets and courts—is provided for members after the trial period. The first four practices are free. Afterwards, the membership fee depends on the type of shuttles you'd like to use: $20 for plastic and $40 for feather.
To learn more, visit the pages below.
Websites: badminton.mystrikingly.com
Instagram: @cwrubadminton
Discord: discord.gg/ujdyFjGkyt
Quidditch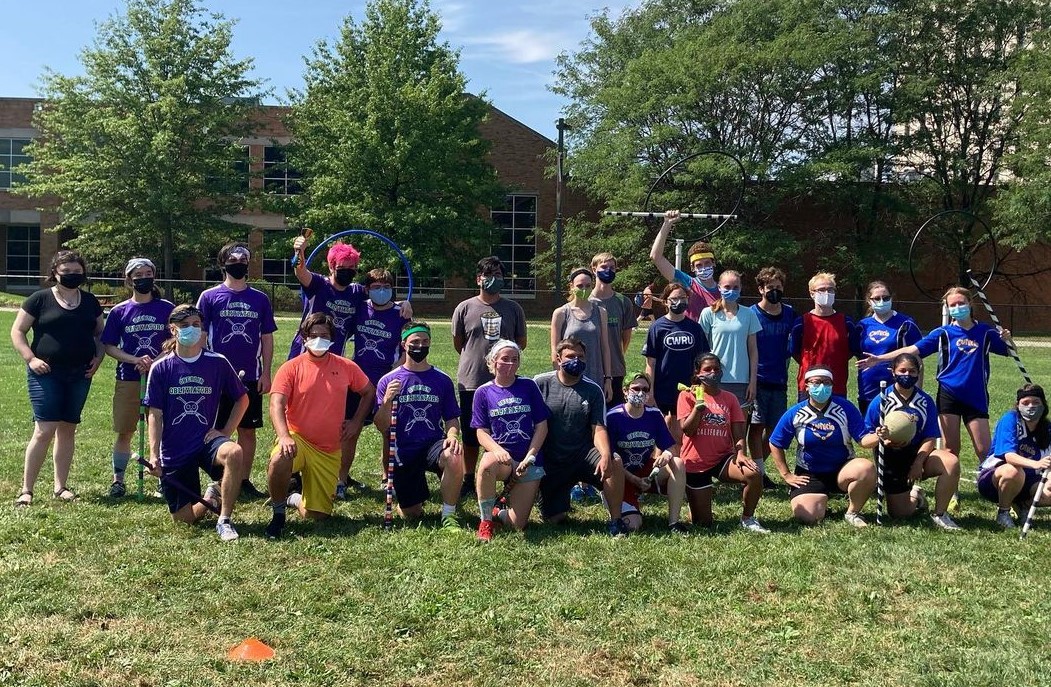 Most "Harry Potter" fans know the basics of quidditch, but many don't know how to truly play on a team. The CWRUcio Quidditch Club gives students the opportunity to learn and get involved in this magical sport.
The club holds practices on Mondays and Wednesdays from 7-9 p.m. and on Saturdays from 2-4 p.m. on Freiberger Field. After a quick warmup and conditioning exercises, a typical practice includes specific drills for the beaters and chasers which work on passing, throwing, dodging and blocking the bludgers, as well as scoring and tackling. Members then move to scrimmages.
Off the field, this club organizes several amazing activities for its members. Game nights, "Harry Potter" Trivia Night, Alumni Dinner, Quidsgiving and Spring Retreat are just a few highlights. One of the largest student-run dances on campus last year was the annual Yule Ball. The event incorporated performances from student dance groups such as Nritya, Spartan Tappers and Swing Dance Club.
This fall, CWRUcio will be hosting home games on campus for members. Student and community spectators are also welcome. Additionally, the club will be hosting their second annual Spartan Run for Autism, a 5K charity run to be held on Sept. 18 from 9-11:30 a.m.
If you are interested in joining but cannot fully commit, you're in luck: there is no attendance requirement for general body members. The club understands that members often have complex schedules and many commitments. All equipment, except for mouthguards, are managed and provided by the team. Dues are $20 but those who have concerns can work with the executive board to alleviate them.
To learn more, email club president Sylvie Crowell at sfc28@case.edu and visit the pages below.
Website: community.case.edu/Quidditch
Instagram: @cwrucio_quidditch
Facebook: @CWRUCIOQuidditch
Table Tennis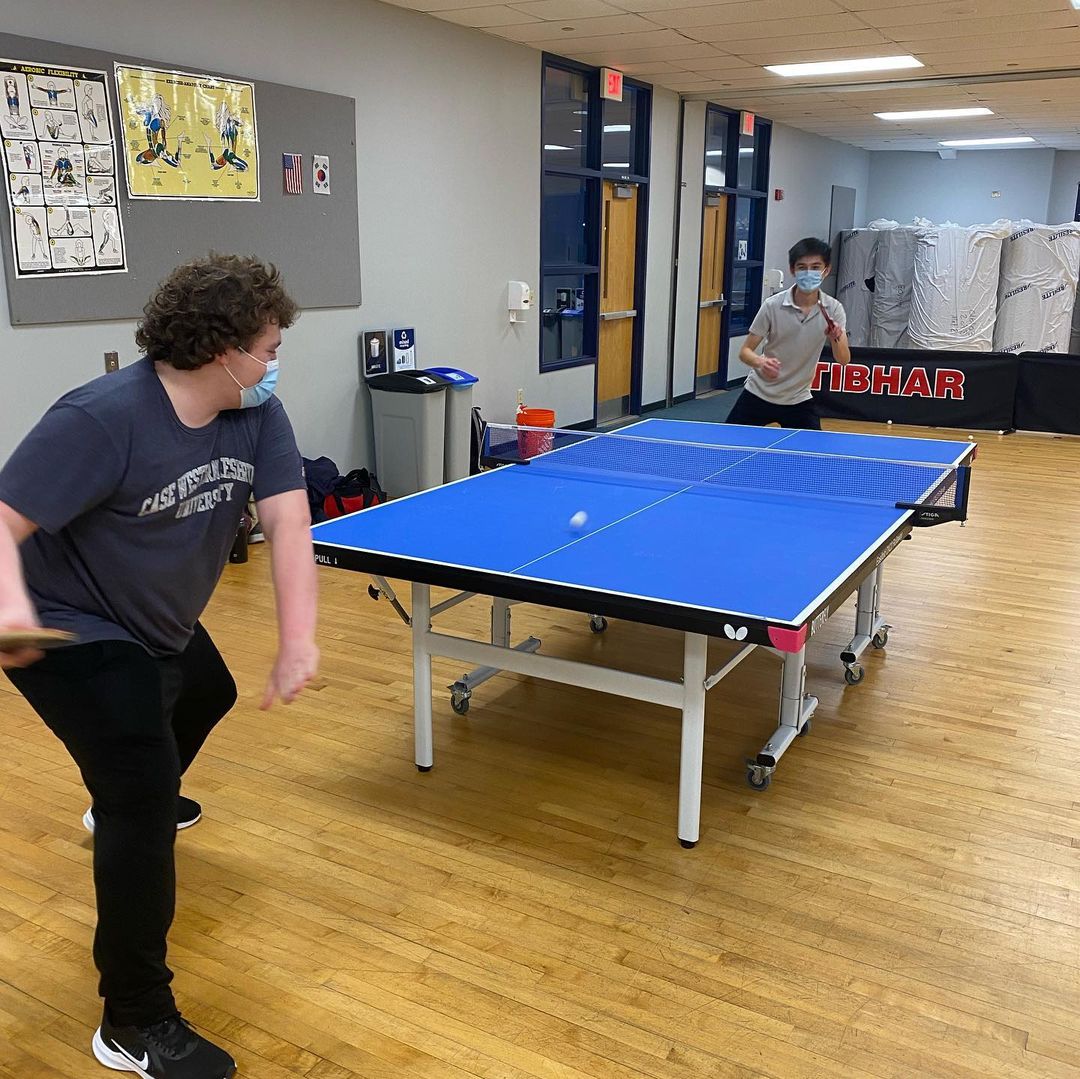 The Table Tennis Club offers a great way to have fun with friends while playing this indoor game, which can be quite casual or extremely flashy. 
The club practices at Veale on Mondays, Wednesdays and Fridays from 8:30-10:30pm. On Fridays, the team brings in Seth Pech, a high-ranked professional player and one of the best in Ohio, to lead drills and even play against members. The sessions involve a mix of people who play casually, are looking to improve their game and those who are either on the JV or varsity teams. Practices involve drills with the Table Tennis Robot to perfect strokes and matches between members. In mid-October, the club hosts tryouts for the JV and varsity teams, with the top eight performers making it to varsity.
Last March, the varsity team had a strong showing in their competitions and qualified for the National Collegiate Table Tennis Association Regionals as a wildcard. The club also hosts a Freshman Tournament, which will be held in late September this year.
While the club sounds very serious, the members know how to have some good fun. Practices are relaxed and members often hang out at Euro Wafel or get food on Euclid Ave to get to know each other and build team chemistry.
"During our lunch break at divisionals," recounted club vice president Nathan Howell, "we were tasked to get around 100 chicken nuggets at McDonald's for the team. We were dying of laughter while ordering as we felt bad for the workers and the cars behind us. Greatest McDonald's run of all time!"
It is easy to join the table tennis club, whether you're looking for intense competition or for a laid-back activity after classes. Tables, paddles and balls are provided but members are welcome to bring their own personal equipment. For varsity members, there is a mandatory requirement of attending at least three practices every two weeks. Dues, which go towards coaching, team equipment and travel, are $25 for a semester and $40 for the year.
To learn more, visit the pages below.
Website: community.case.edu/TTC/home
Instagram: @cwrutabletennis
Facebook: @CWRUClubTableTennis
Ultimate Frisbee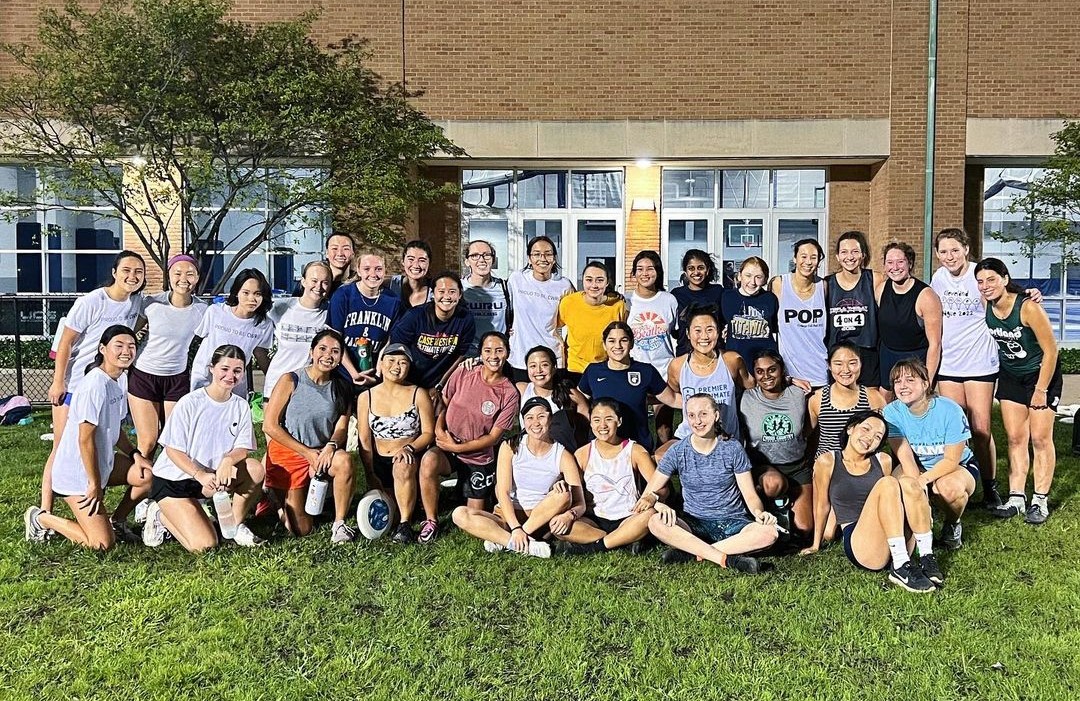 Ultimate frisbee is certainly gaining popularity across the nation as it combines the casual enjoyment of frisbee-throwing with team strategy. The Ultimate Frisbee Club brings together frisbee enthusiasts for relaxed and competitive experiences alike.
The team practices three times a week for two hours on DiSanto or Freiberger Field. Most practices consist of warmups, drills and scrimmage. Sometimes, practice times are used for film sessions or agility workouts. This level of dedication is not without reason: the team is one of the few at CWRU to participate in DI competitions.
All competitions are tournament-style, and the teams attend one every month. The teams travel on Fridays, play six or seven games during the weekend and arrive back in time for next week's classes. The club is slated to host a tournament this September. The competitive teams have found success recently, with the men's team reaching the national championships qualifying game this past spring for the first time since 2016.
The club hosts many bonding events, including pasta dinners, board game nights and holiday parties. They also do community service and play urban disc golf around the campus.
Students of all skill levels and time commitments are welcome to join. If interested, you are even welcome to simply show up to a regular practice. Dues are $40 per semester. Active members are required to purchase their own uniforms. However, the club does not want money to be a barrier. They have a strong relationship with the club's alumni network, who are willing to provide financial assistance to sponsor a player.
"We take a lot of pride in playing high level [ultimate frisbee]," said club president Hannah Chang. "We are one of the smallest schools that competes in DI, but we do exceedingly well despite the odds. That being said, we have a team for everyone [from] those ultra-competitive athletes that want to continue competing at the highest level that they are capable of to those who just want to run around, let off steam and have fun for a couple of hours each week."
To learn more, visit the pages below.
Website: ultimate.case.edu
General Instagram: @cwru_fightinggobies
Volleyball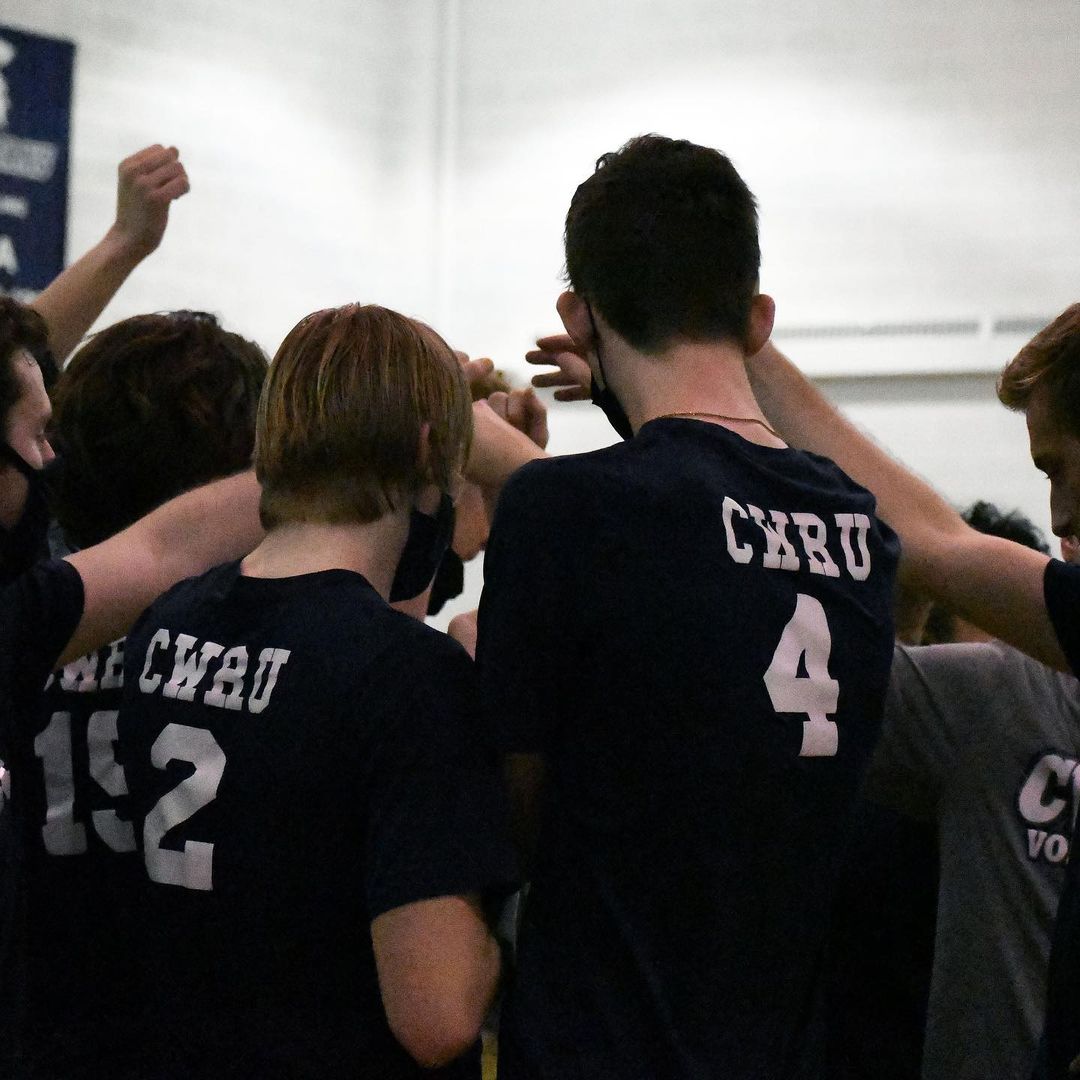 If you played volleyball through high school and are looking to keep your skills up, the Volleyball Club provides a strong community for you to pursue your sports goals.
The club practices twice a week in either Horsburgh or Adelbert Gym. Practices begin with stretches and warmups. The members then separate into competition teams and casual teams for drills and intra-team scrimmaging.
Most matches are held in the spring semester; the club also participates in one tournament a month and scrimmages occasionally with other universities. Last spring, the men's team placed first at the DII Silver Flight National Championships.
In addition to these events, the club plans on increasing the number of non-practice meetings. For example, the club plans to run a grass tournament at the Fall Harvest Festival for people of all skill levels.
Interested members are welcome to attend a few practices and participate. To officially join, club dues are $25 per semester, but those seeking financial assistance are encouraged to reach out to the executive board. There is no mandatory attendance for general members. Members seeking a competitive environment can try out for the competitive teams: these members are required to have consistent, diligent practice attendance. No specific equipment is required but members are recommended to wear tennis shoes and athletic clothing.
To learn more, contact club president Callahan Rios (cxr329@case.edu) or visit the pages below.
Website: volleyball.case.edu
Instagram: @cwru_clubvball
Water Polo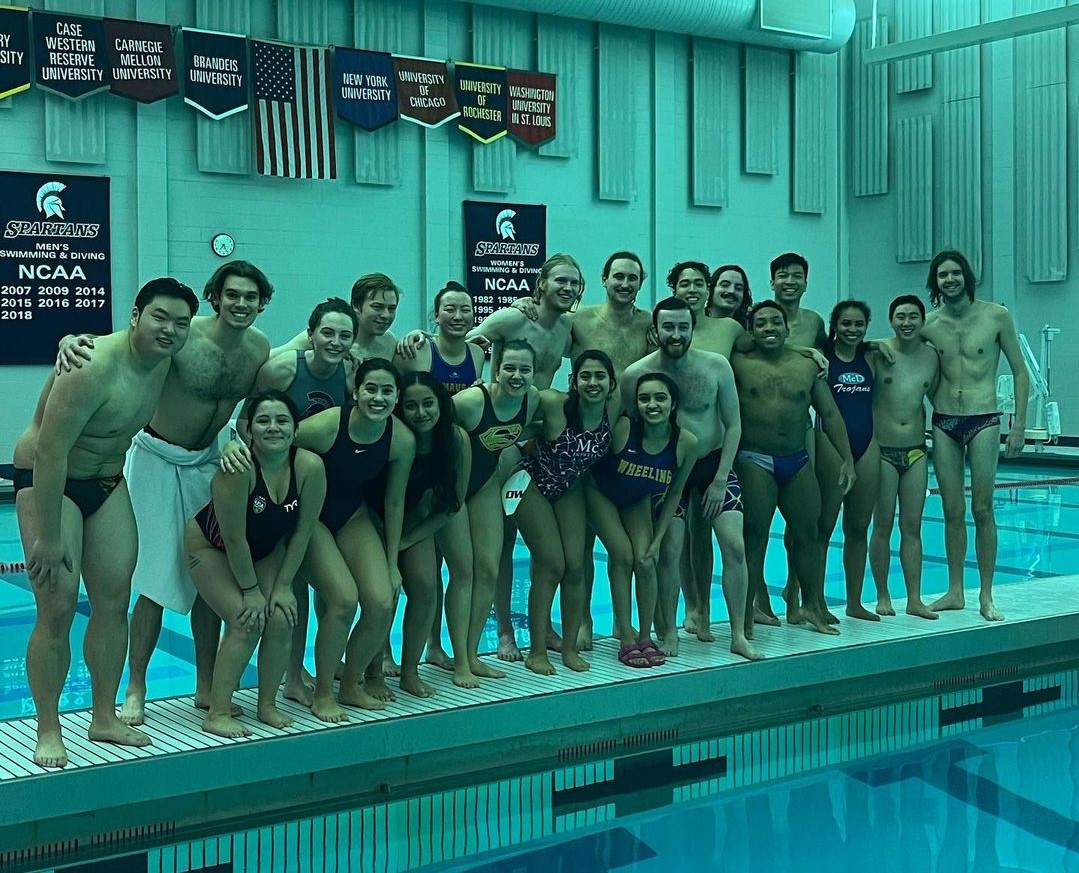 The only water-sport club at CWRU, the Water Polo Club provides a space for swimmers and water-lovers to bond.
Practices are held in the Veale Natatorium on Tuesdays and Thursdays from 6:30-8:30 p.m. and on Saturdays from 11 a.m. to 1 p.m. Following warmups, members engage in shooting and defensive drills, followed by team scrimmages.
Every semester, the club endeavors to host one tournament and travel to at least two away tournaments. In the past, the teams have been to Indianapolis, Cincinnati and Rochester for these events. On tournament weekends, the teams play anywhere from three to five games. Last year, the club played against OSU and competed against the University of Chicago, Carnegie Mellon University and the Indiana University of Pennsylvania at the home tournament. For more light-hearted competition, the club plans to host their annual alumni scrimmage on Oct. 8.
Outside the pool, the team loves their weekly trips to Mitchell's Ice Cream. The club is very tight-knit, with many members making close friends through this organization.
Members are welcome to test out the waters for the first couple weeks of the semester. To continue, they must pay the $20 dues. Though attendance is not mandatory, the competitive team rosters are dependent on attendance points.
The mandatory meeting for the fall semester takes place on Sept. 7 from 5:30-6:30 p.m. on the second floor of Wyant Athletic Center.
To learn more, visit the pages below.
Website: https://community.case.edu/cwruwp/home/
Instagram: @cwruwaterpolo