CMA celebrates MLK Day, legacy
Martin Luther King Jr. Day commemorates the life work of one of the most influential civil rights leaders in history. King's legacy lives on through this holiday and the celebration held in his name.
I stumbled upon the Cleveland Museum of Art (CMA)'s Martin Luther King Jr. Day celebration on Monday, Jan. 15. The snowy trek from my residence hall was unpleasant with temperatures outside below 20 degrees. However, the museum's beautiful interior more than made up for it, and the friendly atmosphere quickly warmed guests up.
The museum had its usual exhibits, but space had been cleared for the MLK Day celebrations. There was a stage set up for performances, a photo booth inviting visitors to take pictures with their favorite Martin Luther King Jr. quotes and tables for children to complete small art projects.
According to Julia Weaver, a member of CMA's Education and Academic Affairs Department, this annual event has been around for more than a decade and many departments across the museum start preparing for it as early as October.
Weaver explained that the museum hopes to honor King's creative expression through its paintings, some of his quotes and a self-guided tour.  She hoped that it helped "to show children how to create change and power and build strong communities through art."
The public outreach department was responsible for bringing performances into this event, a recent incorporation. Performers included Cleveland Classical Guitar Society members, Tri-C Creative Arts Dance Academy students, Six of Twelve members and Brick City Theatre participants.
After talking to Weaver, I had the chance to see the Six of Twelve Youth Performance Poetry Ensemble. The six teenagers and young adults addressed their experiences with racial discrimination and injustice and provided steps to achieve justice: acceptance, discussion and action. The power behind their words displayed their frustration at the status quo, with a glimmer of hope for the future.
As the crowd thinned around the makeshift stage in the middle of the atrium, I made my way to some of the art booths. Weaver mentioned that her favorite part of the event was seeing the children drawing their interpretations of some of King's quotes, and I had to agree. The awe of seeing formerly unruly children settle down at the "In His Words" collage booth to analyze the words of one of the most important civil rights leaders was remarkable.
Other interactive art installations present at this event included "Building Bridges," where patrons could use colored tape to create symbolic bridges. As she placed a purple bridge beside my green one, first-year student Chloe Mieras said, "These kids can both figuratively and literally bridge the gaps and lead to creative expression and connection."
The "A Sense of Place" activity had a similar theme of bringing people together, and children of all ages drew houses and pasted them on a landscape collage. The final image looked like a welcoming village, inviting everyone to its inclusive environment.
Although many of the activities and pieces were designed for children, I could see patrons of all ages find something inspiring among the displays. From captivating performances to self-guided tours, CMA shared MLK's legacy with the Cleveland community through art.
Leave a Comment
About the Writer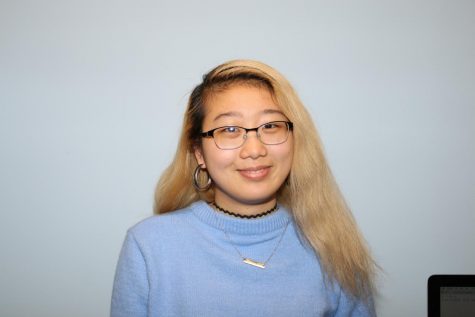 Yvonne Pan, Development Editor
Yvonne Pan is a fourth-year student double majoring in civil engineering and environmental studies, and minoring in English. Freshman year, she spilled...