More birthdays, less cancer
CAC to host Power of Purple events next week
Next week, Case Western Reserve University's Colleges Against Cancer (CAC) will push off the spring semester with a week of activities to support April's Relay for Life event.
Power of Purple, a four-day series of events, is aimed to raise awareness about cancer and earn extra donations for the American Cancer Society (ACS).
Last year, CAC donated $60,000 to the ACS, and this year they're shooting for $65,000. Though CAC has, in the past, put on early events to encourage donations to their mission, this is the first time the group is organizing an entire week of Power of Purple activities.
The activities start on Tuesday, Feb. 17, with a celebration theme, featuring a birthday cake and relay signups. This coincides with ACS's mission of creating a "world with less cancer and more birthdays," and celebrates people who have survived cancer.
A day of remembrance will follow on Feb. 18, where students and community can take a photo of why they decide to relay later in the year. They can also purchase a luminary bag for loved ones.
On Thursday, Feb. 19, the annual faculty and staff versus students basketball game takes off. Last year, students won by a slim margin, but will face even tougher competition this year after the faculty and staff team was coached by Officer Mark Chavis.
Ending the week is a carnival, designed to encourage people to fight back against the devastating effects of cancer, on Friday, Feb. 20.
Everyone has their reasons for being involved with Relay for Life, with one collective purpose: to end cancer.
"Every year I find more people to relay for," said CAC executive director Shruthi Srinivas, who has run in eight different relays.
Next week's Power of Purple activities do more than just get students involved. According to Srinivas, "it's [CAC's] official big spring push off to refocus people."
Relay for Life itself takes place on April 18, 2015 at noon. Even though this event might be a few months away, next week is a chance for students and community alike to join in the fight against one of the world's deadliest diseases.
Event: Power of Purple Week
Dates: Feb. 17 – 20
Location: CWRU campus
Leave a Comment
About the Writer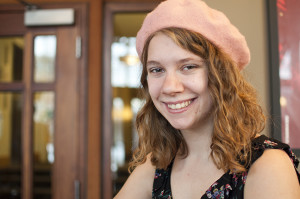 Anne Nickoloff, Director of Print
Anne Nickoloff, the Director of Print for The Observer, is a senior at Case Western. She hopes to one day be a music journalist, and has spent much of...