Concert calendar: A look at this week's upcoming performances
Every week in Cleveland is a week to see live concerts. However, like any other week, it's difficult to see them all. Dozens more of Cleveland's concerts are just waiting to be experienced.
For a head start on choosing a week of music, here are five upcoming Cleveland shows:
Date: Nov. 13, 9 p.m.
Band: Jivviden / Bad Hounds / Samfox
Venue: Beachland Tavern
Price: $8
Jivviden has a couple of modes: slow and sad or bouncy and soulful. Mixing folk, blues and rock and roll, they have a sound that's laid-back, groovy and even a little lazy. Need a Friday away from partying too hard? Of course you do. Go see Jivviden.
Date: Nov. 14, 6:35 p.m.
Band: Andrew McMahon in the Wilderness / New Politics / The Griswolds / Lolo
Venue: House of Blues Cleveland
Price: $27.50-35
The lineup is an indie party: Andrew McMahon in the Wilderness brings the heartfelt piano love, New Politics bring the punky stage antics, The Griswolds bring the beachy choral singalongs and LOLO brings the singer-songwriter groove. The gang's all here.
Date: Nov. 15, 9 p.m.
Band: Sleeping Bag
Venue: Happy Dog (Detroit Avenue)
Price: $5
Sleeping Bag's name is pretty appropriate for their tunes. It's like the guitar strumming is done in some half-awake state, sleepily (but not too sloppily) put together into cohesive DIY tracks. Here's to the perfect Sunday evening wind-down.
Date: Nov. 17, 9 p.m.
Band: The Sueves / Make Overs / Tonawondas
Venue: Now That's Class
Price: $5
The Sueves are echoey, messy, noisy and fun. A bar show at Now That's Class makes for a cheap, loud Tuesday night.
Date: Nov. 18, 8:30 p.m.
Band: Dan Deacon / WUME / Pleasure Leftists
Venue: Grog Shop
Price: $13-15
Dan Deacon's staticky songs are filled with noise, yet they are still melodic to the point of being dancey. His latest album, "Gliss Riffer," pushes a wall of sound at you all at once through its variety of tracks and array of sounds (including boops, brief vocal clips and zaps straight out of a retro video game). The show is sure to be a weird one. Weird, but good.
Leave a Comment
About the Contributor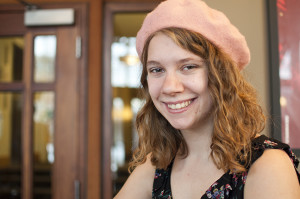 Anne Nickoloff, Director of Print
Anne Nickoloff, the Director of Print for The Observer, is a senior at Case Western. She hopes to one day be a music journalist, and has spent much of...