Concert calendar: A look at this week's upcoming performances
It's a week of record releases, punk, post-hardcore and indie rock in Cleveland. But it's also a week of cheap music. Before relaxing away Thanksgiving break, jam out in the city to some of the week's best shows.
For a head start on choosing your nights out, here are five upcoming Cleveland shows:
Date: Nov. 20, 7 p.m.
Band: Runaway Brother / Secret Space / My Mouth is the Speaker / Sunnyvale / Portage
Venue: Mahall's 20 Lanes
Price: $6
What do you get when you mix a little emo, a little punk and a lot of do-it-yourself style, then put together all that music in a basement? You get Runaway Brother, and great songs like "Blueberries" and "My Friends." Check them out at this reasonably-priced Mahall's show.
Date: Nov. 20, 9 p.m.
Band: So Long, Albatross / Erienauts / Golden Streets of Paradise
Venue: Beachland Tavern
Price: Free
Since this show is free, you're probably able to spare some cash and purchase So Long, Albatross' latest record. After all, this is their record-release show, and it's sure to be a good, easygoing Friday night. Rock on.
Date: Nov. 21, 9 p.m.
Band: These Knees / Kid Runner / The Whiskey Hollow / Murderline
Venue: Grog Shop
Price: $10
It's a big week for new local records. Celebrate local band These Knees' latest record release at this show, and consider picking up a copy of their latest and greatest. The band's summery vibes have matched Cleveland's strange fall warmth, but don't let the weather fool you: You'll need some sunny tunes to get you through the next few months.
Date: Nov. 23, 6 p.m.
Band: The Menzingers / mewithoutyou / Pianos Become the Teeth / Restorations
Venue: Agora Ballroom
Price: $20.80-23
The Agora Ballroom is hosting a four-band show this Monday, featuring punk rockers The Menzingers. The band is no stranger to Cleveland, coming through a few times each year for energetic shows across the city. But they're popular in Cleveland's punk scene for a reason. Check them out this time around.
Date: Nov. 24, 6:30 p.m.
Band: Dance Gavin Dance / Slaves / A Lot Like Birds / Dayshell / Strawberry Girls
Venue: House of Blues Cleveland
Price: $17-20
I can gush about Dance Gavin Dance but I won't, because even though they're still a great band without singer Jonny Craig (who left in 2012), Craig's soulful vocals were what made the band originally pop, and their tunes during his time with the band were, in my opinion, some of their best. Anyway … Craig is off doing his own thing and Dance Gavin Dance is doing theirs, and they'll be stopping by Cleveland this Tuesday.
Leave a Comment
About the Contributor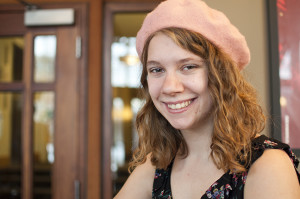 Anne Nickoloff, Director of Print
Anne Nickoloff, the Director of Print for The Observer, is a senior at Case Western. She hopes to one day be a music journalist, and has spent much of...