Concert calendar: A look at this week's upcoming performances
Every week in Cleveland is a week to see live concerts. However, like any other week, it's difficult to see them all. Dozens more of Cleveland's concerts are just waiting to be experienced.
For a head start on choosing a week of music, here are five upcoming Cleveland shows:
Date: Nov. 7, 8 p.m.
Band: Tom Paxton
Venue: Music Box Supper Club Concert Hall
Price: $25-28
It's Tom Paxton's farewell tour, and he is stopping by Cleveland before wrapping up for good. After over 60 albums and multiple Grammy nominations and awards, it'd be important for any folk-lover to see Paxton before he calls it quits. You wouldn't want to live a life full of regret, would you?
Date: Nov. 10, 6:30 p.m.
Band: Hands Like Houses / I The Mighty / Lower than Atlantis / Brigades / Too Close to Touch
Venue: Beachland Ballroom
Price: $15-17
With a lineup this big, the night will be filled with rock for hours, meaning dead feet and deafened ears, but in a good way. Australian band Hands Like Houses just came out with a couple of new songs in October, in anticipation of their new album "Dissonants" … which hasn't been released yet, but I guess the surprise future release will help keep fans on edge.
Date: Nov. 10, 7 p.m.
Band: Rah Rah / Dear Rouge / Diverge
Venue: Mahall's 20 Lanes
Price: $8-10
Rah Rah will be stopping by Lakewood's Mahall's 20 Lanes as just one of the few U.S. locations this tour. Before you get jealous of all the audiences bopping around to their indie pop tunes in Germany, see them at this local venue.
Date: Nov. 11, 8:30 p.m.
Band: little hurricane / July Talk / Texas Plant
Venue: Grog Shop
Price: $12-14
Blues and rock abound at this show, featuring bands July Talk and little hurricane. With finals right around the corner, and with the concert being midweek on a Wednesday, come sulk in your stress-filled blues at the Grog Shop.
Date: Nov. 11, 7 p.m.
Band: Timeflies / Kalin and Myles
Venue: House of Blues
Price: $28-31
If you missed their show at the University Program Board Fall Concert, you have another chance to see Timeflies in Cleveland. Their poppy set will be a good fit for the House of Blue's energetic dance floor, and a different vibe than the spacious Veale Center.
About the Contributor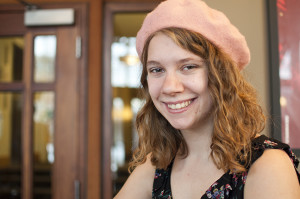 Anne Nickoloff, Director of Print
Anne Nickoloff, the Director of Print for The Observer, is a senior at Case Western. She hopes to one day be a music journalist, and has spent much of...