Concert calendar: A look at this week's upcoming performances
Every week in Cleveland is a week to see live concerts. However, like any other week, it's difficult to see them all. Dozens more of Cleveland's concerts are just waiting to be experienced.
For a head start on choosing a week of music, here are five upcoming Cleveland shows:
Date: Oct. 23, 5:30 p.m.
Event: AP Tour featuring Mayday Parade / Real Friends / This Wild Life / As It Is
Venue: House of Blues Cleveland
Price: $25-27
The upcoming Mayday Parade show is like a mini Warped Tour. And this shouldn't come as a shocker when you look at all the bands, and the fact that Hot Topic is presenting the tour through Alternative Press. Scenesters, unite.
Date: Oct. 24, 8:30 p.m.
Band: Saintseneca / The Sidekicks / The Yowlers
Venue: Grog Shop
Price: $12-14
Folk rock band Saintseneca will be performing at the Grog Shop just a few weeks after their latest album ("Such Things") was released. Enjoy their Appalachian folk sounds at the intimate venue, and hear their newest tunes while you're there.
Date: Oct. 24, 8 p.m.
Event: Spirit of Mahall's: A Night of Paranormal Activity featuring Wolf Eyes / Hiram-Maxim
Venue: Mahall's 20 Lanes
Price: $25
Wolf Eyes' experimental metal music is not for the musically faint of heart. Paired with local doom metal band Hiram-Maxim, this is a great show to get you in the mood for Halloween. And not the fun trick-or-treat mood: I mean the scary side.
Date: Oct. 27, 8:30 p.m.
Band: TORRES / John's Little Sister / Key to the Mint
Venue: Beachland Ballroom
Price: $10-12
TORRES, or Mackenzie Scott, is a singer-songwriter from Nashville who has already gained fame despite being newer to a career in music. Her debut album was rated highly by Pitchfork, and her emotional songs have gripped listeners throughout the country.
Date: Oct. 28, 8 p.m.
Band: Acid King / Contra / Pillars
Venue: Now That's Class
Price: $12-15
Another great preparation concert for Halloween is offered by Now That's Class this Wednesday. Acid King is full of doom, and it's their first tour in nine years, according to the Now That's Class website. Catch them while they're in town.
Leave a Comment
About the Contributor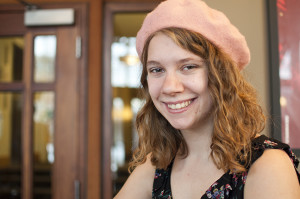 Anne Nickoloff, Director of Print
Anne Nickoloff, the Director of Print for The Observer, is a senior at Case Western. She hopes to one day be a music journalist, and has spent much of...