Concert calendar: A look at this week's upcoming performances
Every week in Cleveland is a week to see live concerts. However, like any other week, it's difficult to see them all. Dozens more of Cleveland's concerts are just waiting to be experienced.
For a head start on choosing a week of music, here are five upcoming Cleveland shows:
Date: Oct. 30, 8 p.m.
Event: Beachland Halloween 9: Party All the Time
Venue: Beachland Ballroom
Price: $8-12
Featuring a series of cover artists composed of local bands, Beachland's Halloween party will be a night filled with music of The Smiths, Van Halen, Soundgarden, Bob Dylan and more. What's better is that your ticket is $4 cheaper when you're wearing a costume. Get into the spooky spirit a day early with Beachland's annual bash.
Date: Oct. 30, 7 p.m.
Band: The Front Bottoms / The Smith Street Band / Elvis Depressedly
Venue: The Agora
Price: $16.50-20
The Front Bottoms' show at The Agora is a departure from their usual kind of music—the usual being screamo/death metal. The Front Bottoms' upbeat indie rock, which gets endearingly DIY at times, would be a great way to chill out the night before Halloween.
Date: Nov. 2, 6:30 p.m.
Band: New Found Glory / Yellowcard / Tigers Jaw
Venue: House of Blues
Price: $25-35
As of press time, this show hadn't yet sold out, but certain resale balcony seats were already inching their way into the $100 price point. Grab a general admission spot while you can for a cheaper price. Besides, with energetic throwback bands like New Found Glory and Yellowcard, wouldn't you rather be dancing than sitting?
Date: Nov. 4, 8 p.m.
Band: Kat Edmonson / Milton
Venue: Music Box Supper Club Concert Hall
Price: $20-22
Kat Edmonson's smoky vocals would make for a great midweek date night. Her music is simple, with an old-fashioned jazz band backing her. For a good feel of her style, check out her version of "Lovefool."
Date: Nov. 5, 7 p.m.
Band: The Ark Band
Venue: Grog Shop
Price: $5
Celebrate the almost-end of the week with some upbeat reggae at the Grog Shop. For the price of $5, you can sway to The Ark Band's covers and original music all night. According to their bio on Grog Shop's website, the band "continues to be a dynamic force on the American scene after two decades, their songs expressing the love, peace, togetherness and spirituality needed in our world today." Groovy.
Leave a Comment
About the Contributor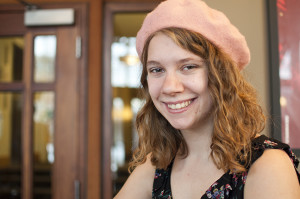 Anne Nickoloff, Director of Print
Anne Nickoloff, the Director of Print for The Observer, is a senior at Case Western. She hopes to one day be a music journalist, and has spent much of...