Concert calendar: A look at this week's upcoming performances
Every week in Cleveland is a week to see live concerts. However, like any other week, it's difficult to see them all. Dozens more of Cleveland's concerts are just waiting to be experienced.
For a head start to choosing a week of music, here are five upcoming Cleveland shows (and no, we didn't count the Fall Concert in this one):
Date: Sept. 26, 8 p.m.
Concert: West Side Punx Connect 2015
Venue: Now That's Class
Price: $15-20
Eight different punk rock bands will tear up the small Now That's Class venue on Saturday. This includes the likes of Upstab, Brown Sugar and Pigsticker, who will all be putting on reunion performances after ranging hiatuses. Plus there's Udusic, a band labeled on Now That's Class' website as "Chicago Polishcore." Whatever that is, neat.
Date: Sept. 26, 9 p.m.
Band: DJ Rekha
Venue: Mahall's 20 Lanes
Price: $8-10
Not only is Case Western Reserve University's own Spartan Bhangra dance team performing at this show, DJ Rekha will be spinning out unique Electro Indian beats all night. Rekha's ethnic influences are a perfect match for the dancing team's prowess. Dance the night away, and go bowling for cheap at the unique West side venue.
Date: Sept. 28, 8 p.m.
Band: Toro y Moi/Astronauts, etc.
Venue: Beachland Ballroom
Price: $18-20
Toro y Moi, aka musician Chazwick Bradley Bundick, creates the chillest of vintage beats. His silky vocals and unique, energetic dancing will grace the Beachland Ballroom's stage in the most appropriate of ways. Start your week off right by grooving into it.
Date: Sept. 30, 6:30 p.m.
Band: Zedd
Venue: Jacob's Pavilion at Nautica
Price: $54.75+
It's expensive, but it might be worth it; Zedd's energetic, light-filled shows get pretty ravey. Just hear the excitement build in hits like "Clarity" and "Stay the Night," and release, in typical Zedd fashion, into an all-out electronic bash. Break out the glow sticks and sunglasses, and by the way, happy hump day.
Date: Sept. 30, 6:30 p.m.
Band: Kodaline/Good Old War
Venue: House of Blues
Price: $23.50-28
Experience all the feels at Kodaline's upcoming House of Blues show. The indie-Irish-pop-rock band is responsible for such songs, and bittersweet music videos, as "High Hopes" and "All I Want." Be ready to swoon for singer Garrigan's beautiful voice and sad, sad lyrics.
About the Contributor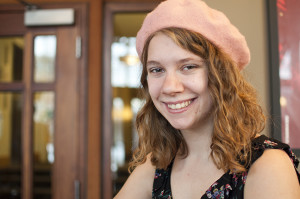 Anne Nickoloff, Director of Print
Anne Nickoloff, the Director of Print for The Observer, is a senior at Case Western. She hopes to one day be a music journalist, and has spent much of...