Constitution Day panel debates free speech on college campuses
On Monday afternoon, Sep. 17, the Case Western Reserve University School of Law hosted the 2017 Constitution Day Committee's presentation on Freedom of Expression on college campuses.
The presentation was hosted by CWRU's student run Constitution Day Committee, and is necessary because of an amendment made to a spending bill in 2004 requiring all institutions receiving federal funding to provide annual education about the constitution.
This year's event featured two guest speakers, Susan Kruth, the Senior Program Officer at the Foundation for Individual Rights in Education (FIRE), and Professor Reginald Oh, a law professor at the Cleveland-Marshall College of Law at Cleveland State University. The two speakers both have Judicial Doctorates and occasionally agreed while answering student panel questions, but their opening statements could hardly have been more different.
"There is no line between hate speech and free speech in America," Kruth's speech began.
From there she went into a larger discussion of the first amendment at large. Her thesis focused on the value of free expression and the importance for institutions, public and private, to foster an environment where the free flow of ideas is easy and encouraged.
Kruth's organization, FIRE, gives rankings to schools in terms of how well they support freedom of speech on their campus, and CWRU received a "Red Light" from the organization. This designation is the worst they offer, and is given to "a…university [that] has at least one policy that both clearly and substantially restricts freedom of speech," according to FIRE's website.
In this case, FIRE is concerned with the University's policy on student postings, as CWRU limits both the location of acceptable posting and prohibits "posting of any derogatory, obscene, or offensive message, either explicitly or implicitly".
In her presentation, Kruth explained that the United States cannot come close to agreeing on a definition for hate speech, and stressed the importance of allowing for all kinds of speech rather than trying to regulate it. She also made it clear that this applies to all schools, and CWRU in particular. Kruth says that some private universities are upfront with their adherence to an ideology, which is allowed due to their private nature. However, she also says that CWRU is not one of those schools, and criticized the University's conflicting policies, which she says both promise free expression and limit said expression.
While Kruth found this dichotomy frustrating, Professor Oh felt very differently. Oh began with the message that free speech has never been unlimited or unregulated and that schools have a duty to limit student speech in order to create a safe learning environment. The professor pointed to instances of racism by fraternities at University of California, San Diego (an African American themed dress up party) and University of Oklahoma (racist chants involving racial slurs) as proof and justification for universities being proactive in limiting speech. When asked about Michigan State University banning whiteboards on residence hall room doors after some instances of racist comments, Oh sided with MSU, calling the decision an example of a school being proactive and limiting opportunities for hate speech.
Kruth disagreed, calling the whiteboard ban a "red flag", and this disagreement seemed to sum up the panel discussion and presentation section of the talk, with the two speakers taking opposite views on the value of being exposed to controversial speech and the role of institutions in restricting speech.
The talk concluded with open questions from the audience and a reception. A video of the event will be made available online soon.
Leave a Comment
About the Writer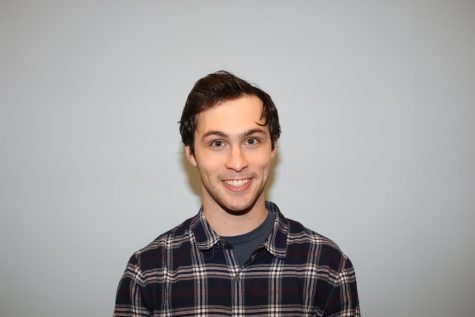 Henry Bendon, Staff Reporter
Henry Bendon is a fourth-year political science major who has been writing and taking photos for the Observer since the fall of 2016. In his time with...