Couples in Quarantine
Many college couples have been forced to separate far earlier than they anticipated, and may be looking for ways they can still interact and stay connected. This is also true for couples that live in the same town, but are normally long-distance while at college. They may both be back in their hometowns, but they probably can't see each other. The latter actually applies to my girlfriend and me, so I'm personally invested in this topic.
Luckily, technology can make this period of long distance and social distancing a little easier. We have options like Netflix Party and Zoom's screen-share feature, which can allow couples to video chat and watch a movie "together" while apart.
No video call can ever equate to the feeling of actually snuggling up to the person you love. But there's something special about watching a love story play out on screen that echoes your own. Here are five that will help you and your one and only keep things lovey-dovey from so far away.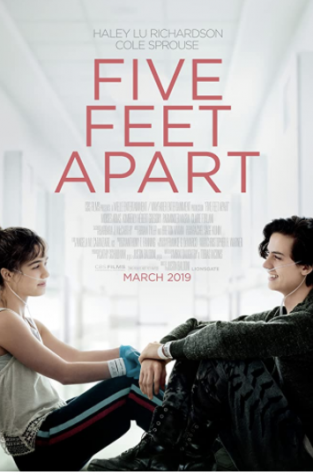 "Five Feet Apart" directed by Justin Baldoni. Written by Mikki Daughtry and Tobias Iaconis (2019)
"Five Feet Apart" is the perfect film to help you feel close to your partner while social distancing. It follows two teenagers, Stella and Will, played by Haley Lu Richardson and Cole Sprouse, respectively, as they fall in love. Sounds simple and standard, right? Wrong. The two teens are confined to a hospital because they both suffer from cystic fibrosis, a lifespan-shortening disease that causes the body to fill its own lungs with mucus. Because of that condition, they cannot engage in physical contact with anyone else who also has the disease. As the title suggests, they have to stay … five feet apart. Well, Stella's nurse, Barb (Kimberly Hebert Gregory) actually explains that they have to stay SIX feet apart, just like we all do today, in the wake of coronavirus (don't worry, the discrepancy is explained later in the movie). Though we obviously don't have it just as bad as these two kids do (they already have their severe medical condition, as opposed to us, who are trying to avoid catching anything), anyone who's in a relationship with someone who they don't live in the same house as will be able to relate to the predicament of our two characters.
The movie opens with our heroine giving a voiceover speech to the audience about the importance of human touch, ending it by saying "I never understood the importance of touch … his touch … until I couldn't have it." And that's what a lot of us are probably going through right now. How many of us didn't realize that the day we left for spring break would be the last time we would see our significant other or closest friends for five months, or even forever?
As an aspiring screenwriter myself, I usually focus on, well, the screenwriting of a film. I don't pay as much attention to lighting, sound, music, scenic design, or costume design. However, the costume design of this film stood out to me like neon lights at midnight. Both of our main characters looked like absolute shit. Richardson and Sprouse are about as attractive as two actors can be, but their hair was messy, they looked like they hadn't showered in days and they were wearing sweats the entire time. They live in a hospital, after all, and they have nobody to impress (except each other, but they do it in a weird way). And who among us today isn't also wearing three-day-old sweats on their own unshowered bodies right now? 
Sprouse nails the "tortured, edgy sensitive guy" role in this film, as he does in the TV show "Riverdale." He's infuriating and compelling and intoxicating and reckless. He's a wonderful contrast to Richardson's optimistic, hopeful and controlling presence.
All in all, this film is a wonderful story, both heartwarming and heart-wrenching at the same time. Be ready to laugh, go "aww" and cry. And who would've thought that that little blond twin we watched grow up alongside his brother Dylan on the Disney channel could do all that to us?
Where to Watch: Amazon Prime Video, SHOWTIME
Runtime: 1 hour, 56 minutes
Starring: Haley Lu Richardson and Cole Sprouse
Rated: PG-13
Verdict: 10/10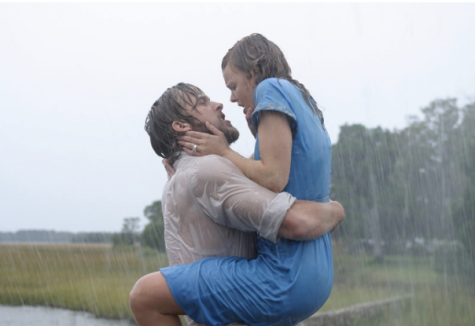 "The Notebook" directed by Nick Cassavetes. Written by Jeremy Leven and Jan Sardi, based on the novel by Nicholas Sparks (2004)
"The Notebook," based on the Nicholas Sparks novel of the same name, is a phenomenon that took the world by storm. It has the reputation of being a movie that every girlfriend makes her boyfriend watch against his will. So, ladies, why let social distancing stop you? Start a video chat with your man, pull up the movie on your laptop and share your screen. 
In this romance movie to end all romance movies, two young adults from different backgrounds fall madly in love. Rachel McAdams plays the rich heroine Allison "Allie" Hamilton and Ryan Gosling plays Noah Calhoun, the charming man from the wrong side of the tracks. The two pack years of love into a short time until Allie's family moves away and drags her with them (gee, I wonder if anyone out there can relate to that situation right now?). Like a good boyfriend, Noah holds on to hope and writes letters to Allie for the next year. Unfortunately, he never hears back from her, and we see his face grow more and more dejected as his heart breaks all over again each time the mailman comes bearing no response.
Of course, though, that's not where their love story ends. And theirs isn't the only story of the movie. The narrative of Noah and Allie is framed by scenes of an elderly man recounting the events of their romance to an old woman. If you've seen the film already, you know how it pans out. If you haven't, then you should, so you can catch up to the rest of the world and experience this classic. There's something uniquely special about watching the iconic scenes for the first time. "I wrote you every day for a year?" That kiss in the rain? "Say you're a bird?" These are moments that are embedded into our cultural zeitgeist that I had never actually witnessed, and maybe you haven't, either. Or maybe you have. Either way, strap in with your romantic partner and get ready to fall in love all over again. 
Where to Watch: Amazon Prime Video, dailymotion (https://www.dailymotion.com/video/x5mvs36)
Runtime: 2 hours, 3 minutes
Starring: Ryan Gosling and Rachel McAdams
Rated: PG-13
Verdict: 9/10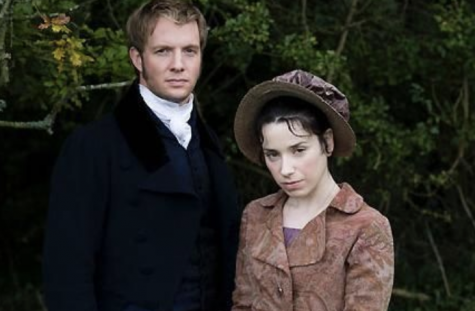 "Persuasion" directed by Adrian Shergold. Written by Simon Burke, based on the novel by Jane Austen (2007)
This film is an adaptation of the Jane Austen novel of the same name. One of Austen's lesser-known novels, "Persuasion" is not as popular or widely read as, for example,
"Pride and Prejudice." The same is true for the film. 
"Persuasion" follows Anne Elliott (Sally Hawkins), the daughter of a wealthy English family who was once engaged to a naval officer named Frederick Wentworth (Rupert Penry-Jones). However, before the wedding, Anne called off their engagement after the persuasion of a family confidant. Now, years later, Anne and Wentworth are reconnecting. In the time since, Anne's family has lost a considerable amount of money, while Wentworth has become a wealthy naval captain, making him a much more appealing partner for our heroine. This movie can serve as something for couples to look forward to after this period of social distancing is over. Thankfully, these COVID-19 separations won't quite last eight years, like Anne and Wentworth's did. Nonetheless, many couples will find themselves pining for the day when they can return to each other's arms, and this film is rife with that same yearning.
Like other Austen works, this film features a strong, complex female lead and a Britishly handsome gentleman alongside her. Anne Elliot narrates to the audience throughout the film, providing a glimpse inside her head; she is both tortured with longing for Wentworth and filled with regret for leaving him and breaking his heart. But here, Anne has what many people never get: a second chance at love. 
"Persuasion" is the definition of a slow burn, like a massive candle with one wick that won't start smelling nice until you've waited for an hour and a half. Throughout the movie, Anne and Wentworth act painfully, and awkward (which is all too relatable) around each other. They beat around the bush, taking every opportunity to not talk about their past or their feelings for each other. Unfortunately, it feels as though the candle wax on "Persuasion" melts slower than what is usual for period romances, but the film is based on a Jane Austen novel, so it sort of comes with the territory. If you know what you're getting into, it's not a problem. Go ahead, pull up a Zoom screen-share with your sweetheart and watch away.
Where to Watch: dailymotion (Part 1: https://www.dailymotion.com/video/xxbprh. Part 2: https://www.dailymotion.com/video/xxcl5d)
Runtime: 1 hour, 33 minutes
Starring: Sally Hawkins and Rupert Penry-Jones
Rated: PG
Verdict: 8/10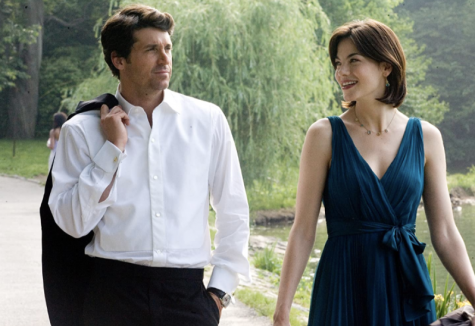 "Made of Honor" directed by Paul Weiland. Written by Adam Sztykiel, Deborah Kaplan and Harry Elfont (2008)
Say what you will about the "friends-to-lovers" trope. Your criticisms are valid. However, that's not going to stop me from recommending such a movie. 
These friends are serial playboy Tom (Patrick Dempsey) and nerdy art girl Hannah (Michelle Monaghan). Their friendship started at a college Halloween party when Hannah tells Tom "I would never have sex with someone like you." Doesn't that sound like a great way to begin a friendship? Well, Tom thinks so, and the two become best friends for years, with neither developing feelings for the other.
Years, that is, until Hannah goes to Scotland for a work trip for six weeks, which, as those of us living in quarantine know, can easily feel like ten lifetimes. In those painfully long weeks, Tom realizes that he's in love with Hannah, and plans to tell her so when she returns. Unfortunately for him, Hannah returns with a very Scottish fiancé and asks Tom to be her maid of honor for their wedding. Tom accepts the role, seeing it as an opportunity to get Hannah to fall for him. However, he still wants to impress her and do a good job planning her wedding, so his journey is an entertaining balancing act of wooing Hannah and helping her marry her fiancé. 
Dempsey tackles this performance with such a charming earnestness that it made me root for his character in both of his paradoxical endeavors. I wanted him to be with Hannah, because I could see in his eyes how deeply he loved her. But I also wanted him to be the best maid of honor ever because it was a joy to watch this stereotypically masculine playboy turn into a kinder, gentler human being and reject toxic masculinity. 
Dempsey and Monaghan's chemistry is undeniably adorable at all stages of the story, and is its greatest strength, by far. From when they meet as adversarial youngsters, to their time as best friends, to Tom's attempts to win Hannah's oblivious heart, to the [spoilers redacted] finale, the two actors, already prized gems on their own, combine to form an absolute treasure on screen. 
Once upon a time, you and your significant other may have been friends. You may have been friends while one of you was dating someone else. And now you're here, and the two of you can laugh as you watch Tom try, fail and try again to earn Hannah's love before her wedding in this race against time. 
Or, if you're single (happily or otherwise) and still reading this article, for some reason, maybe your time in quarantine has turned you into a Tom, and you've developed a crush on a certain someone. In that case, this film could give you a glimpse into life after coronavirus. Perhaps you can suggest this film for a screen-share movie date with your crush to drop a hint. Perhaps you can think of ways to sweep them off their feet and determine whether or not to use Tom's tactics as guidelines. I can't necessarily recommend following Tom's example, but that's for you to watch the movie and decide. 
Strange things can happen when you're away from someone. For Tom, it's love. What is it for you?
Where to Watch: Amazon Prime Video, IMDB TV, CBS
Runtime: 1 hour, 41 minutes
Starring: Patrick Dempsey and Michelle Monaghan
Rated: PG-13
Verdict: 8/10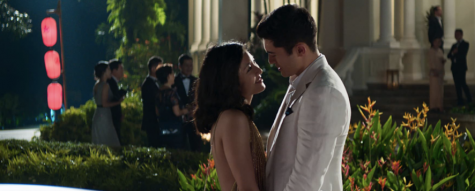 "Crazy Rich Asians" directed by Jon M. Chu. Written by Peter Chiarelli and Adele Lim, based on the novel by Kevin Kwan (2018)
"Crazy Rich Asians" isn't super similar to the other romance movies in this list, but it was one of the first films that came to mind as I was compiling it. It's not about social distancing or reuniting after time apart, nor is it an iconic classic (though I'm sure it will become one, in time). It is, however, a clever and cute movie. More than that, it is a movie about seeing a new side of someone you love, and them inviting you into a world that you never knew existed. The film follows Rachel Chu (played by the rhyming-named Constance Wu), a young woman who travels with her boyfriend Nick Young (played by the all too dashing Henry Golding) to his home country of Singapore. With many college couples being sent home sooner than they expected, they will have to navigate learning about who their significant other is in their own home, which can be quite different from who they are at college.
Unbeknownst to Rachel, Nick is the oldest son of one of the richest families in Asia. He is the heir to his family's fortune and business empire. When he brings Rachel home to Singapore, she has to go through the gauntlet of Nick's judgemental and rich friends and family. From Nick's bloodthirsty ex-girlfriend to his mother, who tells Rachel that she "will never be enough," she enters the movie wholly unprepared for these challenges and, as such, fights an uphill battle. 
Throwing a character into a situation that they are woefully unprepared for is one of the oldest tricks in screenwriting, and it works here beautifully. Rachel is a brilliant economics professor at New York University, and, as Nick proudly tells his mother, the school's "youngest faculty member." And yet, in the world of crazy rich Asians, she is out of her element. Nick's family has their own rules, and Rachel wasn't ready to play the game. So, she has to fight to turn this trip into a game that she can understand and win.
There's a lot to say about this film. For starters, it's a high-budget American-made feature movie with an all-Asian cast. This was a big deal for American cinema when it was released in 2018. And now, in a world where an Asian film can win Oscar upon Oscar, it's time to revisit this film. Though not quite as much of an anti-capitalist social commentary as Bong Joon-ho's "Parasite," the film still deals with important current topics such as money, generational wealth and class bias. 
The film pays a lot of attention to Rachel and Nick's relationships with their mothers. Rachel's mother is warm, loving and non-judgmental. She sacrificed everything to support Rachel in her dream of becoming a professor. She clearly, completely and uncomplicatedly loves Rachel. Nick's mother loves him, too, but their bond is a little more complicated than that of Rachel and her mother. The dynamic between Nick and his mother is filled to the brim with expectations; for Nick to stay home in Singapore, to run his family's company and to marry someone as rich as he is.
So, what can young love do in the face of those expectations? How does love adapt when it's unexpectedly thrust into another world? Watch this movie to find out, and maybe you and your better half can answer those questions for yourselves. 
Where to Watch: Amazon Prime Video, HBO
Runtime: 2 hours
Starring: Constance Wu and Henry Golding
Rated: PG-13
Verdict: 10/10